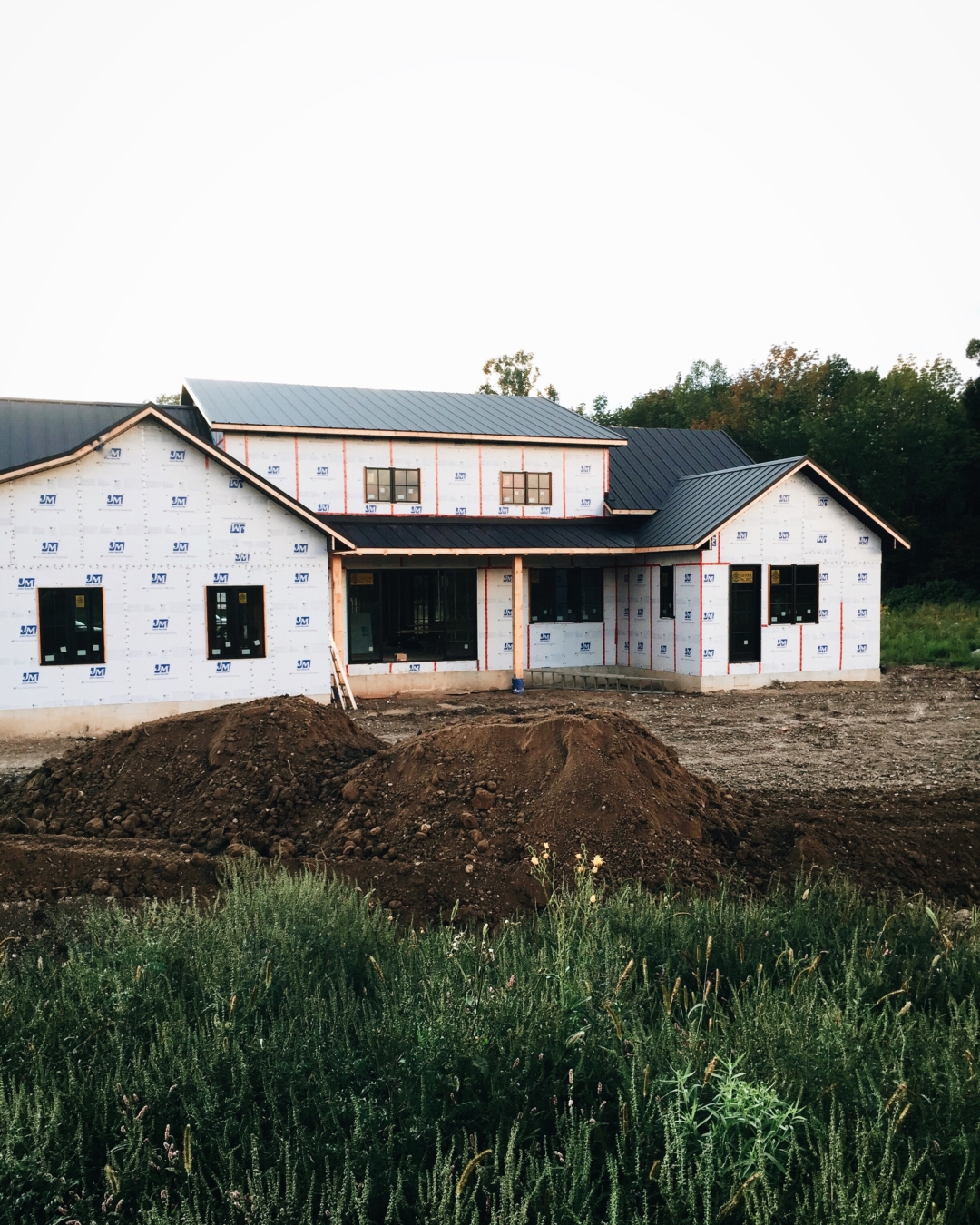 Last time I posted about our house progress, we had most of the framing done. Now we are seeing lots of progress to the exterior as our metal roof is almost complete, the windows have been installed, the stone ordered and the siding colour finalized!
Windows
The windows were an area that Brent and I spent a lot of time focusing on, especially since our windows were a huge highlight of our house design. There were countless nights where Brent studied every window and the functionality of a window until we made a decision that was right for us.  After visiting a handful of local companies, in the end we decided to go with Pickles Home Team, where Brent and I choose to go with an "H3 Aluminum Clad Casement" window with a wood interior. We choose to go this route over vinyl because we wanted a slimmer profile window which is a little more on the contemporary side where as and the vinyl is still a great option but a tad bit thicker. I also liked the idea of having wood interior finish in case down the road we ever decided to paint the interior windows a traditional white from its current black finish.
Another option was to tint our windows. I don't think it's as common amongst the average window but I remember seeing windows in a newly built neighbourhood where majority of the windows were tinted so that when you looked at the exterior windows, they reflected back, almost like a tinted mirror. In more detail, we added a glazing over our windows to give them that super dark appearance from the exterior. They look great in photos but in person they look incredible and we are so happy we went this route for our windows! Another great reason to invest in glazed windows: the insulated glass (glazing) with three low-E coatings delivers the ideal balance of solar control and high visibility. This glass provides year-round comfort and energy savings, making it a good option no matter where you live. The secret is a triple layer of silver in the coating stack. It is formulated to reject solar heat while maintaining attractive visibility. It keeps the heat out while letting light in.
Also, note– Brent is basically a window expert, so if you're ever looking for advice on windows, you know who to ask ;)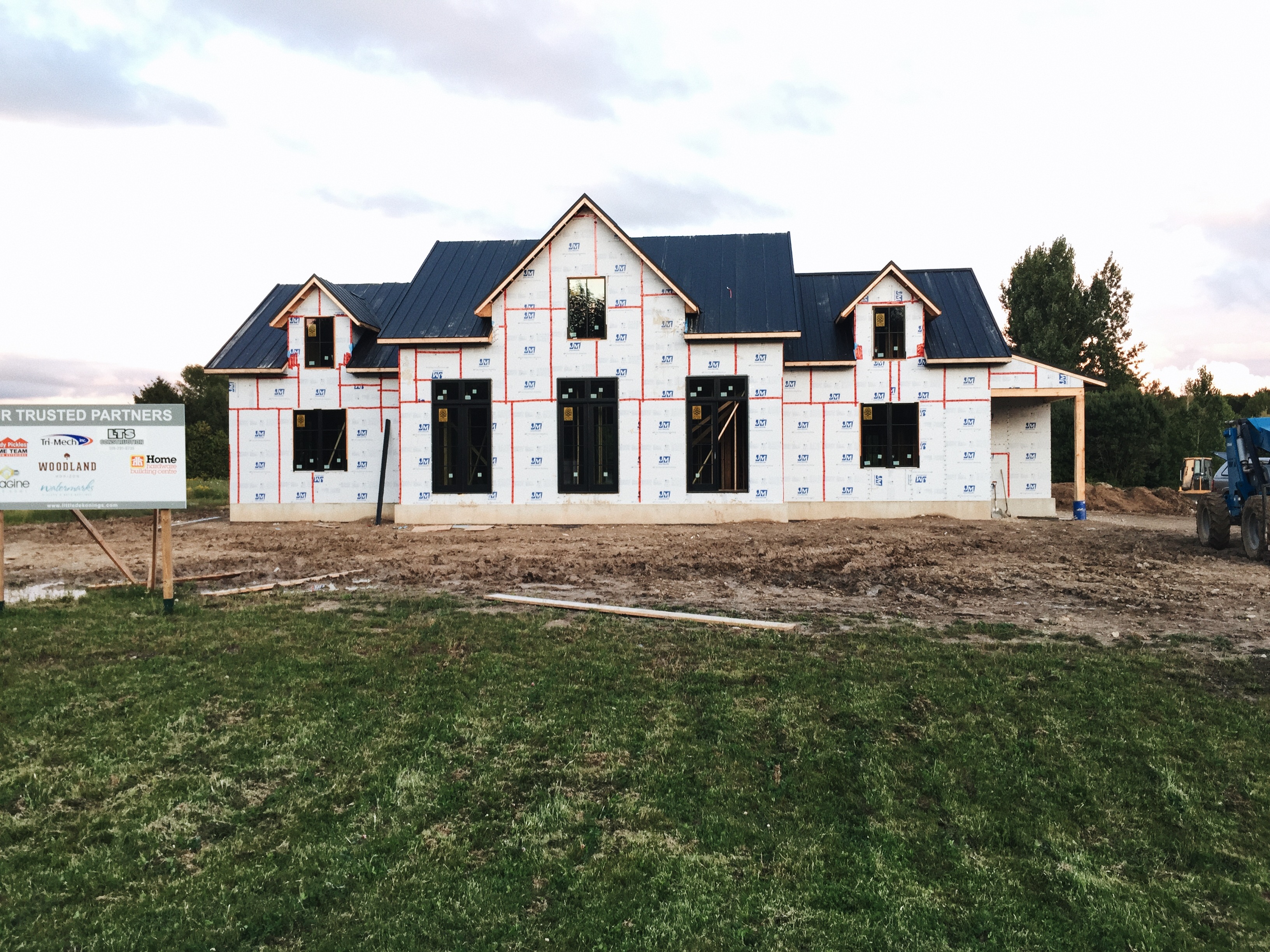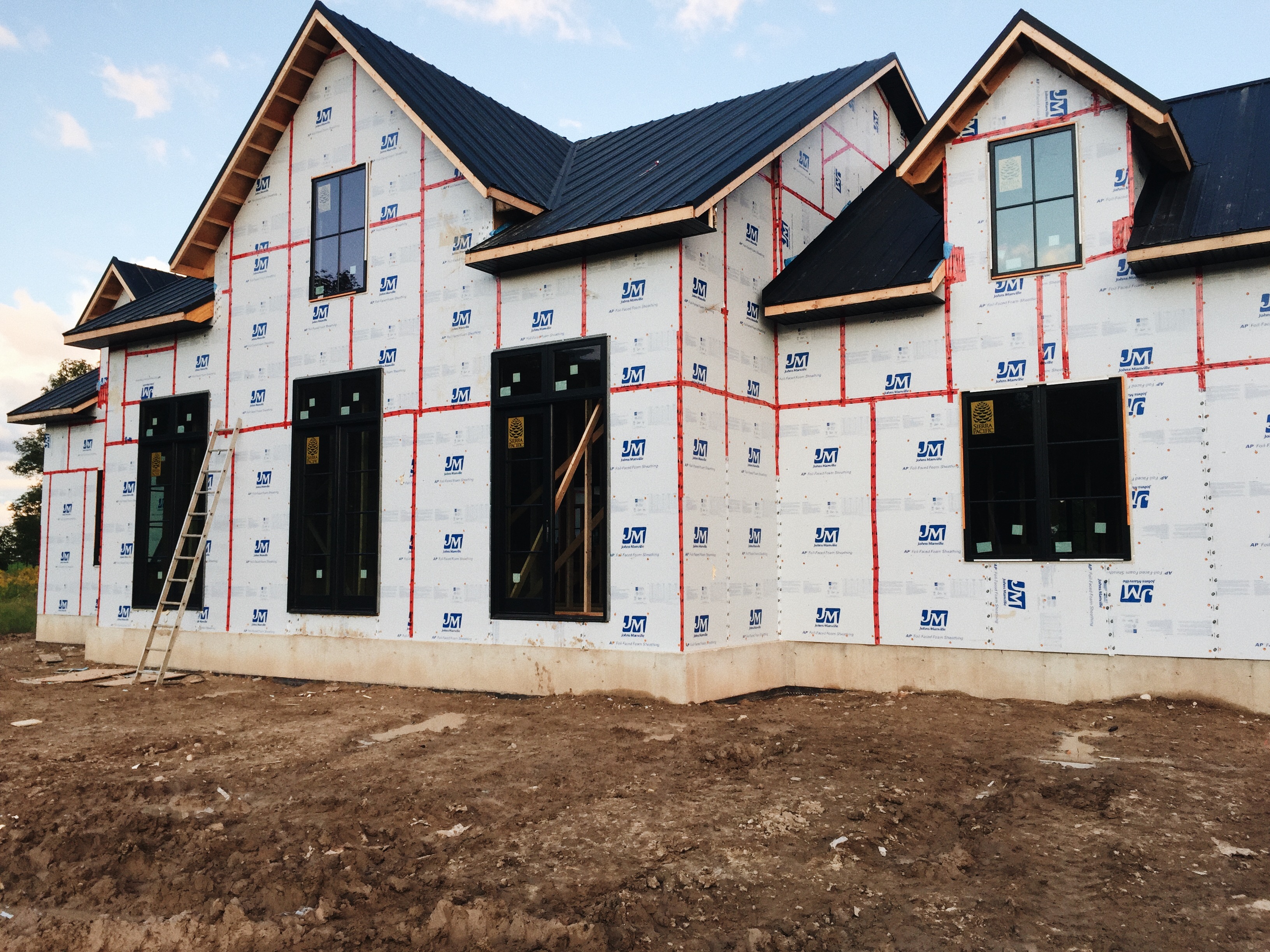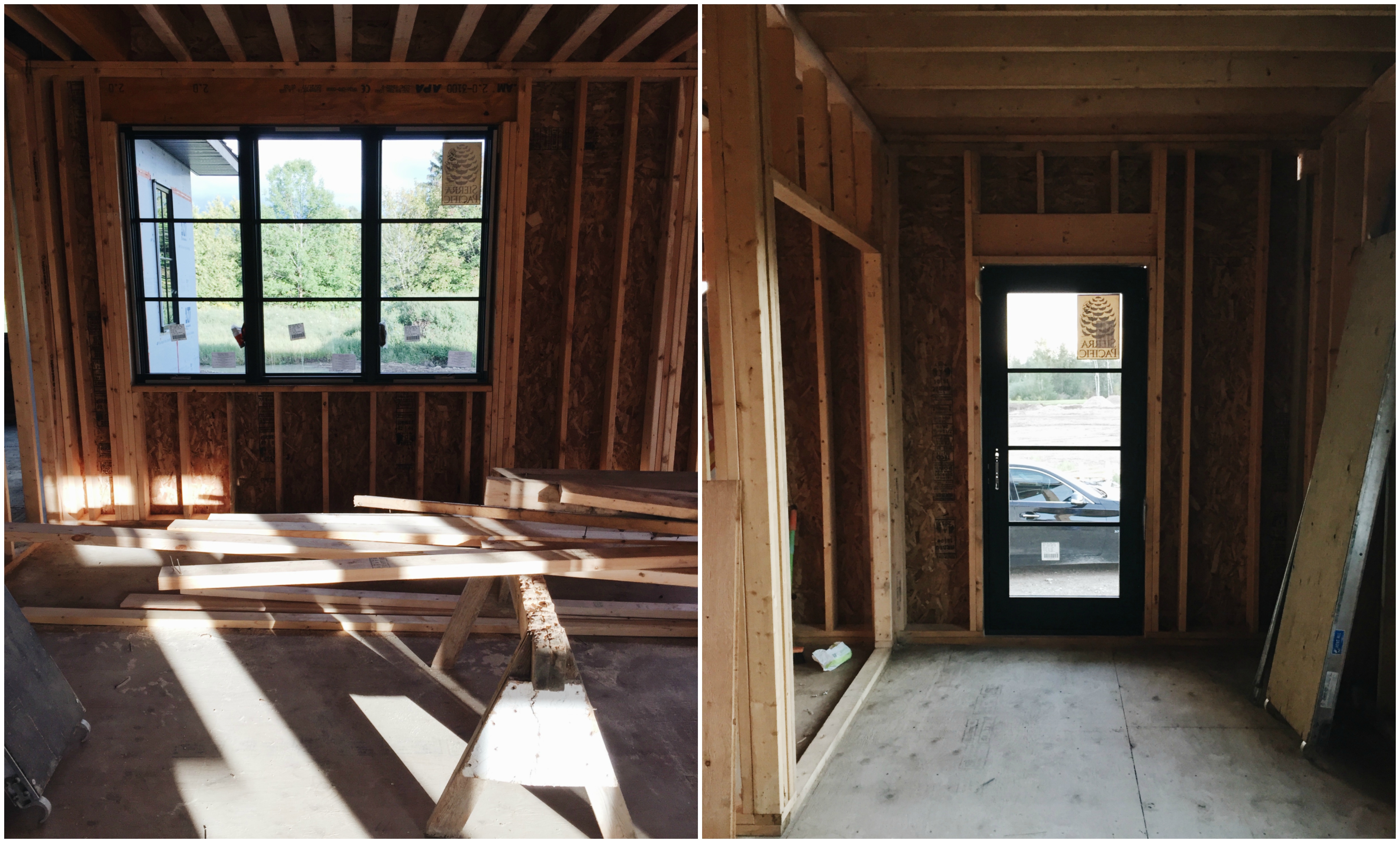 Some of our windows and doors have the contemporary grille (which are the black rigid supporting strip between the panes of glass) and some of our windows have the traditional colonial grilles. We opted for both to give our home that true "modern farmhouse" feel and because there's nothing better than simple clean lines to give your home a bit of pop!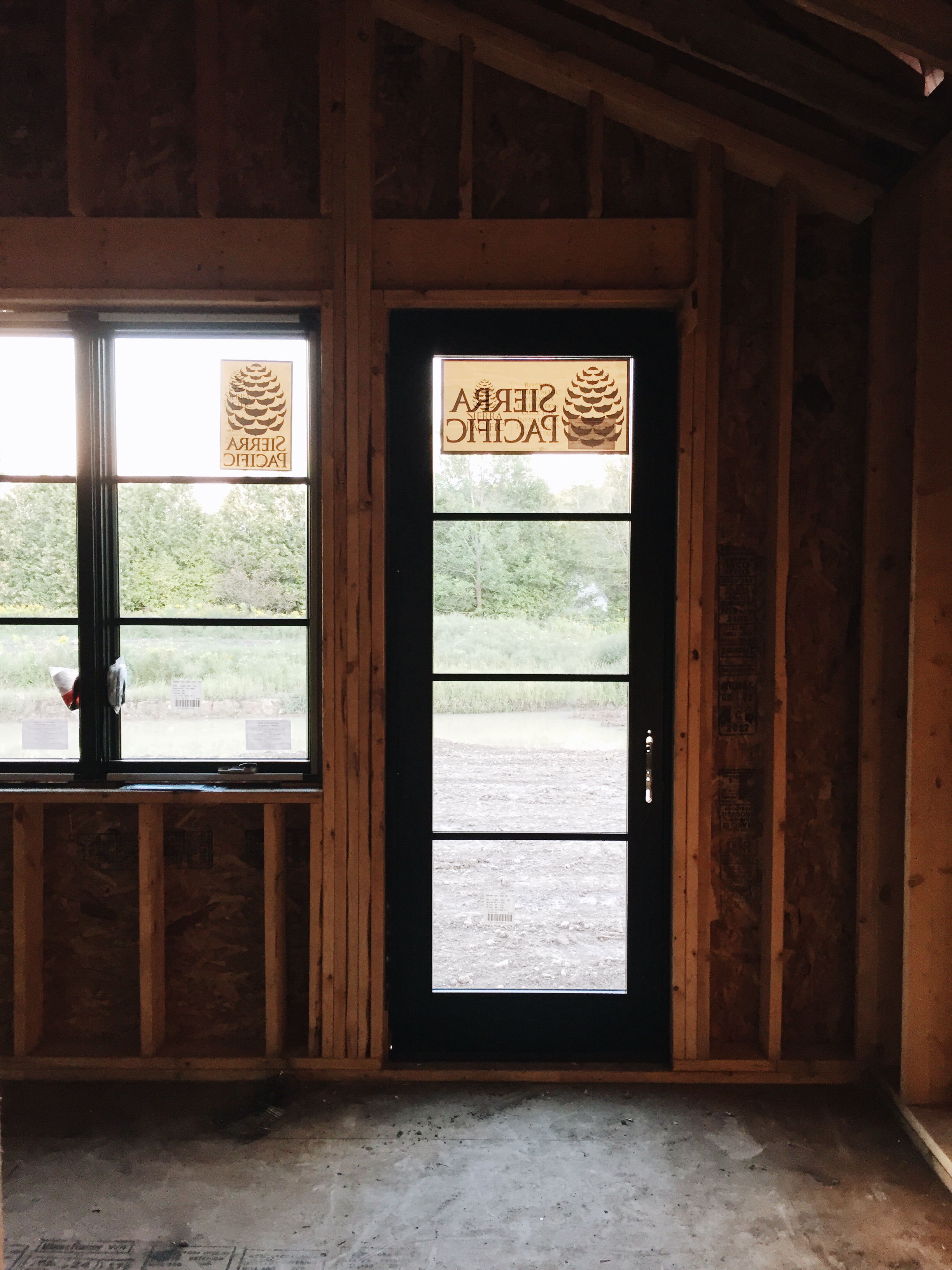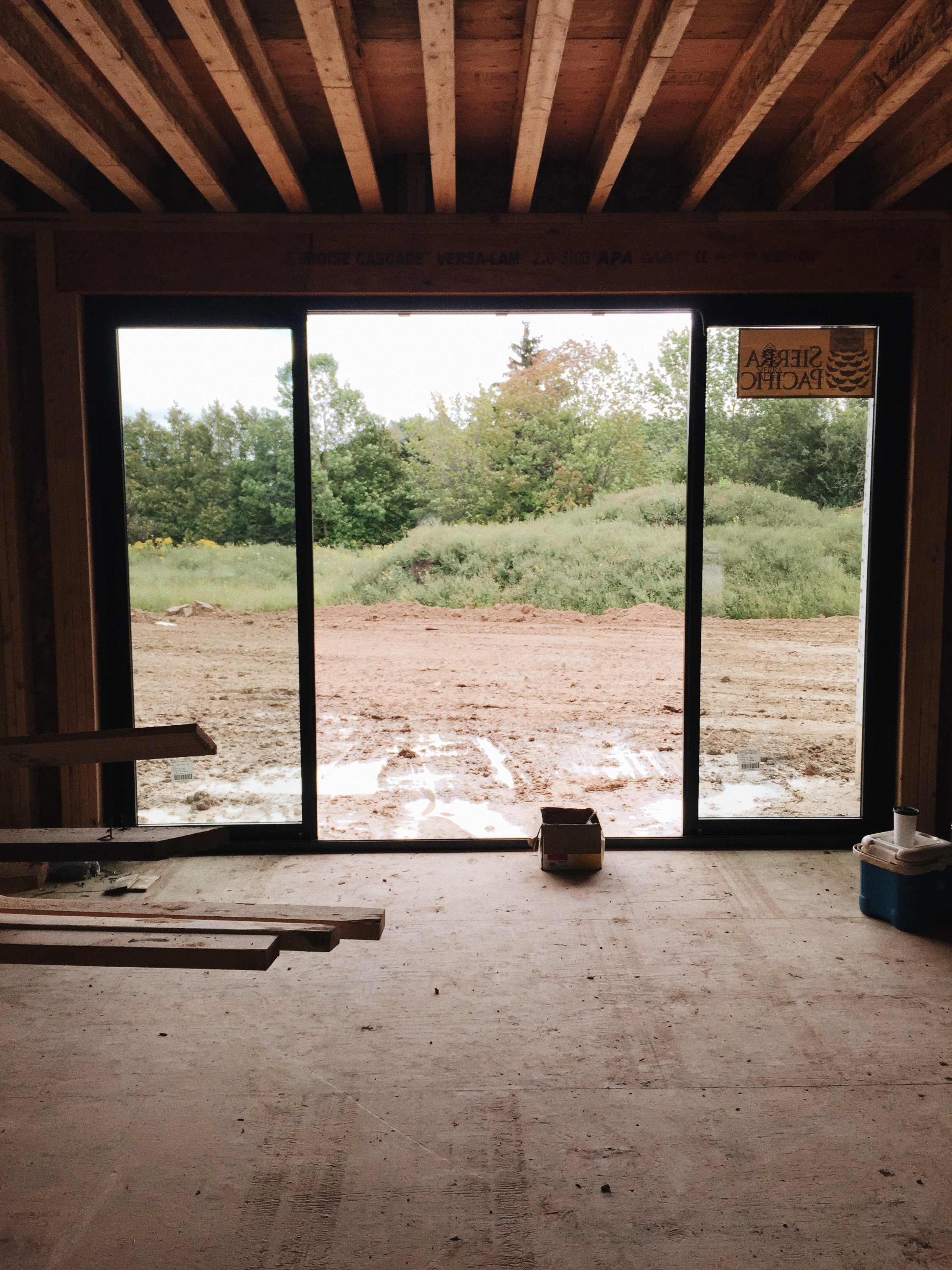 Having lots of natural light flow through our home was a big YES on our list. The best way to achieve lots of natural light are through windows of course. In our home the kitchen area is where we spend a lot of time as a family, and well because I've got a lot of hungry boys 24/7, therefore we wanted to make the kitchen bright and welcoming and easy access to our beautiful backyard.
Below is our patio door entering into the dining/ kitchen area. To the right, is the kitchen sink window.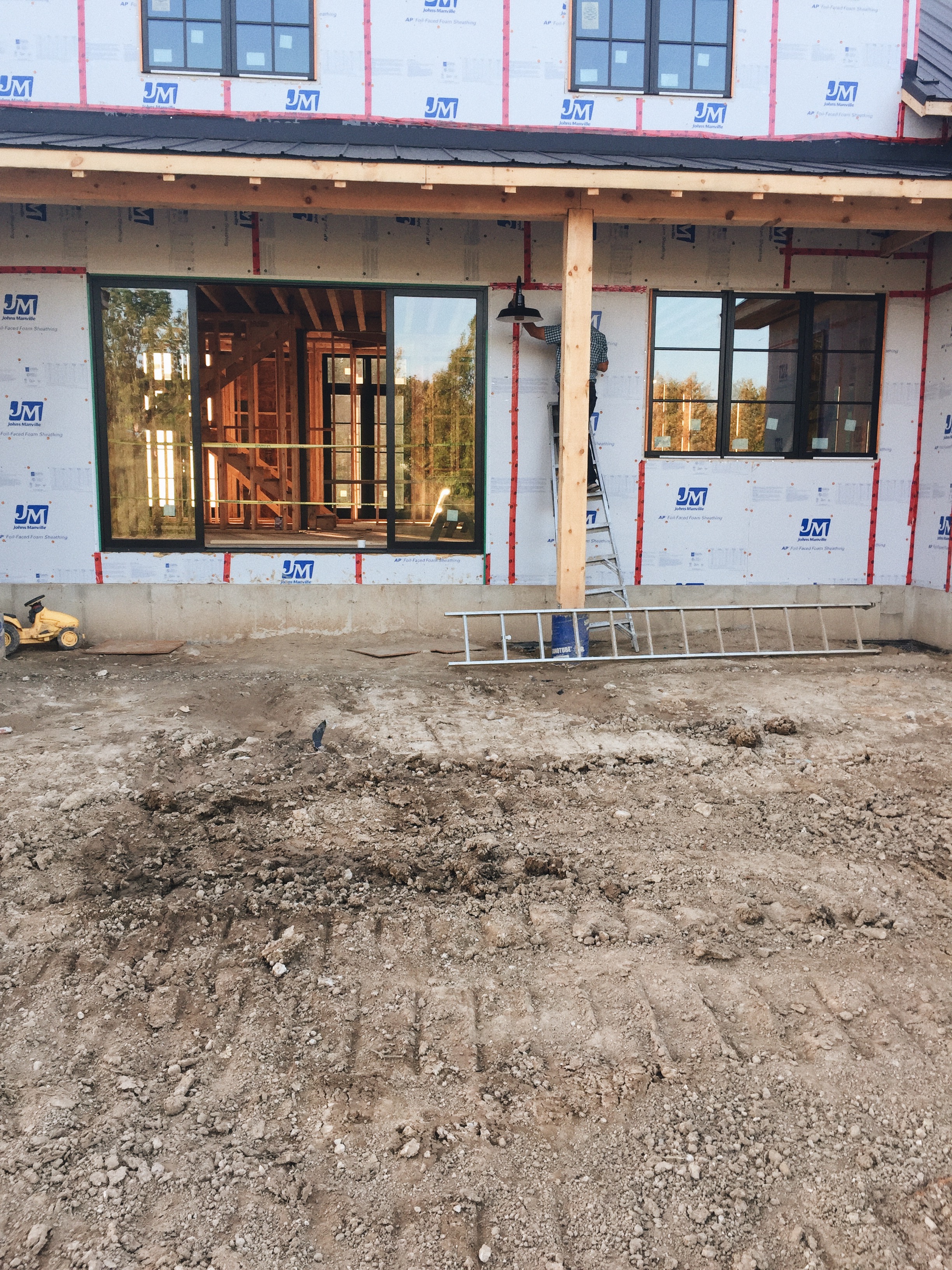 Exterior Lighting
If you love the modern farmhouse style, then you MUST be familiar with Gooseneck Barn Lights!? Well, this was a given, there was hardly any debate over what type of exterior sconces I was going to go with because I knew that I wanted these guys on our house right from the gecko! The trouble was finding a reasonably priced gooseneck barn light in Canada as I was going to need at least 5 of them for our exterior. I ended up finding the perfect gooseneck sconce at Home Hardware. The only problem we have run into for the exterior lighting placement is that the gooseneck might hang over the covered roof of the garage once another 4 inches of stone gets added onto the garage walls… therefore I may need to cut the stem of the gooseneck a few inches shorter which won't affect the look (thank goodness). We will be adding two goosenecks to the front of the house, three along the garage wall and two on either side of the patio door out back. There will also be two hanging pendants over the front door and the mudroom door.
Big thanks to the guy holding up the lights and pointing out those tricky details!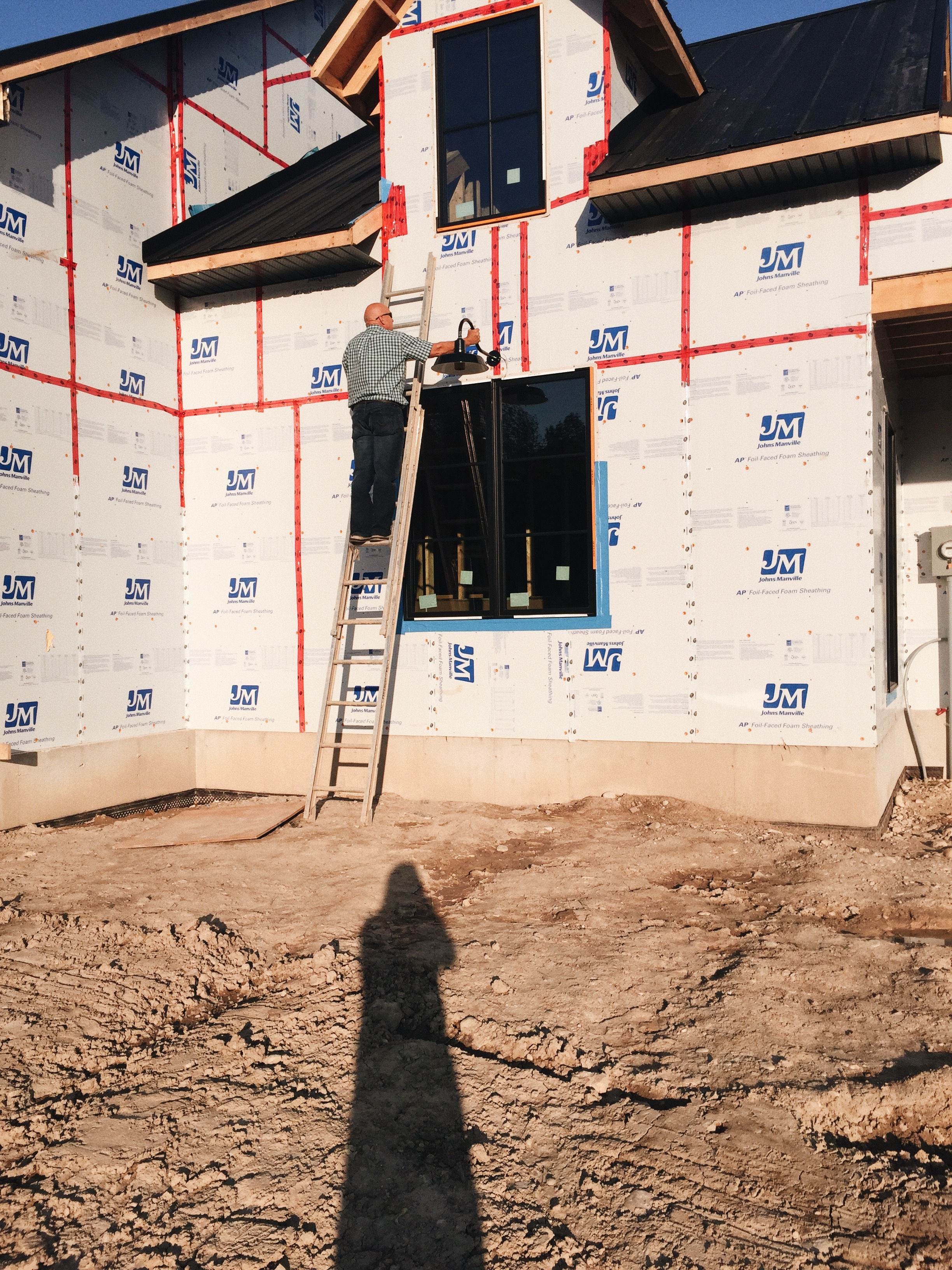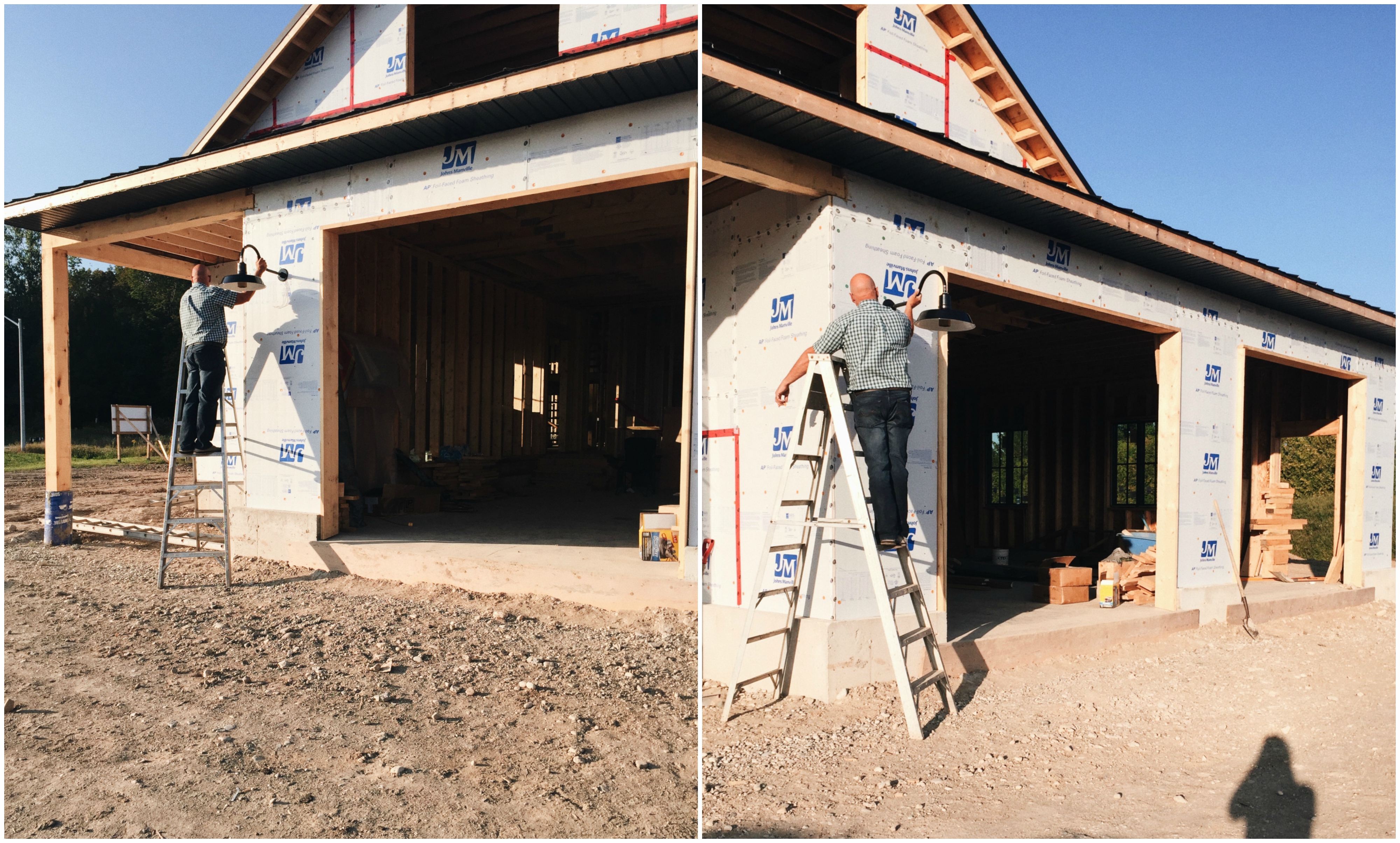 The Roof
From the beginning we loved the idea of adding a metal roof, the fact that a metal roof is supposed to last a lifespan of 40+ years, which was something that grabbed our attention immediately. A metal roof is definitely a commitment when it comes to the look and style of your home. It can enhance and change the appearance of any home, therefore you want to get it right!
Because we started with an inspiration home, one that also had a metal roof, we felt confident in going this route and let me tell you, we are SO HAPPY we did! Choosing a roof colour was a little tough at the start. I knew I wanted something dark and neutral, but I didn't know exactly how dark I wanted to go… That's when we discovered that Vicwest had a new MATTE Finish Collection which basically sealed the deal for us. I felt more confident going Ebony Matte Black because the roof appeared hued down vs. a flashy black finish. In the end, we decided on the Elite Metal Roofing because it was the perfect choice for us while achieving a more modern look at a better price point.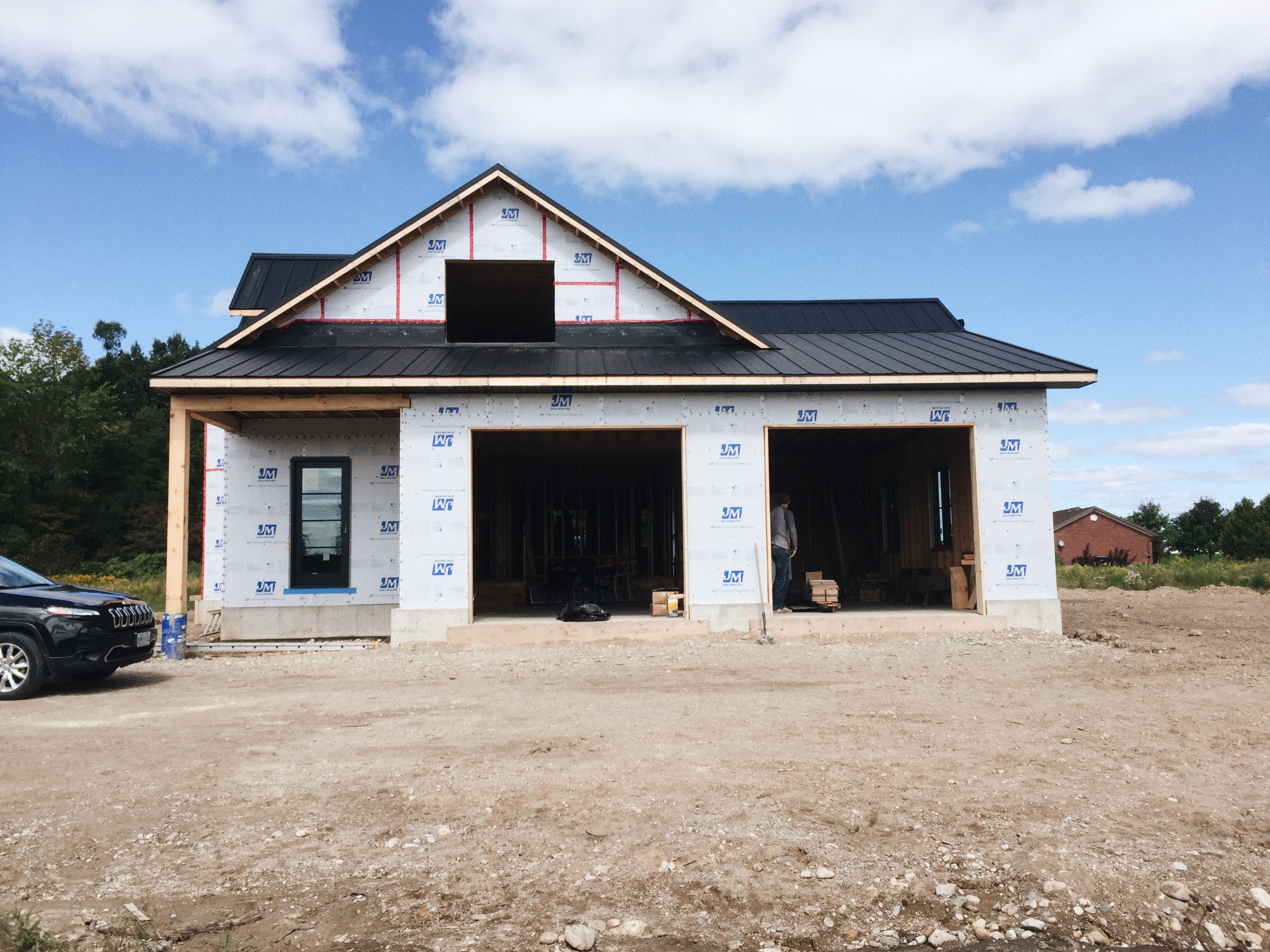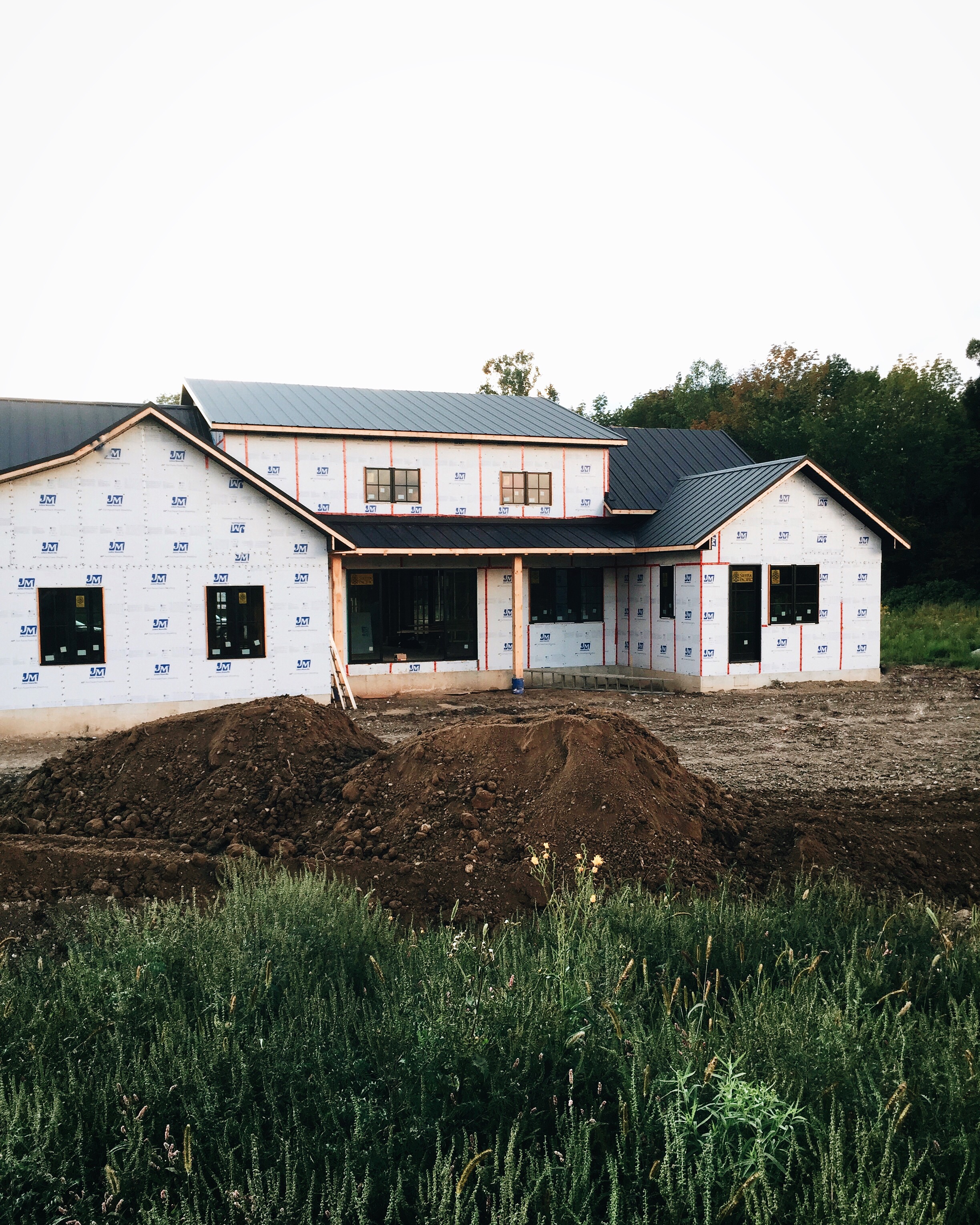 This far into the progress, we love seeing all of our finishes come to life- it's better than we had ever imagined and we are so happy to have worked with the companies that have helped us reach this point into our build! The only downfall to all of the progress is the stress. Everything at this point is happening so fast and decisions that we have thought about for months are finally moving forward permanently. Sometimes you question your own judgment because you've been sitting on the decisions for so long. We are also in the process of selling our house, and let me tell you, that is a whole new stress! BUT, at the end of the day, this is what we signed up for and we are just pushing through, praying and hoping for the best!