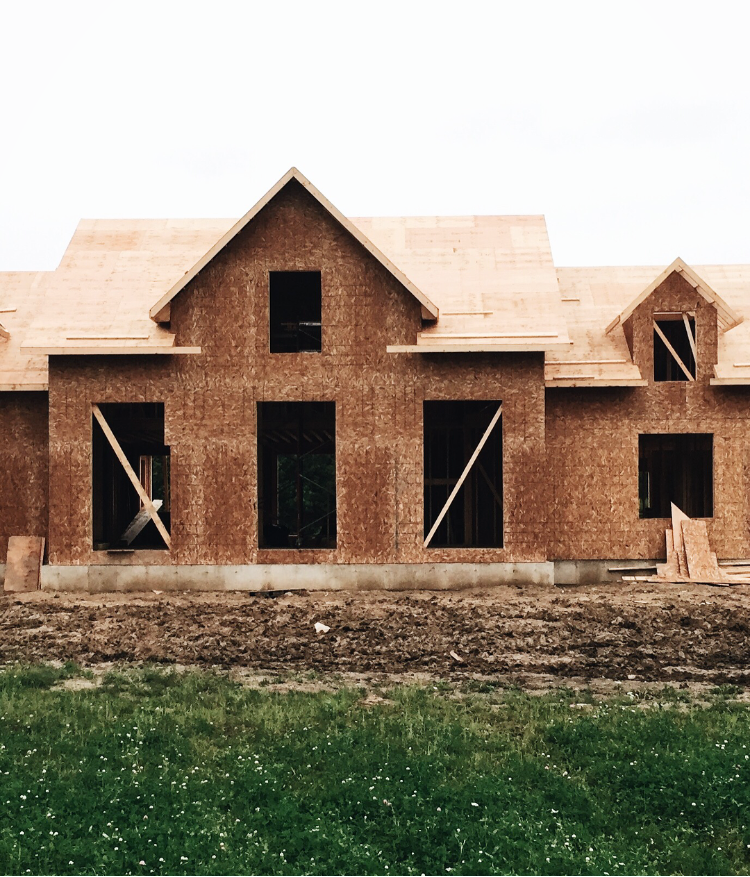 Wow! Our house is starting to look like a house!
It feels like the framing has been happening for a while now, but I must say that this has been the most exciting part of the build so far. And of course it's only going to get more exciting once the exterior finishes start to complete the outside walls and the interior finishes advance further. With the house changing and us beginning to feel even more invested in the build, our feelings have been too.
(warning: I'm revealing my feelings *ahhhh*, but I figured I might as well because I want to be open about our experience.)
When people say building a house is stressful, we hands down believe them. There is just so much that needs to come together, financially, physically and all the details that seem forever underlying. Brent and I have felt excited, nervous, stressed, guilt and everything imaginable throughout this process and I'm sure it wont stop here…
What we have learned is to focus on one thing at a time, where ever our journey takes us we need to see the positives, keep focusing on the good and to hold our relationship with God closest to us. We are so blessed, over and over again, and a lot of the time I don't know why. Sometimes that blessing gets overcome with fear and guilt of wanting more… Do we really want more and are we consumed with wanting more? That we don't deserve a new house at our age because there are so many people more deserving. Because so many tragic things are happening in our world and we are so focused on building a house. That is when the guilt sinks in.
I think that is how society these days can declare things, especially now that the world is at our fingertips: we live to consume and we should have nice things because they will make us happy. That other people are more deserving or lets judge someone for what possessions they own. Do you think that's true? That is not how we are supposed to be, and as humans we are not perfect by any means.
We do not need to state reasons as to why we feel the need to build a house, other than it has been on our hearts and we took a leap of faith.  We wanted this for our family, and we are so blessed to be able to make this happen with the hardworking hands of our family as well. We have lovely reminders of how happy we should be, that this is a blessing and we need to embrace this journey.
And all the guilt is lifted.
We are in this process because Brent and I like to take chances, whether that be a good thing or not, we're hopeful in living life like that. Brent has also been brought up with the best work ethic and drive, and I'm so proud of him for it. If I look at my parents, Brent's parents, our grandparents' generation and past generations, it's a true testimony that hard work is rewarding. I may not be the most career oriented person, but for me its passion that drives me to work hard. God's words tell us that working hard, but with faith in mind, can lead to the great things he has planned for us.
 For I know the plans I have for you," declares the LORD, "plans to prosper you and not to harm you, plans to give you hope and a future.

Jeremiah 29:11
Sorry for the rant and if my feelings seemed choppy.
As for the house progress, this is where we are!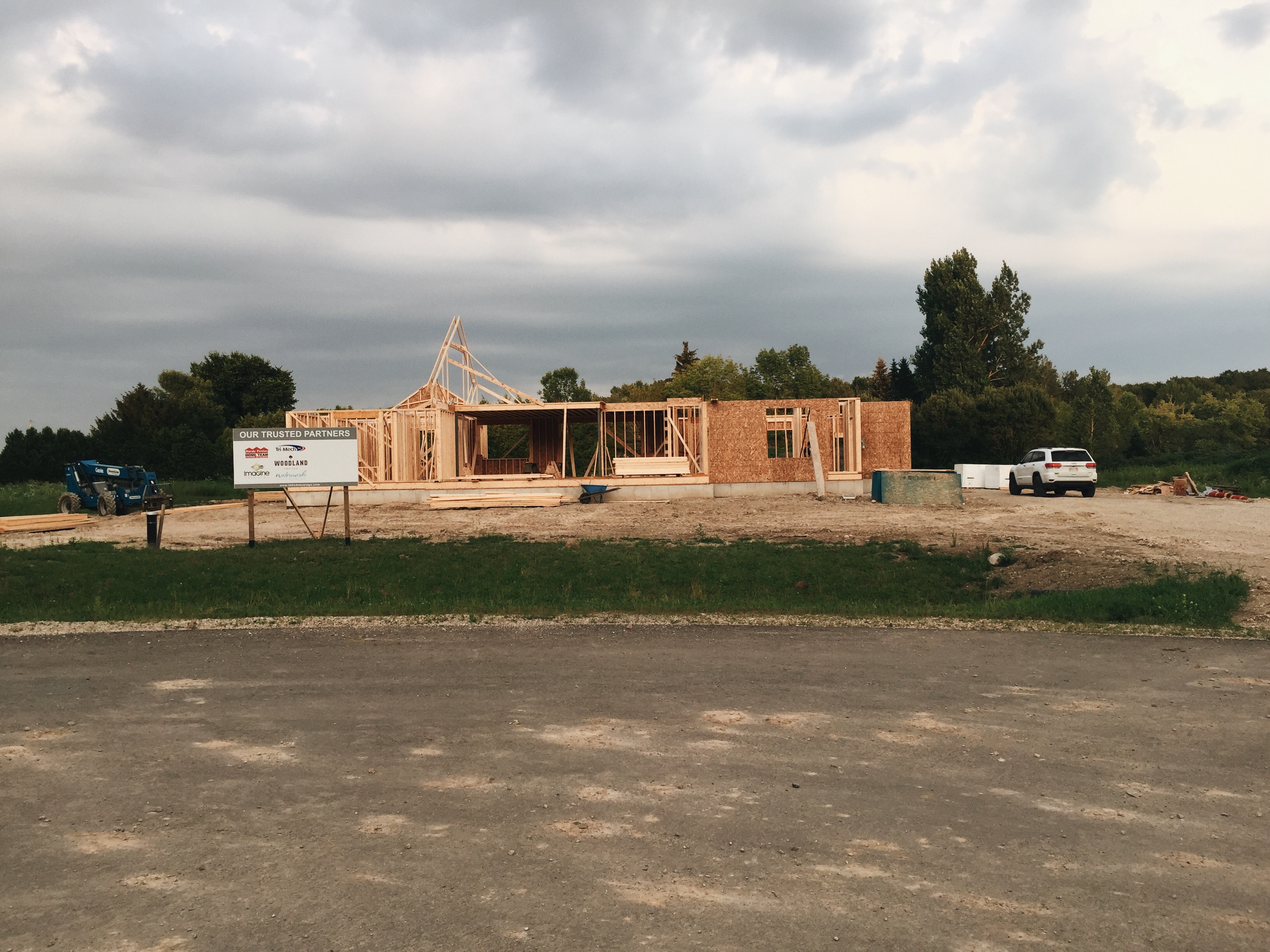 Once the walls begun going up, it was like a "AH HAAAA" moment, we no longer were looking at our renderings on a piece of paper but rather physically walking through the rooms we meticulously designed. It felt very familiar, we knew this house from top to bottom, we had spent so many of our nights examining every area, and well, surprise… we're still doing the same.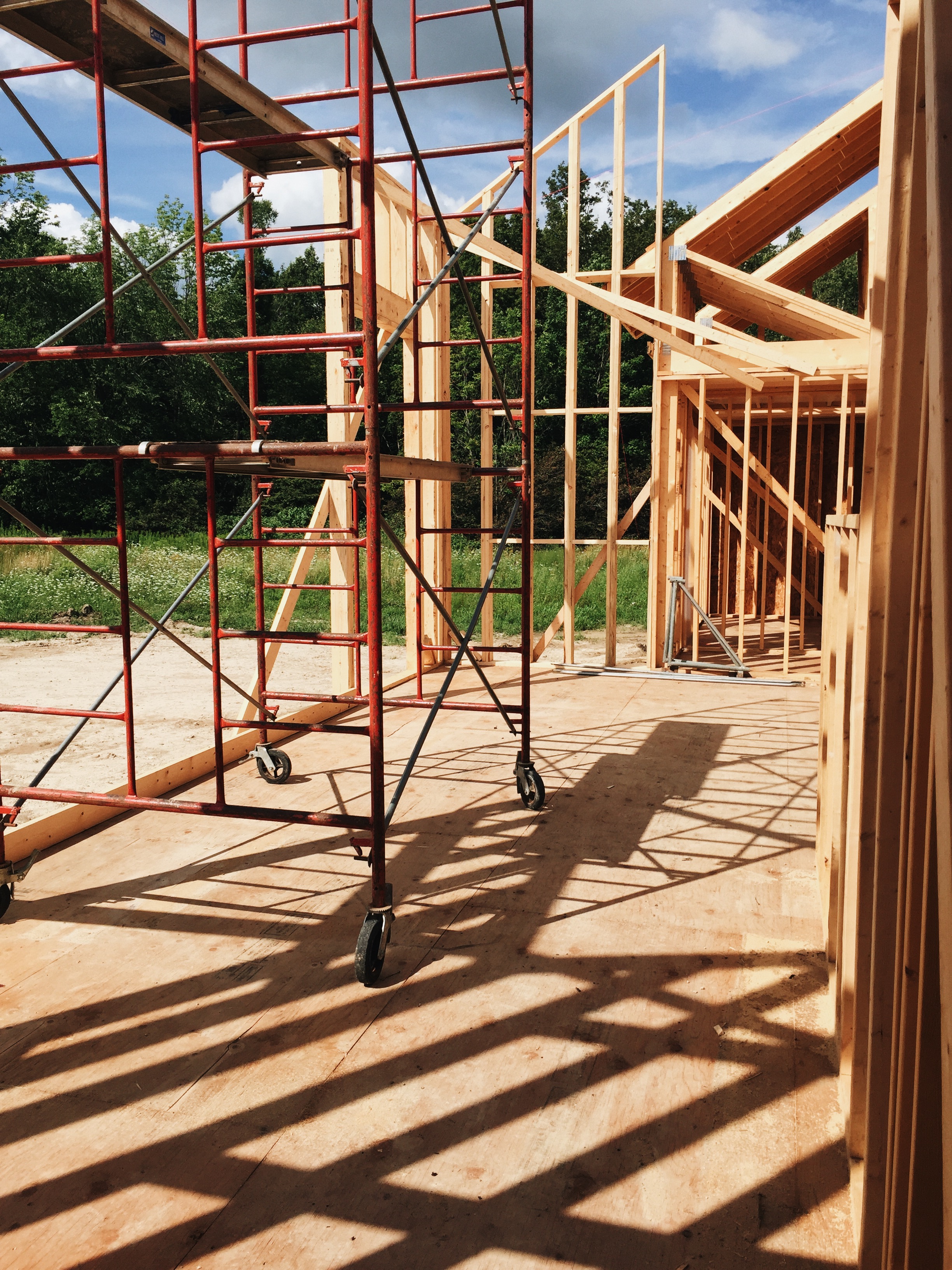 The boys run around chasing each other throughout the main level going from room to room, oddly it feels like they are right at home and I can already see our house coming to life!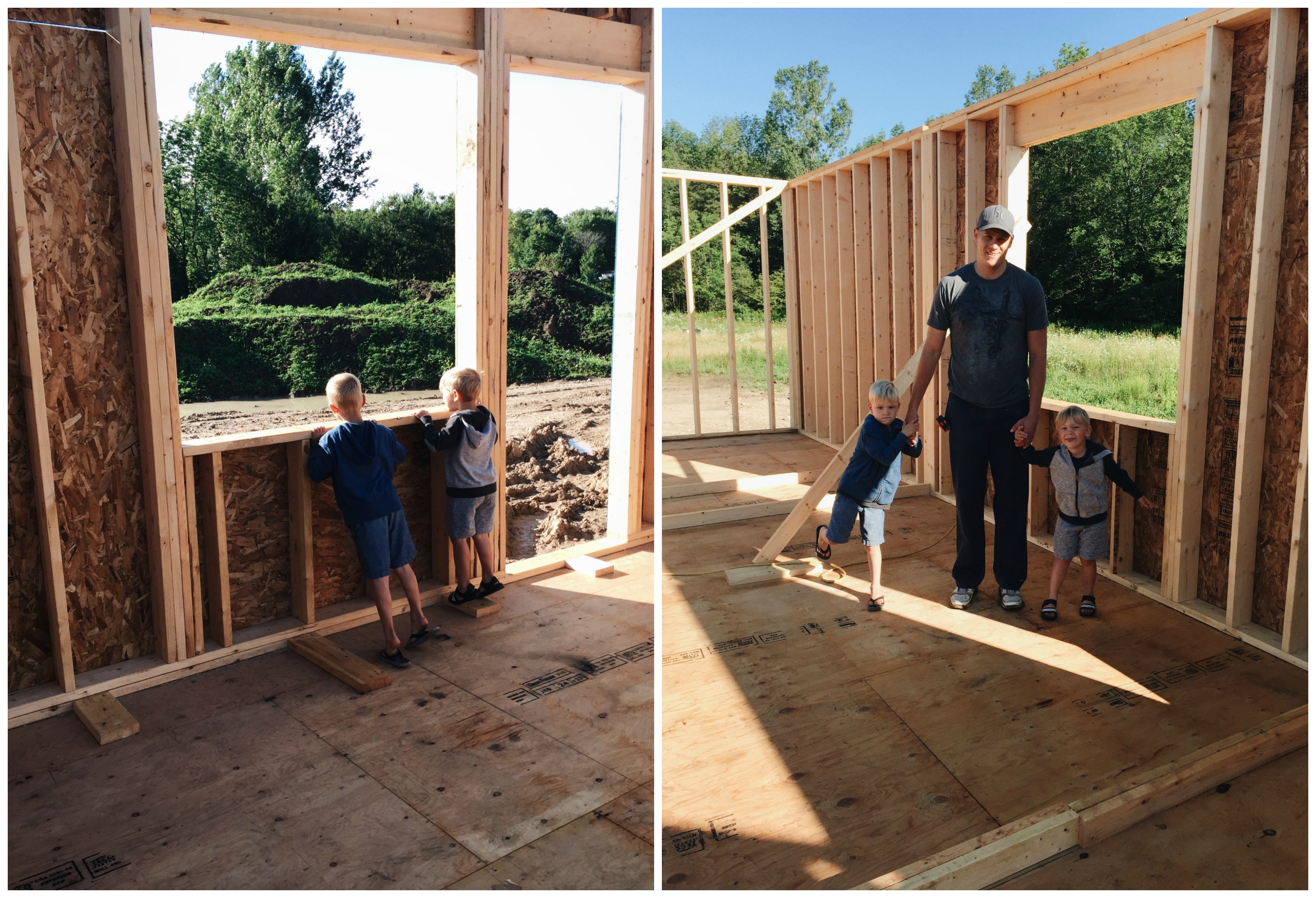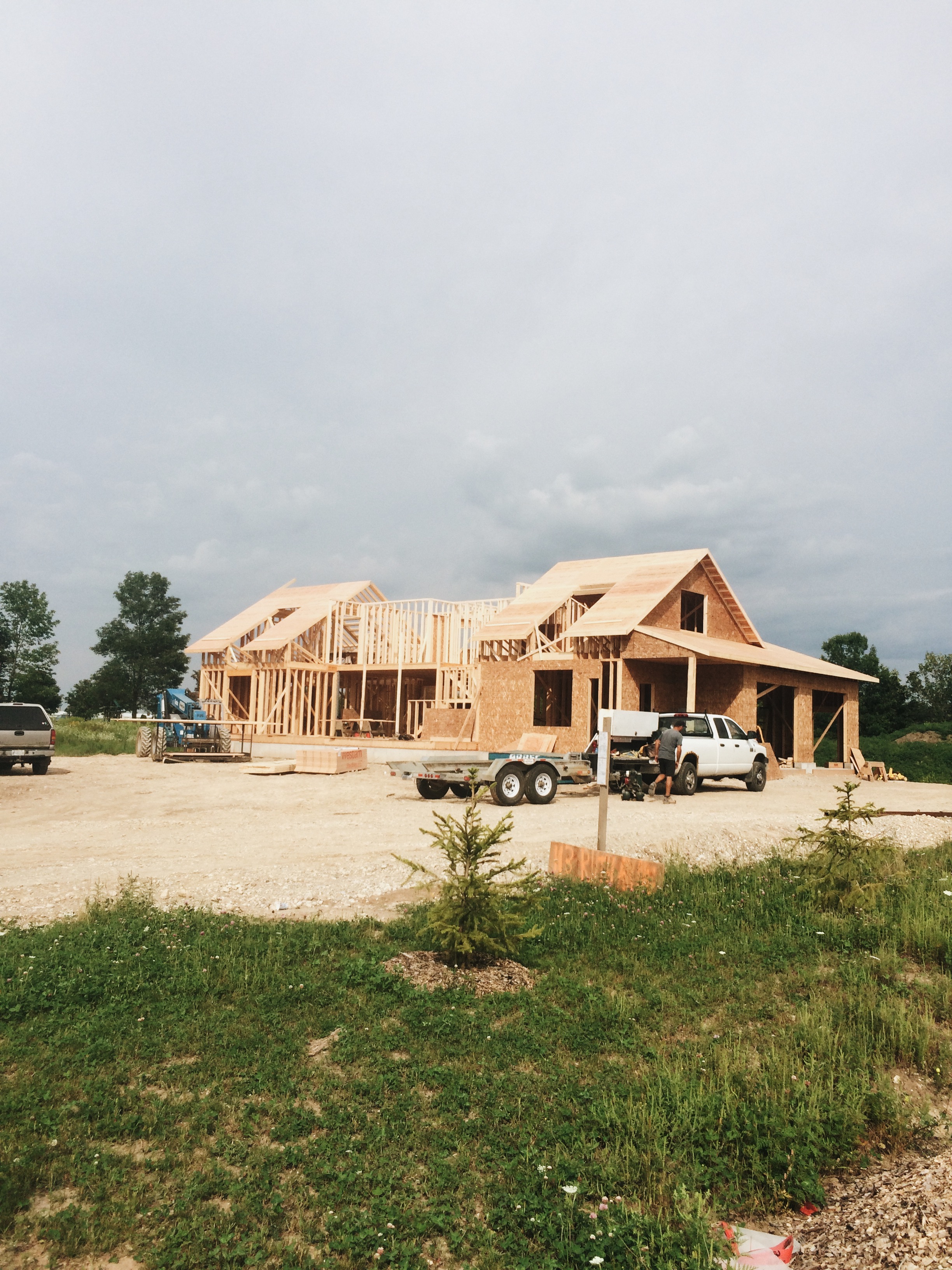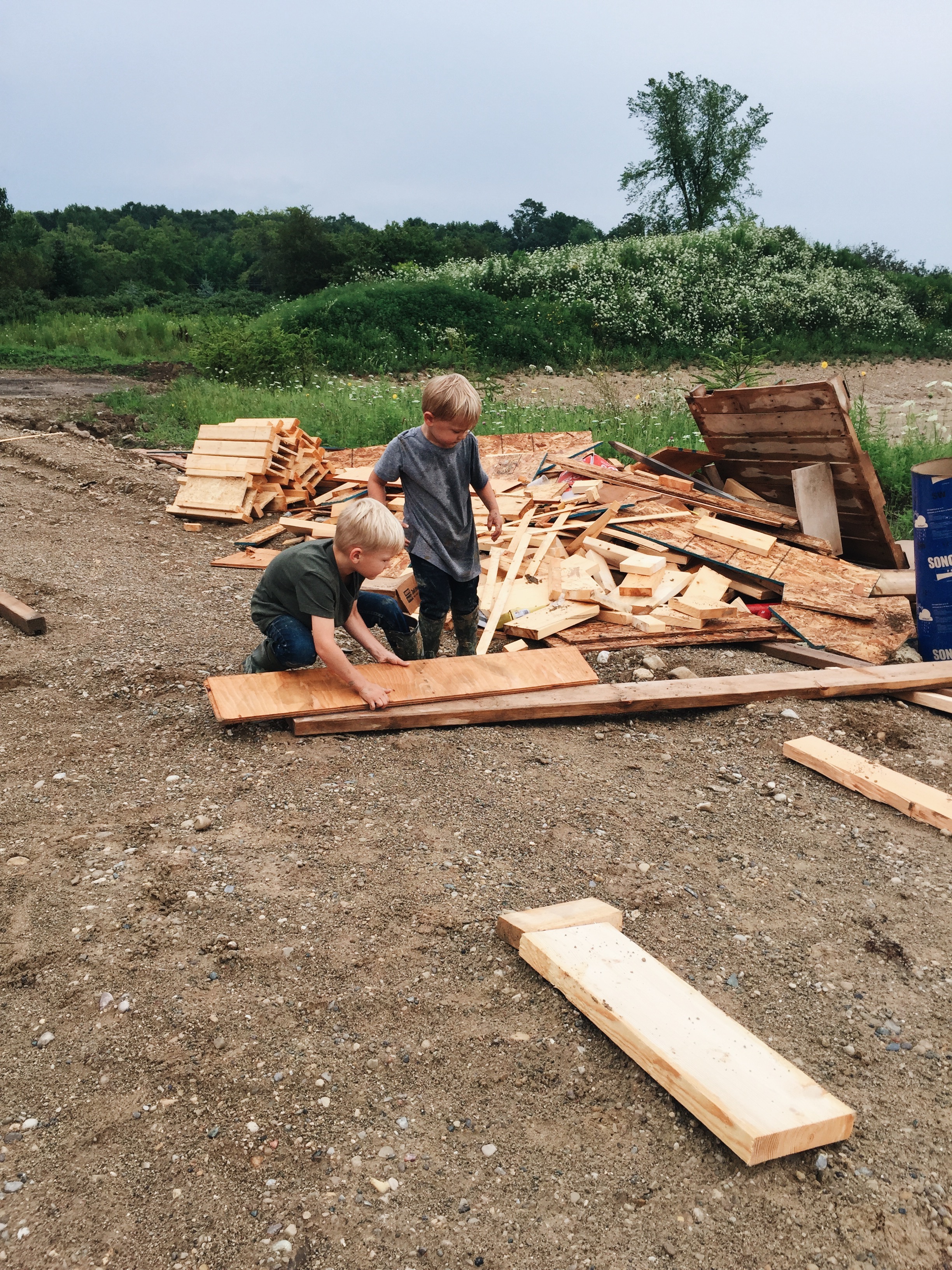 When the boys aren't running around the house or jumping through the huge mud puddle out back, you can find them here building their little tractor shed out of all the scraps ;)
In the above images, I'm standing in the two second floor end bedrooms (there are 3 bedrooms up here in total). The boys will be sharing the second bedroom which is closest to the staircase landing. I figured that maybe if they were closer to the laundry chute, they would be more willing to throw their dirty clothing down it instead of on the floor!? We'll see… 
From the second level you can also get a good feel of the layout and how we went for a lofty feel with the stair railing… I really hope the boys DO NOT throw their toys down from up here :|
The Grey House has the plywood sheeting complete!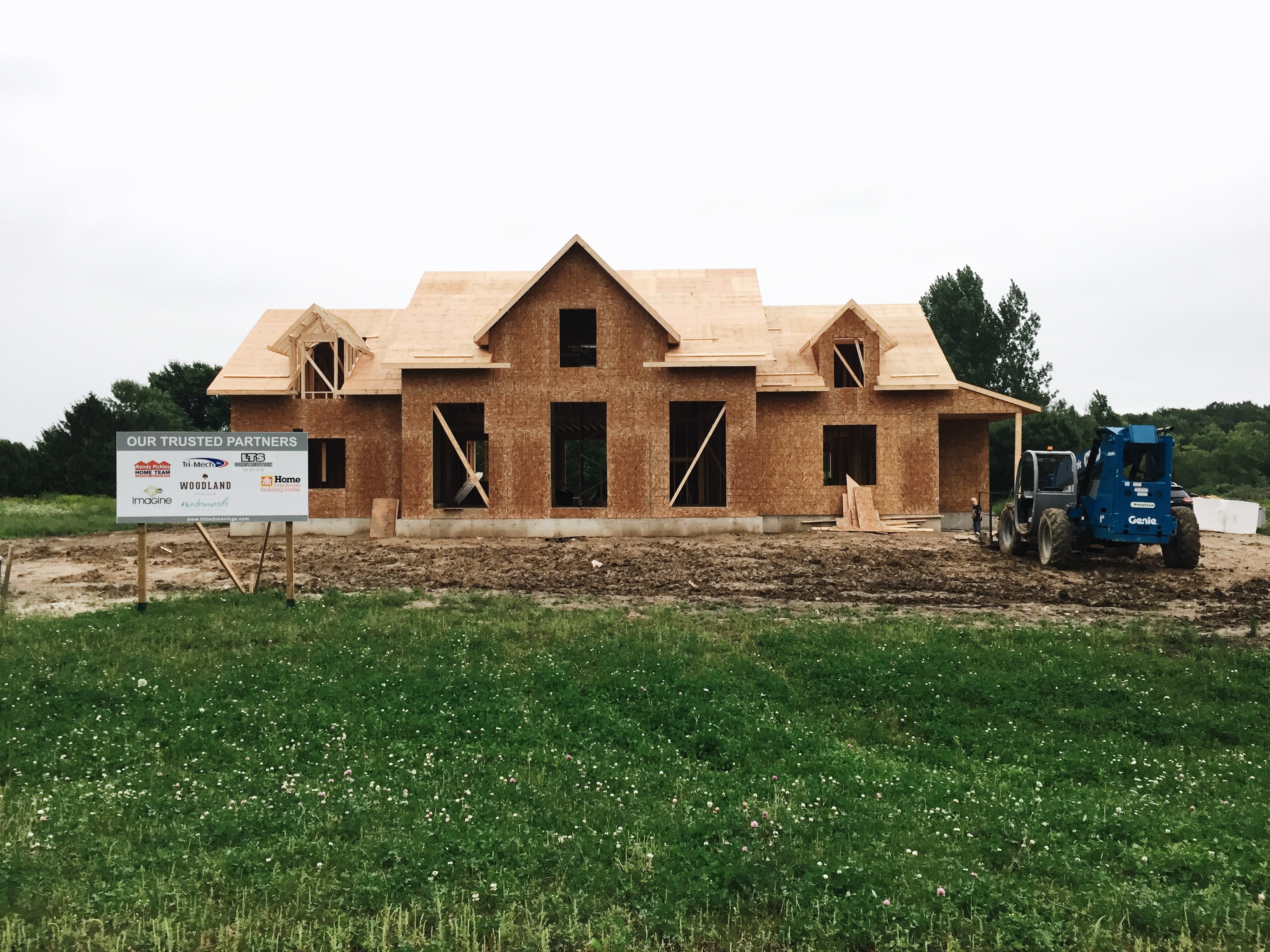 Although most of the exterior of the house is framed, we still have a few more weeks of framing inside, a few more details on the outside, house wrapping insulation and the metal roof to install.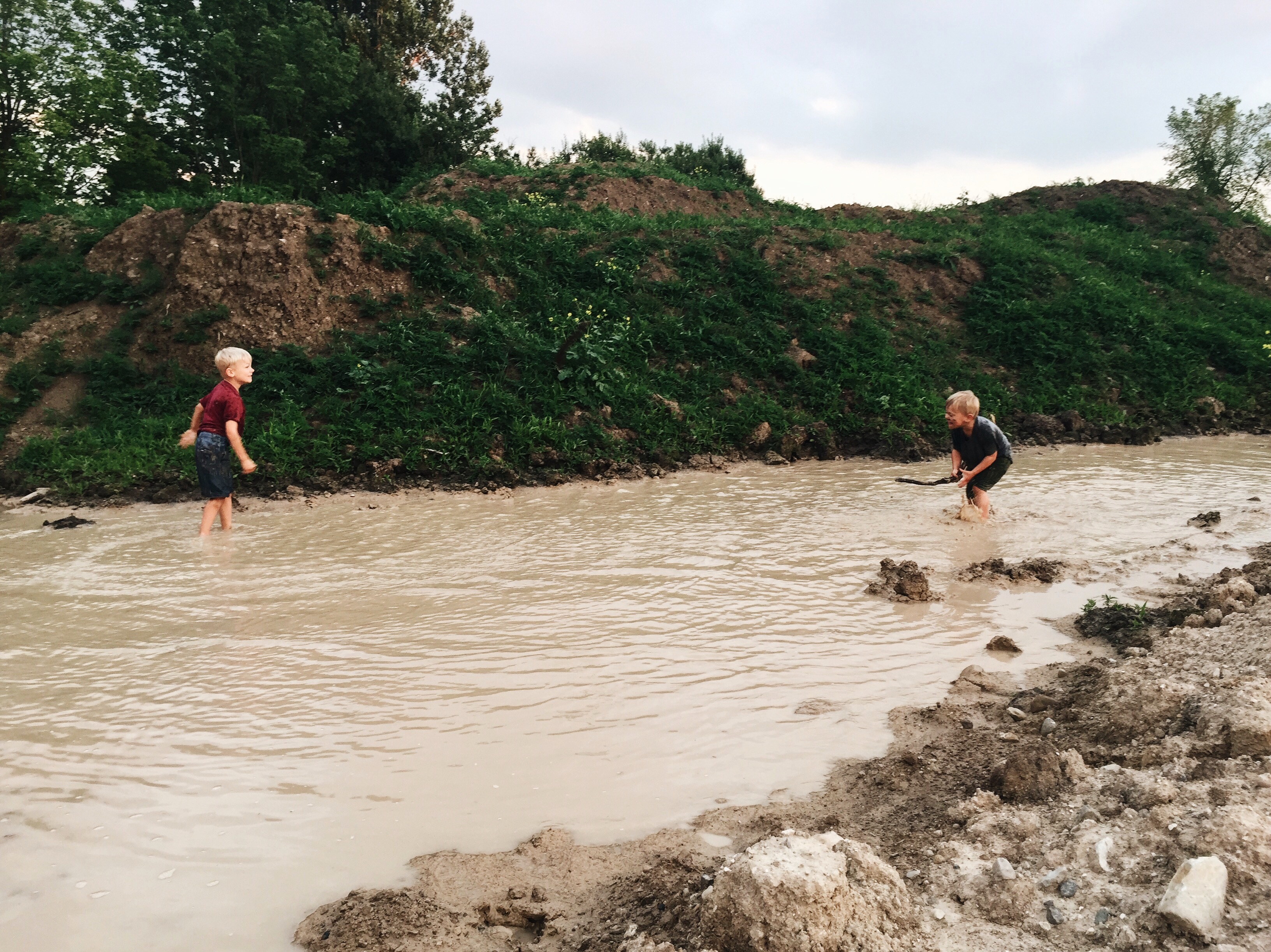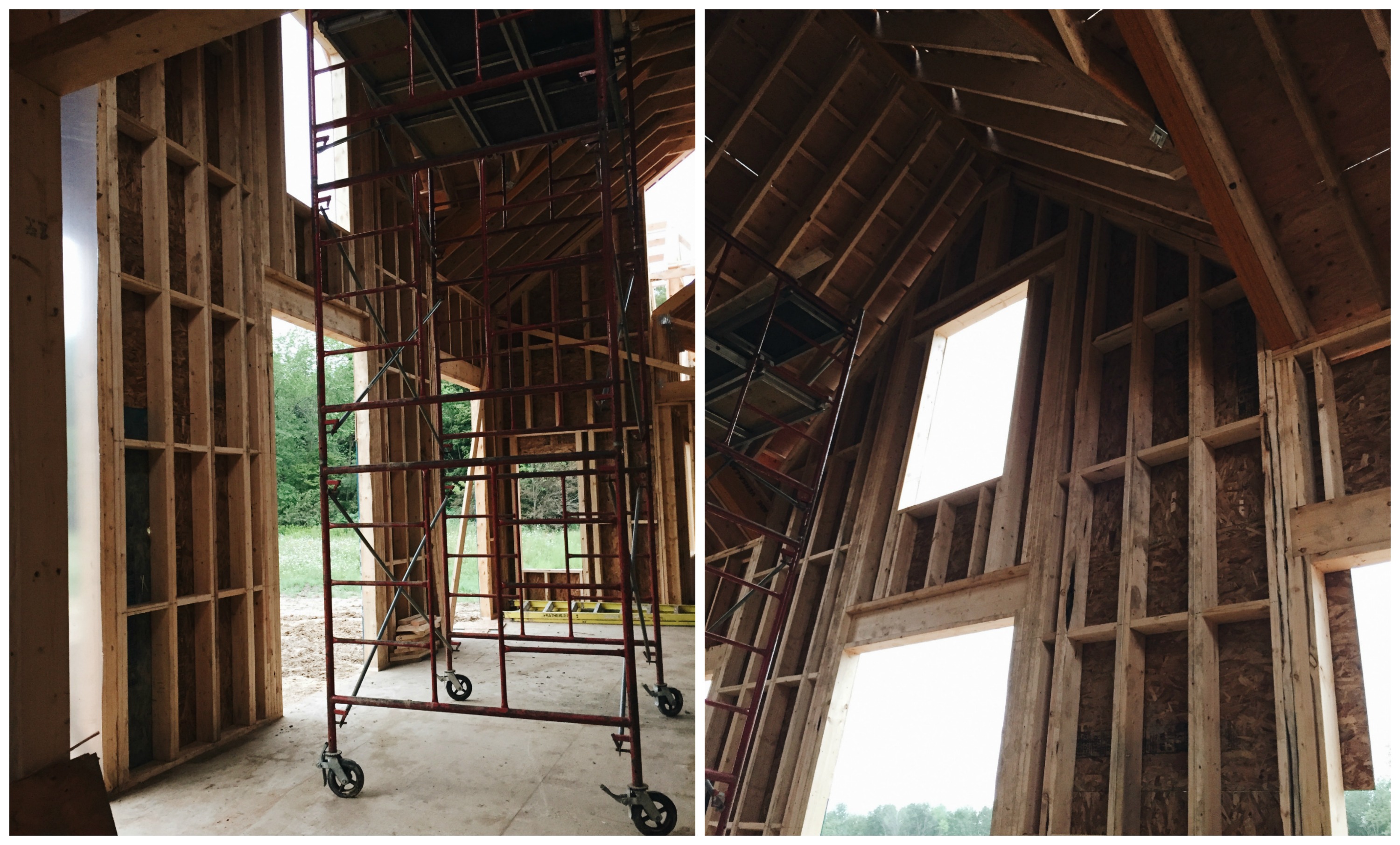 The vaulted living room. It reminds me of a barn and I love it!!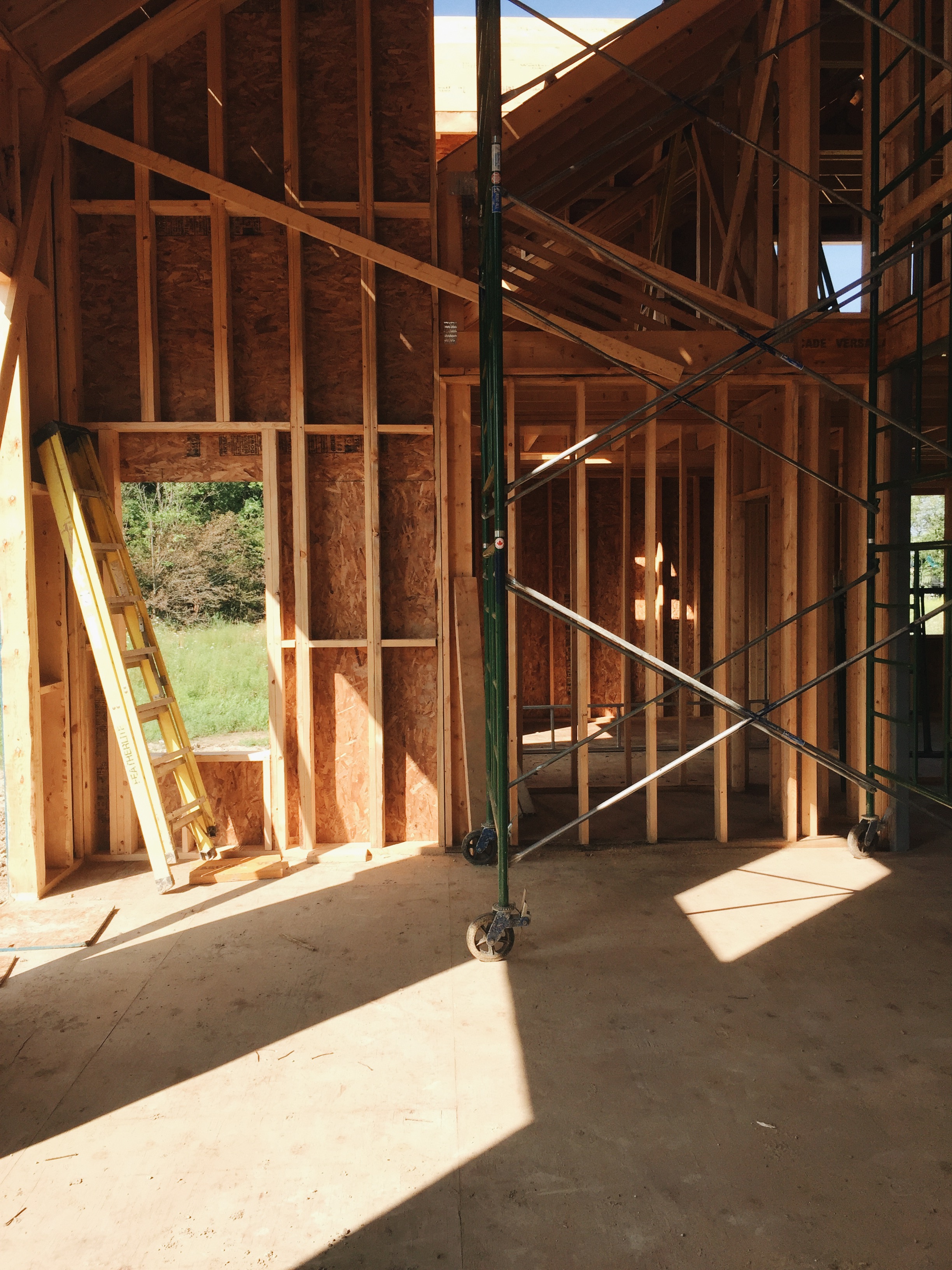 This is the fireplace wall in the front part of our house. You can see our 3D renderings and inspiration for this area here.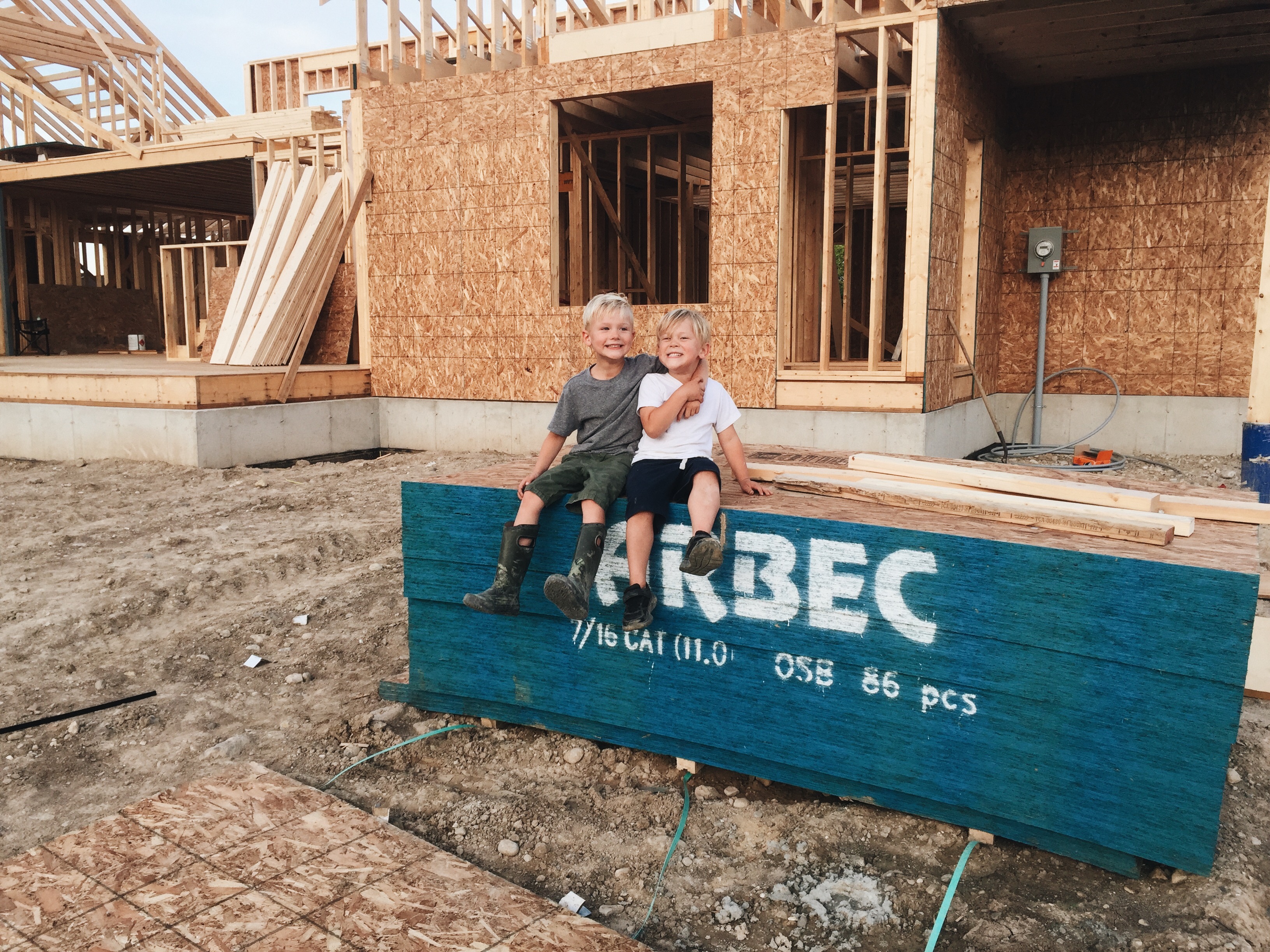 And lastly, my fav little guys and their grinny smiles <3
This house building process has been exciting nonetheless and we are so grateful to being creating something we get to make so many more memories in with our family.