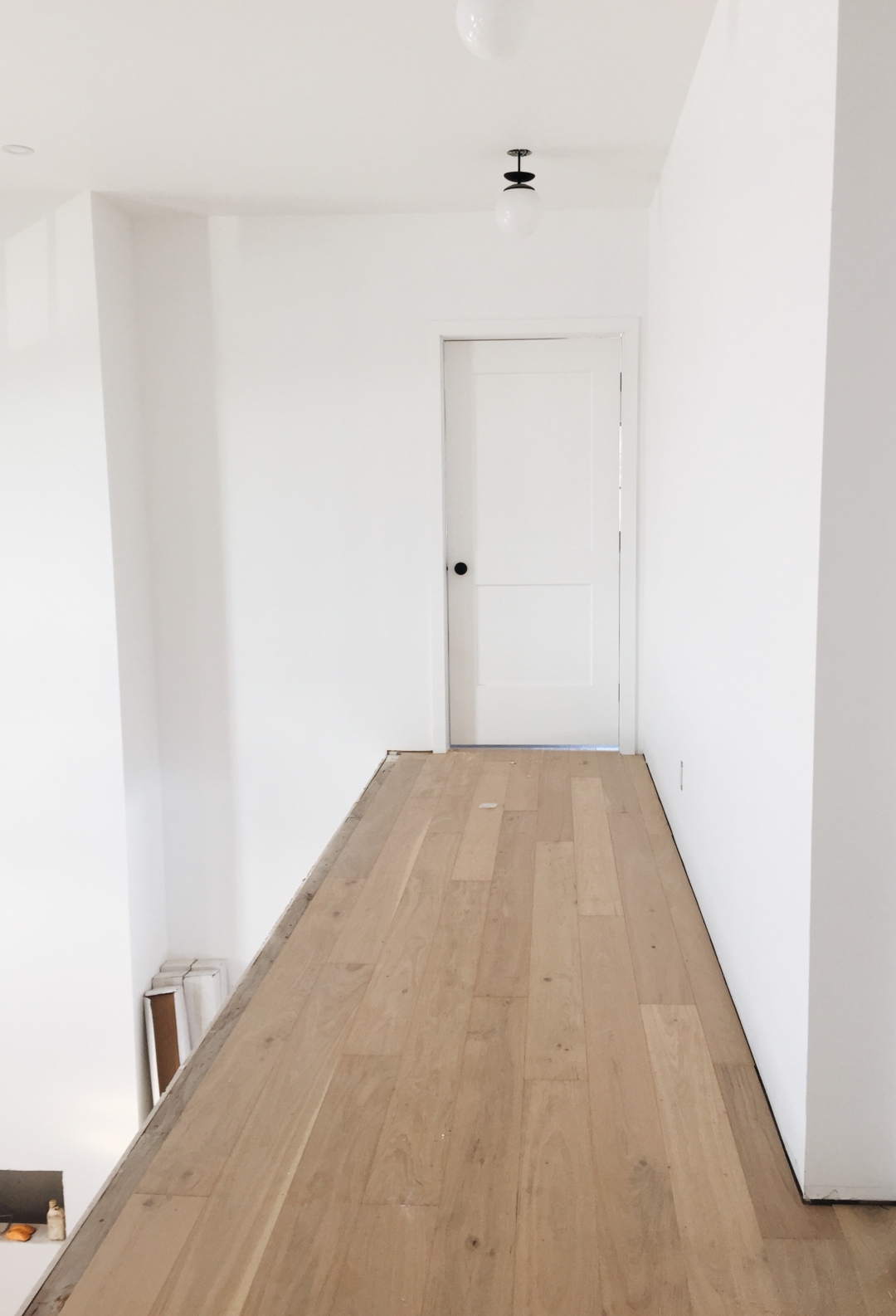 Our lives have been crazy these past few months (for the record, the past year). I came across one of my photos on Instagram, dated January 2nd sharing our house building news. Now here we are, 1 year later, getting ready to pack and move into the new house at the end of the month! When you've been dreaming up ideas, making decisions like a mad woman, it's about time to finally put our feet up, get back to normal life and settle on into the new house.
If you've been following the #TheGreyHouseBuild journey closely on Instagram, you probably have seen numerous photos and videos of our home progress. I often used the "poll" feature when I find myself torn between two options or sometimes just because I like asking for your opinions :)
This brings us to our flooring options for #TheGreyHouseBuild.
Brent and I ended up sourcing flooring at Rob Carere Flooring, a local store located in Listowel Ontario. All along, I knew light oak flooring was the look I wanted to achieve, it was only a matter of finding the right wood tone that we approved for our future home aesthetic.
It all began after stopping at numerous flooring locations and scoping out different types of flooring. We settled on a laminate flooring from Home Hardware called Kronotex Prestige Oak Flooring. After giving it some thought, we wondered if laminate was the right choice of flooring for our entire house? We began researching engineered hardwood flooring and talking to Carere Flooring about our flooring conflict. I reached out to my friends and followers on Instagram for their opinions. Majority of you guys said engineered hardwood was the way to go!
Laminate vs. Engineered Hardwood
From the flooring experts at Carere Flooring, it was recommended that laminate stayed floating, where as the weight of our kitchen island could affect the movement of the laminate with the shift of our Canadian climate. Also, Brent and I experienced a really bad dishwasher leak in our current house while we were trying to sell it (talk about the worst timing!). The laminate rippeled up because the water had seeped through the planks after a water tube broke behind our dishwasher… by the time we noticed, it was too late. Therefore, laminate is a little risky and it wouldn't hurt to keep some extra laminate flooring on hand.
Engineered Hardwood is the real deal and there is no faking the variety of grain and natural knots in the wood planks. When installing engineered hardwood next to a tiled room, you can have a clean transition in the flooring without having to use transition strips. When it came to Woodland Horizon stain matching our staircase (which is white oak), the engineered hardwood and staircase matched perfectly, almost like solving a puzzle.
Another flooring option…
Wood-like vinyl, huh!?
Believe it or not, vinyl is the new craze in the flooring industry right now, and I'm not talking about your grandmother's vinyl tiled kitchen floor from back in the 70's!
We considered this option because, wow, if you look below, that vinyl flooring looks just like hardwood but WATERPROOF! Waterproof sold me immediately, plus the fact that one of our friends owns a restaurant with vinyl wood-like flooring– it has held up amazingly, so that was just a little extra reassurance.. The only turnoff I had from the vinyl flooring, was the fact that it was still not real wood. If you know my background, you'd know that I grew up on a farm and my parents still live in their 100-year-old farmhouse I grew up in. Wood collects dents and memories that have a story to share after 15 years of tiny feet growing on them, you know? It's apart of the house that builds character overtime. I found that the vinyl didn't quite have the same texture and sheen as engineered hardwood, but maybe some of you wouldn't notice because its so hard to tell in photos.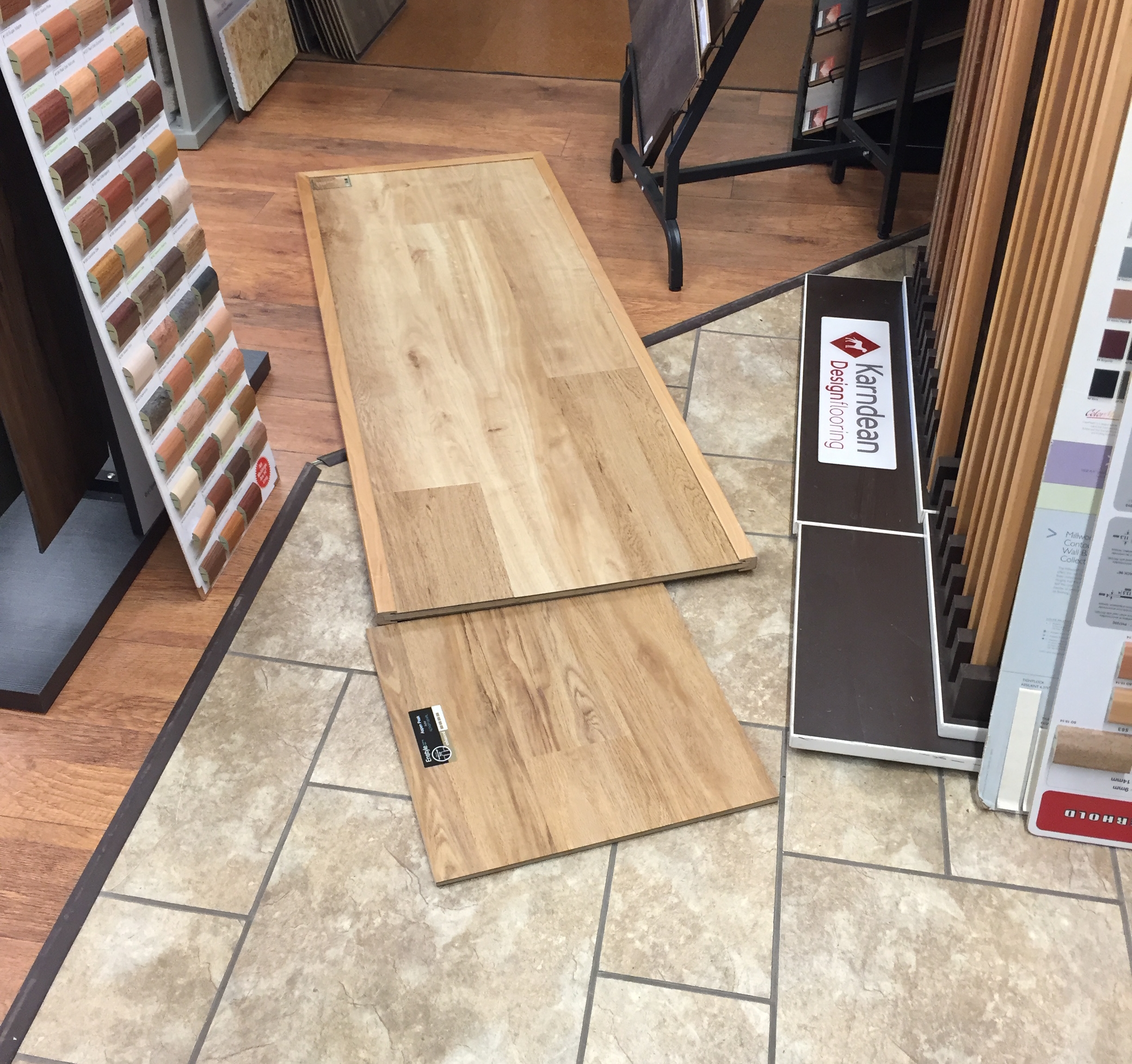 Engineered Hardwood won!
Below were the contenders for our house. The top left is the Kronotex Laminate, the rest are engineered hardwood by Kraus Flooring. The funny thing is that I asked for everyone's opinion on Instagram — majority liked the two darker options while I was secretly leaning towards the two lighter options.
Can you guess which one I choose!? Maybe if you refer back to the post where I share my flooring inspiration, here, you can figure it out!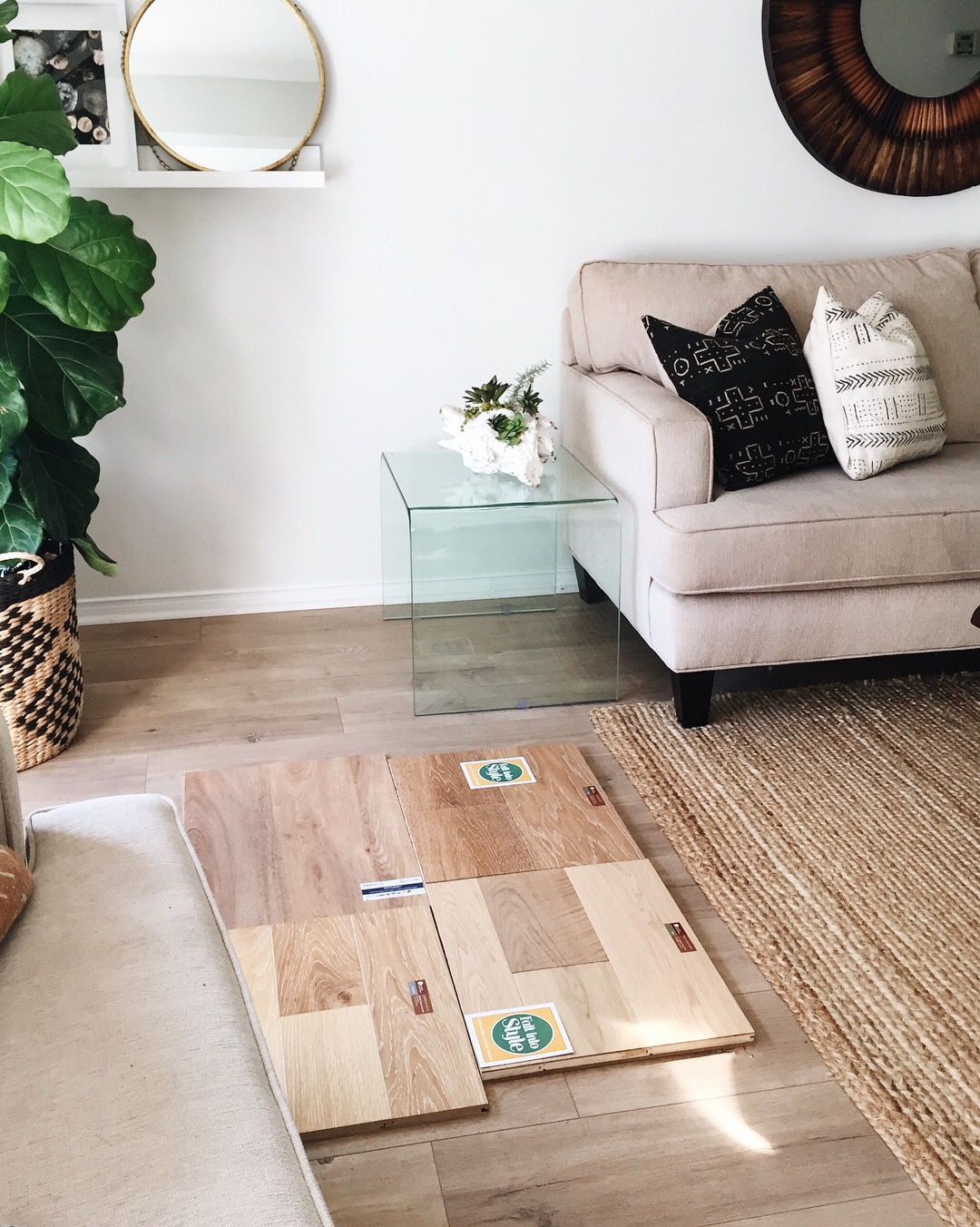 Once I had the flooring narrowed down to the two lighter options, Rob Carere ordered in a box of the Kraus Natural Topaz Oak so I could see more of the plank colour variation. I ended up choosing the lightest sample in the above photos because the pale colour variation seemed to fit best with all of my flooring inspiration!
Below is the first area of install for the Natural Topaz Oak!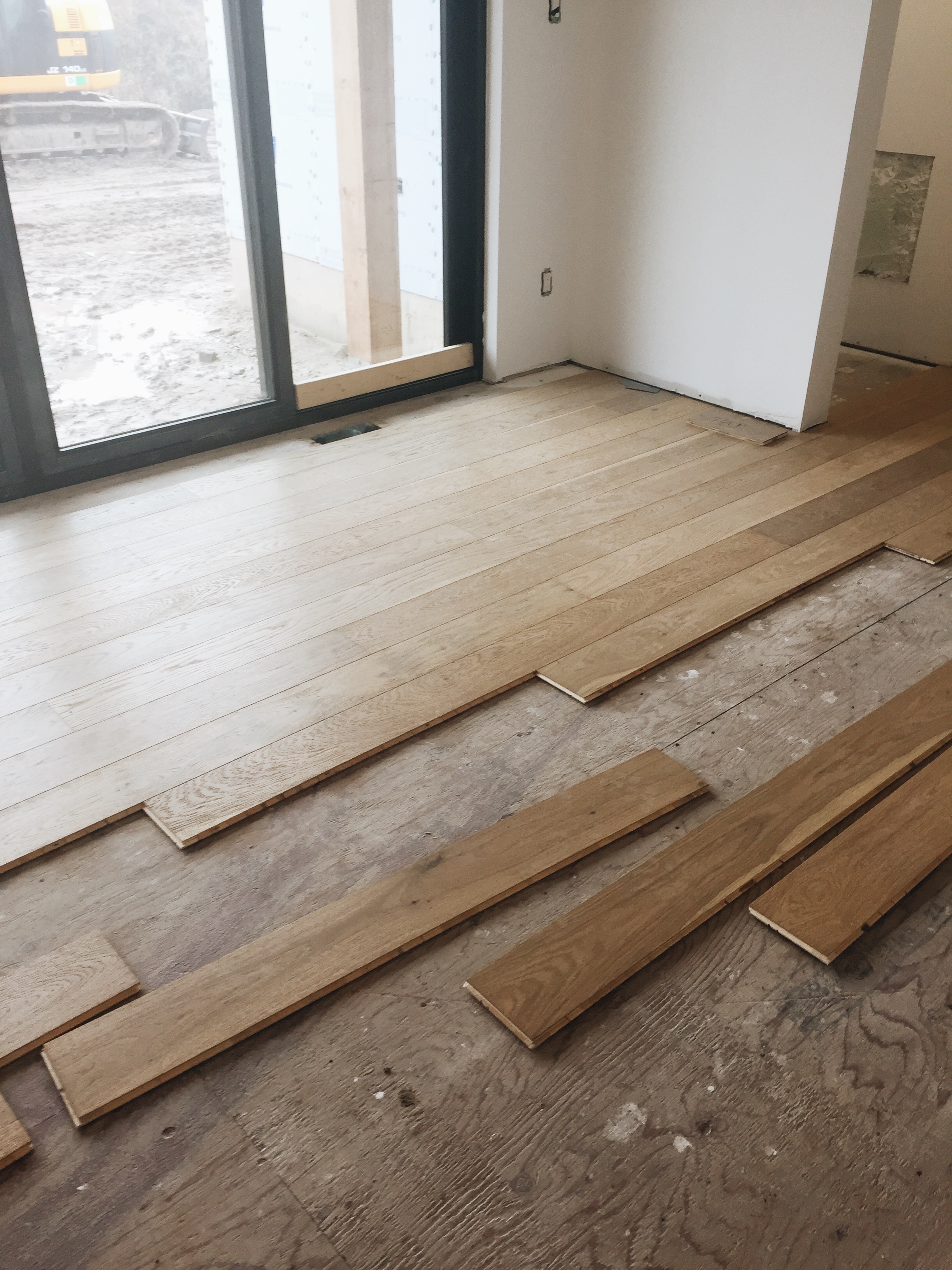 Crazy thing is, once the engineered flooring was almost completely covering the main level, I panicked! I had an awful feeling in my stomach, like I had made the wrong choice. I really liked the flooring on the sample board and the price was right, but for some reason I felt like I hadn't invested enough time into picking out flooring. Was the picking to easy?  Truth is… this Natural Topaz Oak was my second choice. We ended up picking it because of the great price and it was definitely an upgrade from laminate.
Why did I panic?
I panicked because the only thing I could see in the house was the flooring, there were no cabinets, no furniture, just bare white walls next to the flooring. All I could focus on was the flooring. I had high expectations and all of a sudden I didn't know anymore. Since change is not my fortay, I literally needed to spend an hour walking around the house with the new flooring, soaking it in and looking at it from different angles and imagining the space full and lived in. After a good few days of looking back on photos and visiting whenever I had the chance, I was convinced. I had made the right choice and the flooring has since grown on me tremendously. Am I not the most annoying person ever when it comes to decisions??
What struck me off guard, were the bright blonde lines throughout some of the oak planks (I know you're probably rolling your eyes thinking "what is this crazy person talking about?"). I didn't like how they were so bold, but in reality that is because this type of oak flooring is so natural, its normal. Now, weeks later,  I really love our flooring! I love that it's as natural as it gets. I love the colour variation which will pick up different wood hues throughout our home. I love that even if the flooring gains a few extra scuffs, it will still look perfectly imperfect. The Topaz Oak really warms up our home and it looks amazing paired with the dark windows and tile accents.
Now aren't you as excited as I am to see how the flooring will look paired with our cabinetry and furniture!?
Soon enough!
SaveSave
SaveSave
SaveSave
SaveSaveSaveSave
SaveSaveSaveSave
SaveSave
SaveSave
SaveSave
SaveSave
SaveSave
SaveSave
SaveSave
SaveSaveSaveSave
SaveSave
SaveSave
SaveSave
SaveSave
SaveSave