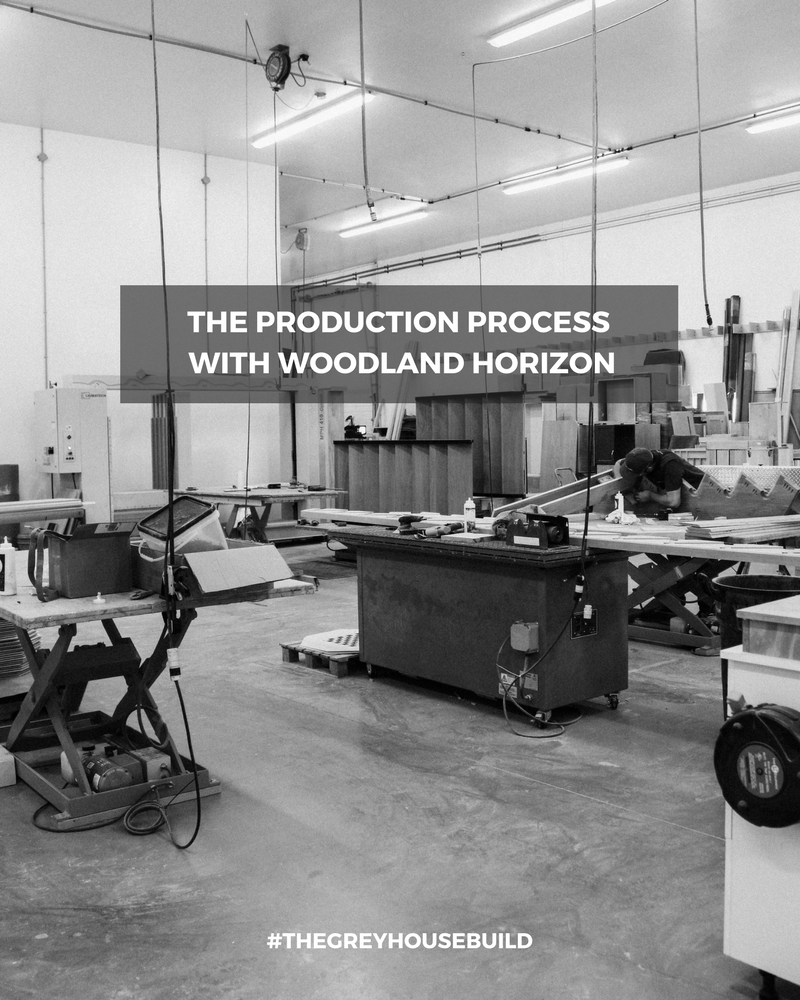 From the beginning, Woodland Horizon was a company that we had heard a lot of amazing things about. What struck us to learn more about them was the fact that they were local. Ever since our first meeting with them, Brent and I could tell how much pride they took in their work and that was exactly what kind of company we wanted to work with!
If you don't know of Woodland Horizon, here is a little intro —
Woodland Horizon specializes in unique wooden built-in cabinets, countertops, closet systems and organizers (the list goes on!). All their products are handcrafted and built in-house using some of the best woods ranging from Maple, Cherry, Walnut, Rift White Oak to Crotch Mahogany and Ebony. You can read more about Woodland here.
Today I'm giving you guys a glimpse into Brent and I's journey with Woodland Horizon. I shared about the first stages of designing  #TheGreyHouseBuild's cabinetry in this post. Now that these past few weeks of our building journey are coming to an end, I just wanted to mention how much we've loved working with Woodland. They have been amazing with following our visions and creating pieces that are personalized to us and our home. We have went from witnessing our first house designs on paper from Imagine Your Home and evolving them into furnishing by Woodland Horizon. With Woodland we designed our staircase, kitchen cabinetry, mudroom cabinetry + bench + wall hook shelving, built-in shelves around the fireplace, master walk-in closet cabinetry, master bath vanities, boys vanity and lastly a media cabinet for our master bedroom. Each piece is completely custom as Woodland visits on site to measure each room/location before production and install.
After finalizing our designs and giving Woodland a thumbs up, it was time for production! I began documenting our list of pieces develop into refined furnishings with paint and stain. I can assure you that you are receiving nothing better than outstanding craftsmanship! Here's proof…
The Production Process with Woodland Horizon
(behind-the-scenes)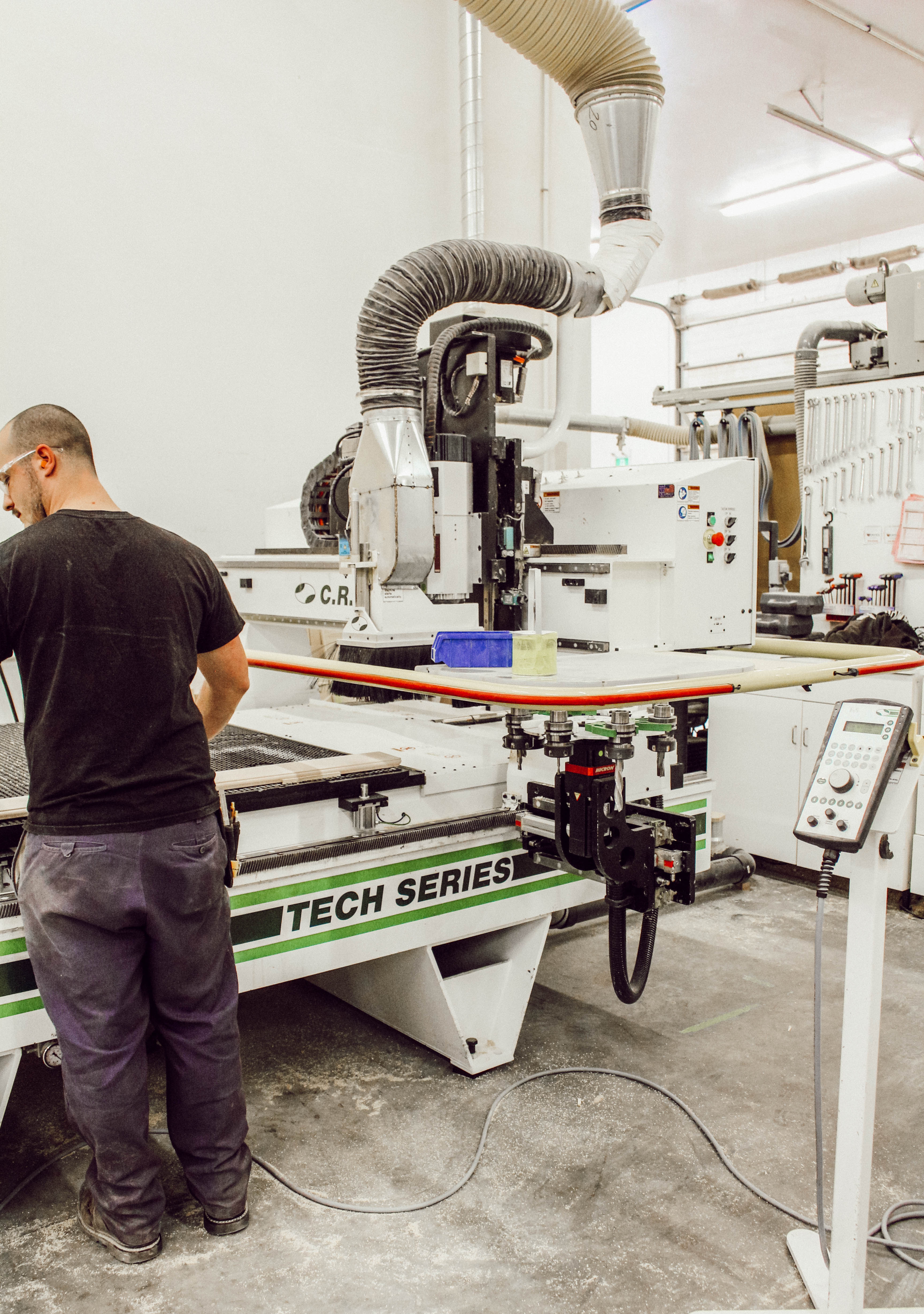 First up is this dandy machine called the CNC Router which is basically operated from a computer. What happens is you slide a piece of wood material on top of the CNC Router and punch in the size measurements for cabinetry panels, doors and etc. The CNC Router then cuts the wood material to size and voila, you have the perfectly sized cabinetry door or panel!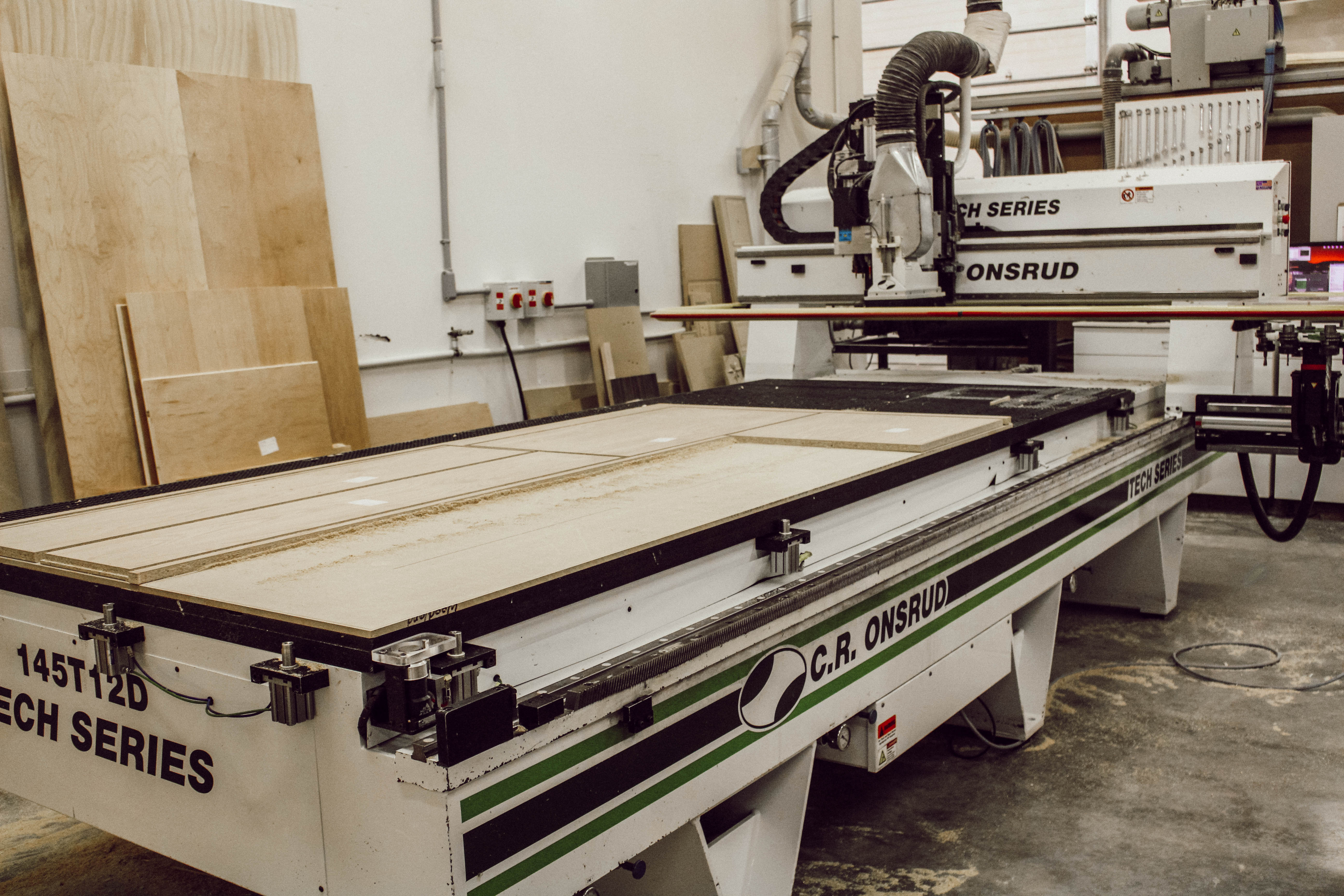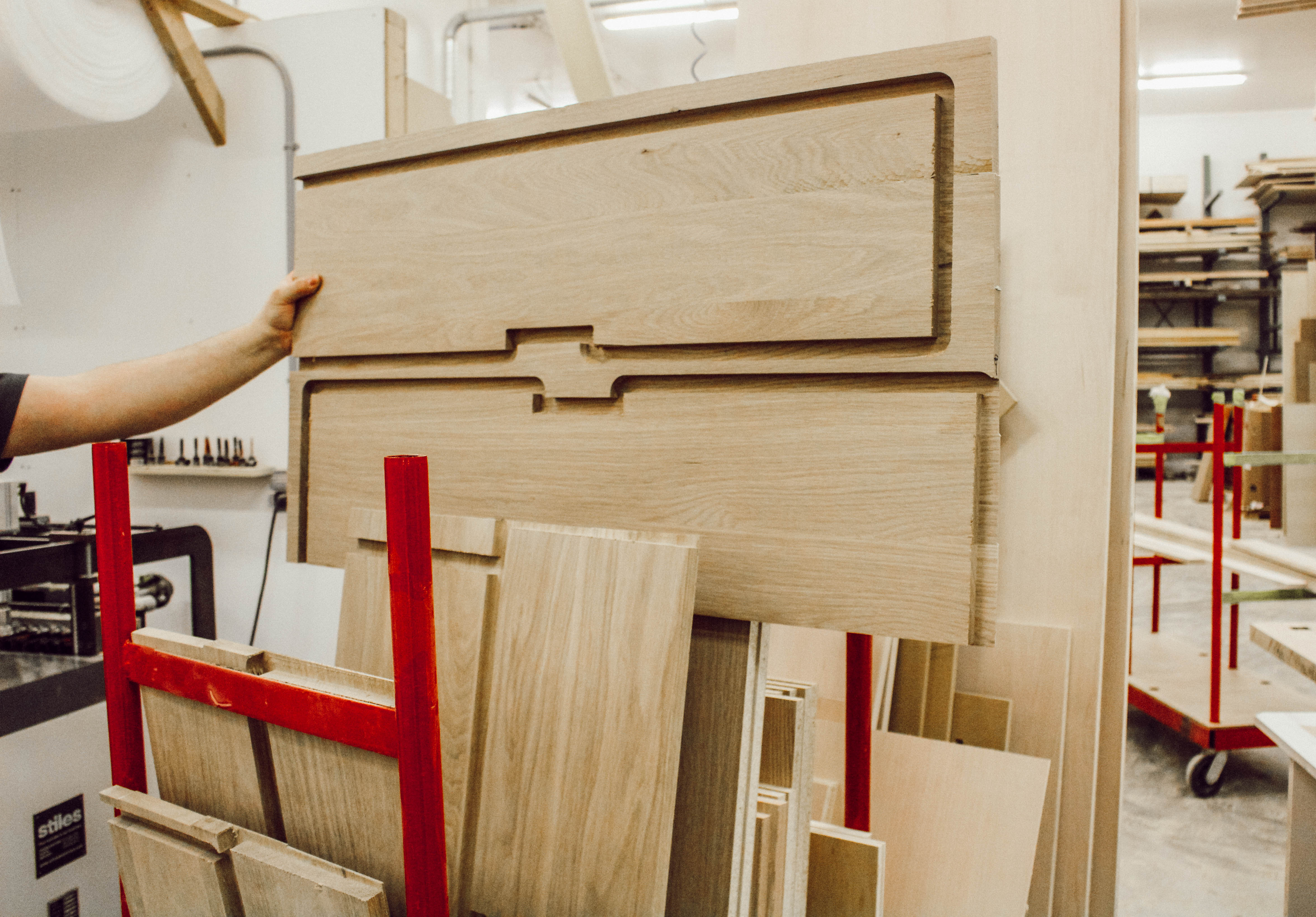 Below is our custom hood range in the process of being built + glue clamped.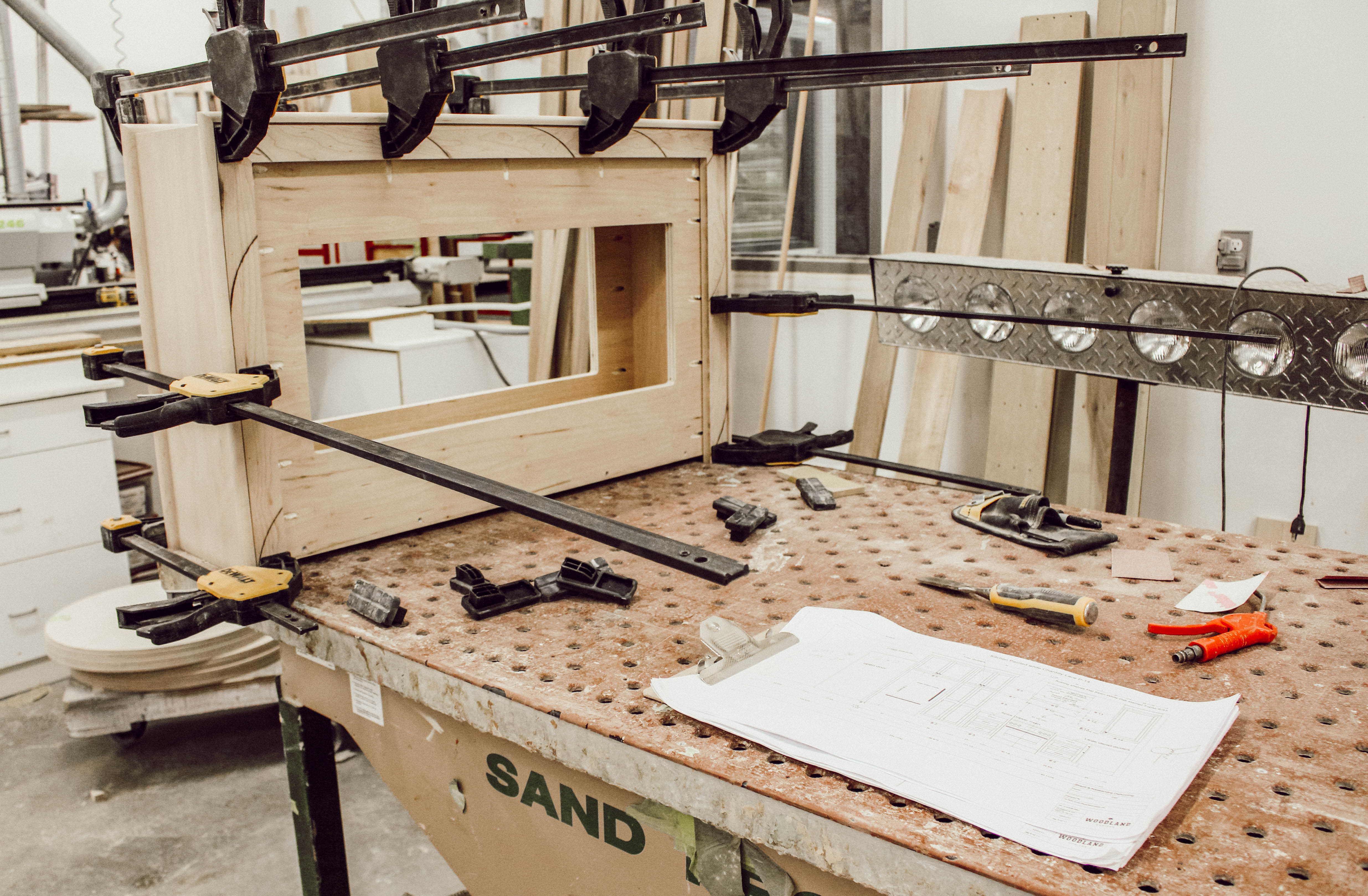 Here is the after math of our custom hood range. We went approx 34″ wide with the hood for our 30″ stove. BIGGER is better, right!?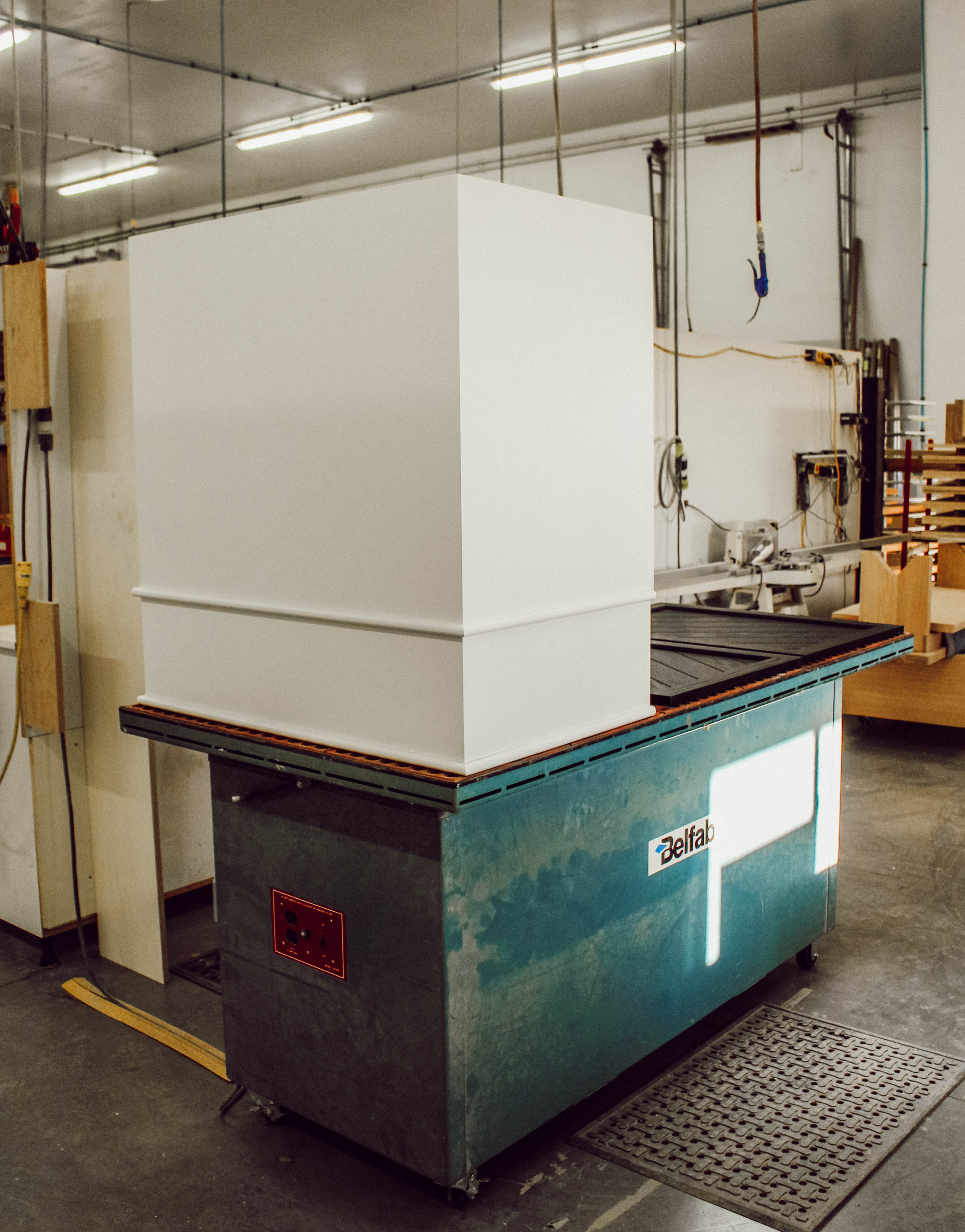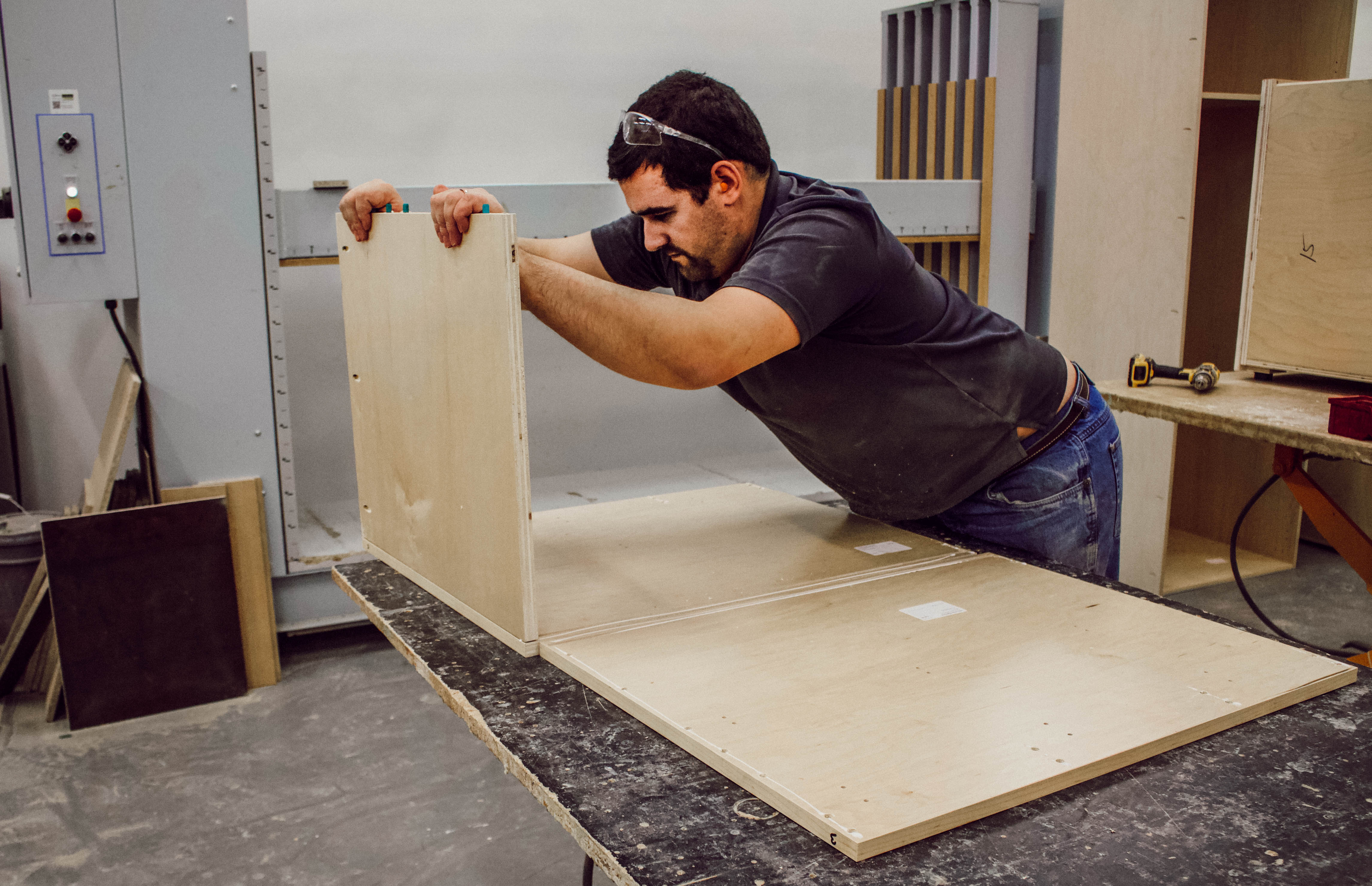 Over here Marv putting together some panels which will turn into the cabinetry boxes. Once Marv is done putting the cabinet together, he will put it into that grey machine which is called a Case Clamp. It sits in the Case Clamp for approx. 7-10 mins until it is removed!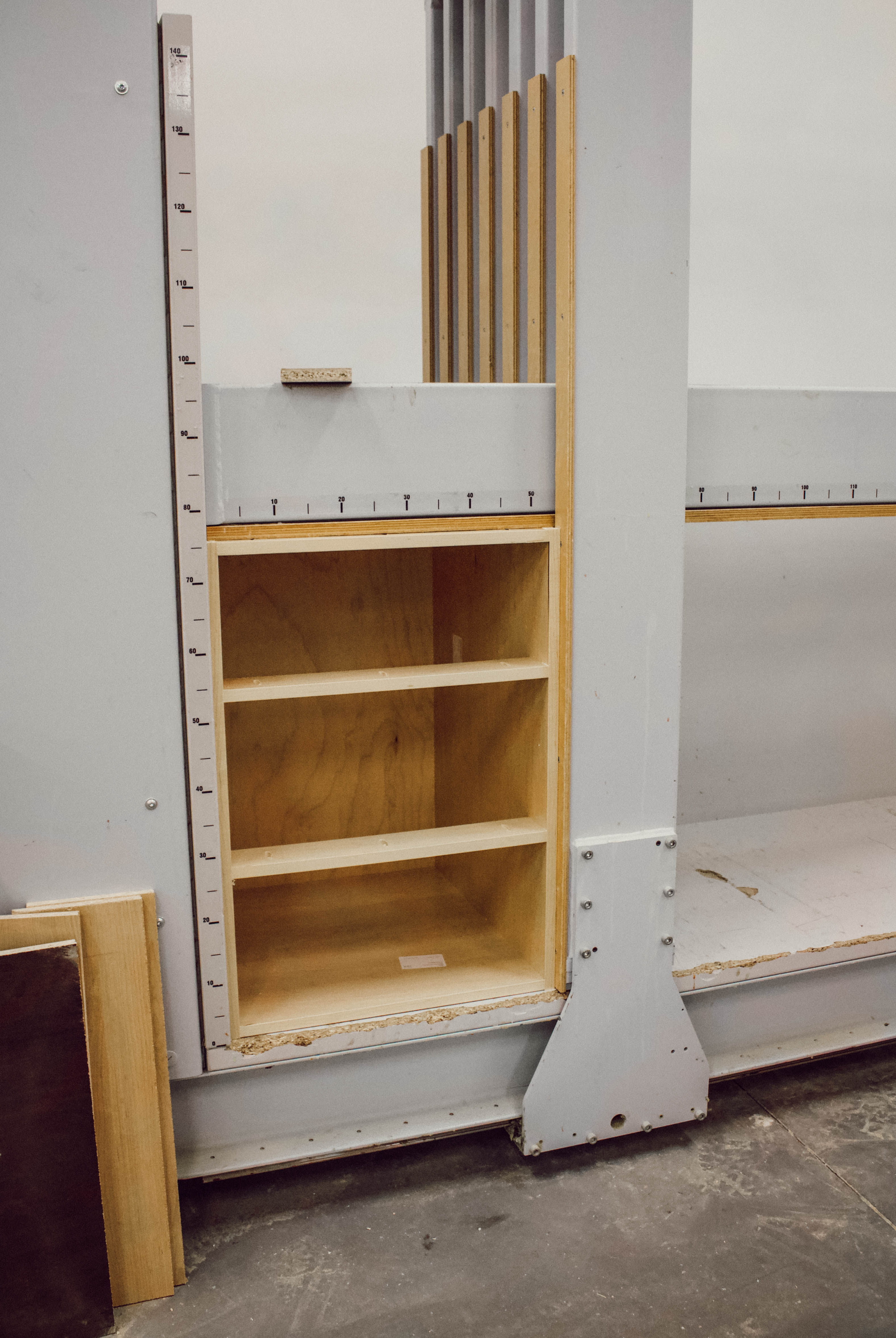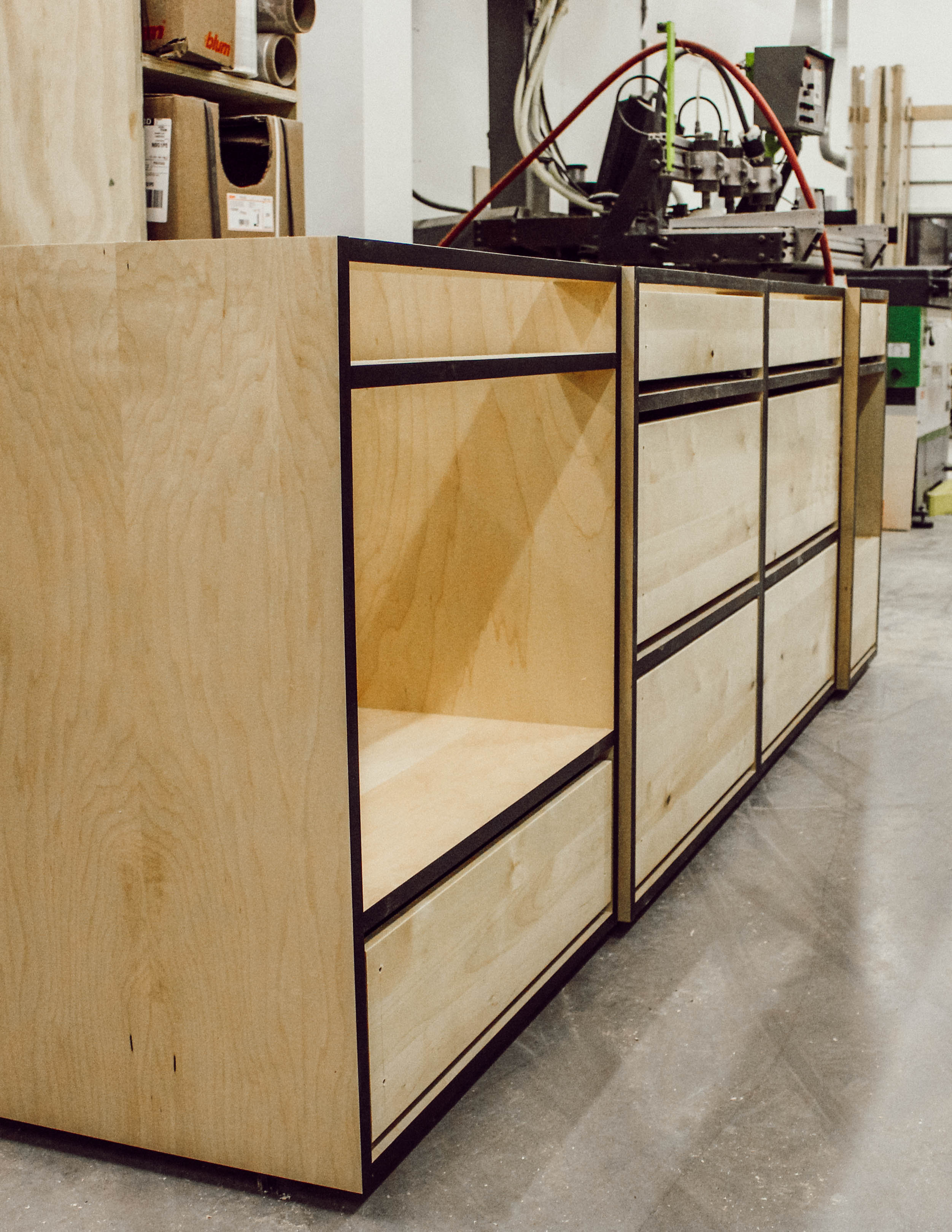 Below, we have some cabinetry doors over here ready for some paint.
Woodland has a 4-step finishing process that goes like this:
Stain — stain wood, seal with a sealer, sealer gets sanded and finished with a top coat of lacquer.
Paint — Prime wood, sand wood, paint the colour and finish with a top coat (sometimes an extra is added).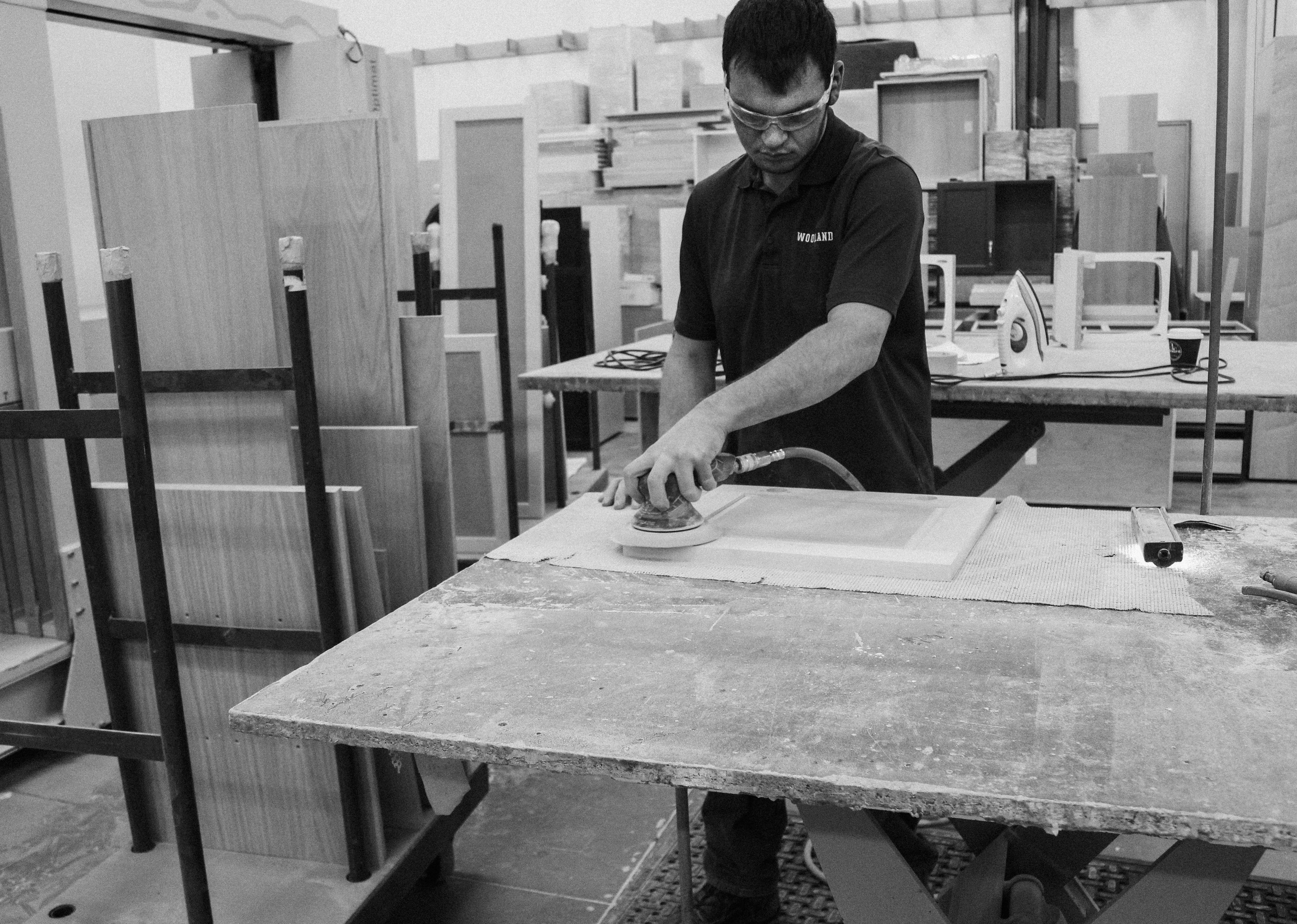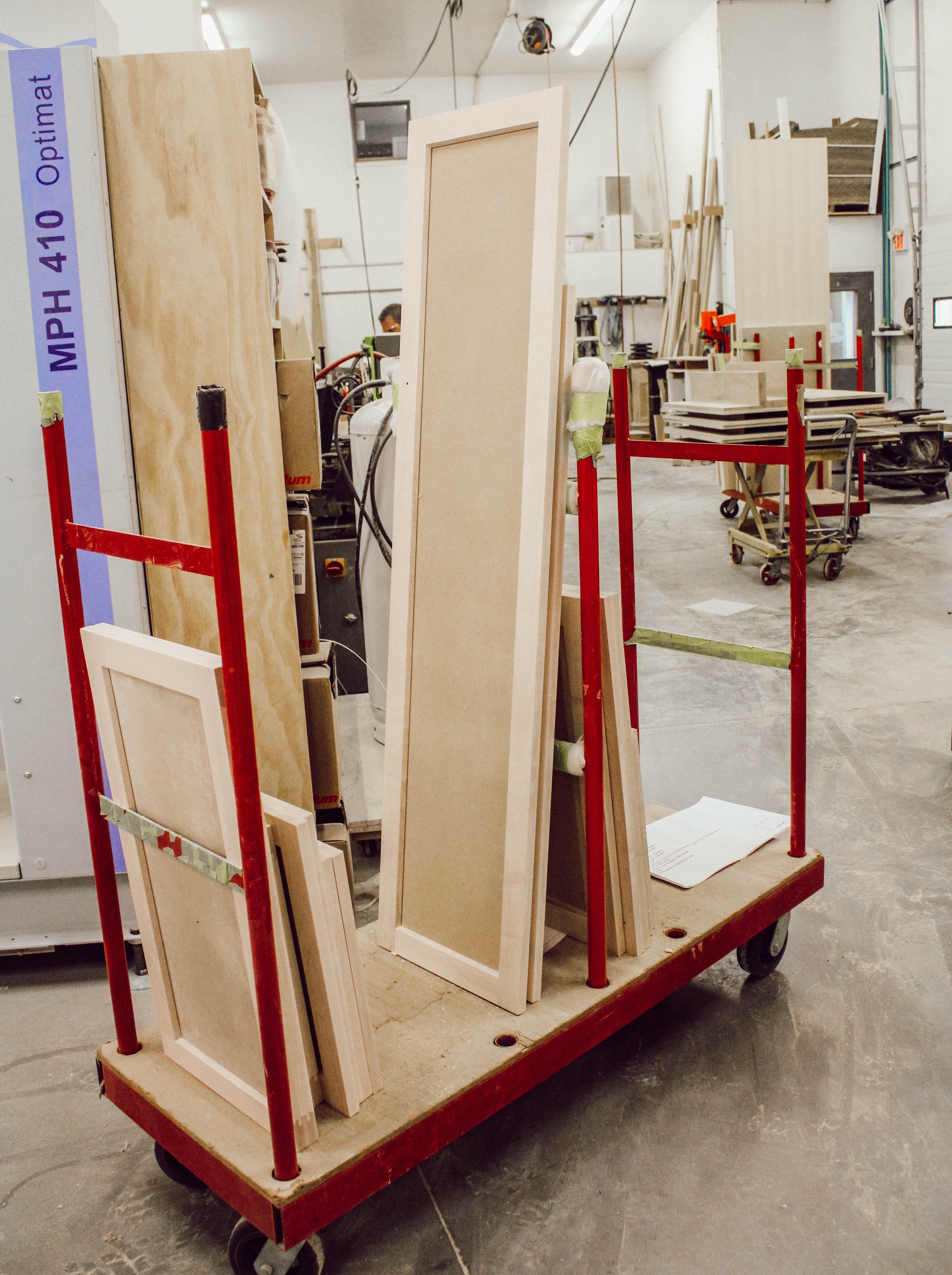 Below are our island cabinet door fronts. I'm obsessed with this pattern and I'm so happy we went with a textured grain so the black pops even more! (You'll see the black later.)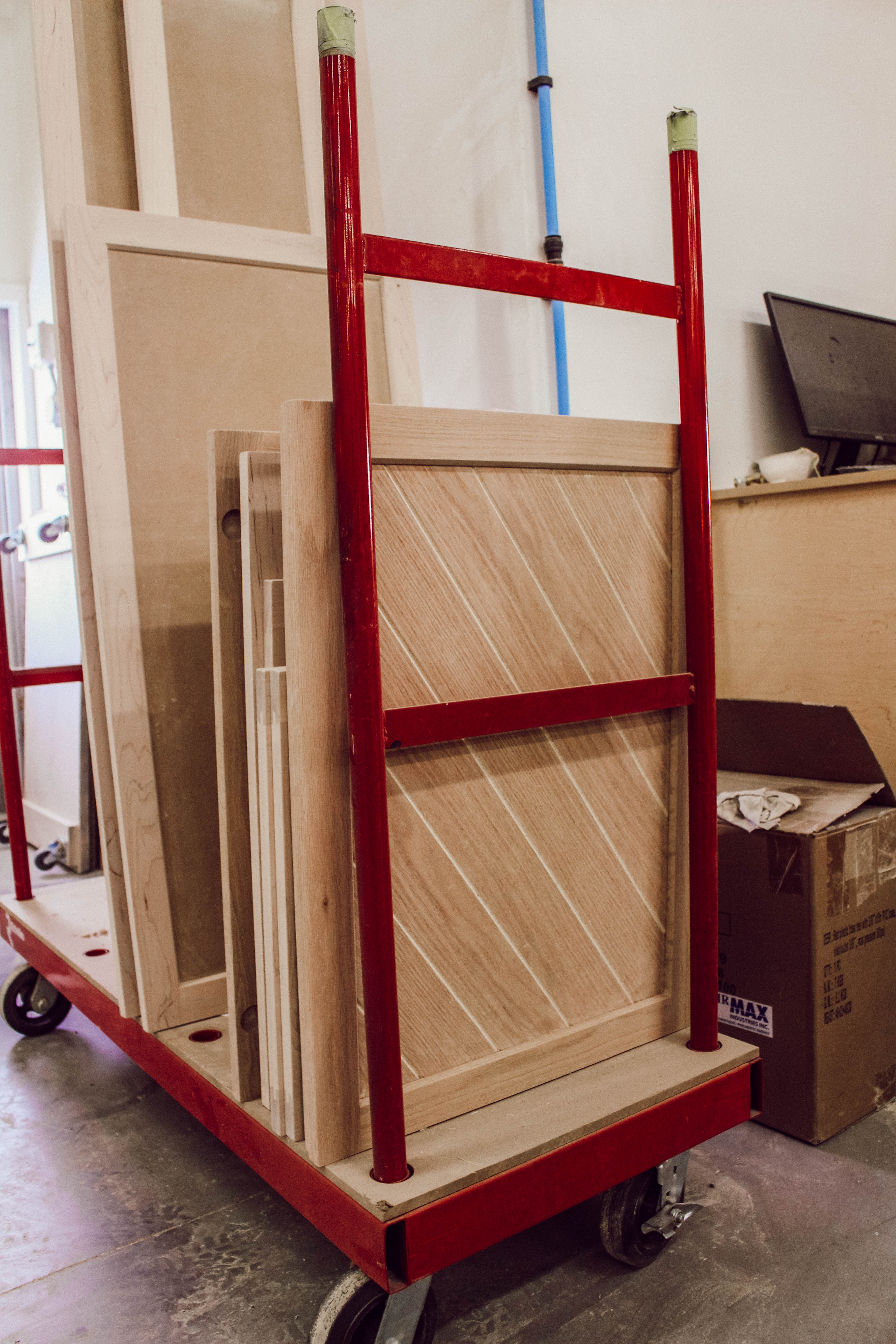 This is the paint booth, one of the final areas where everything starts to look amazing! This was my favourite part of the production process since I love to paint furniture! The pedestal where the door front sits spins so that you can reach every last crack and cranny. They definitely have their painting technique down to a science!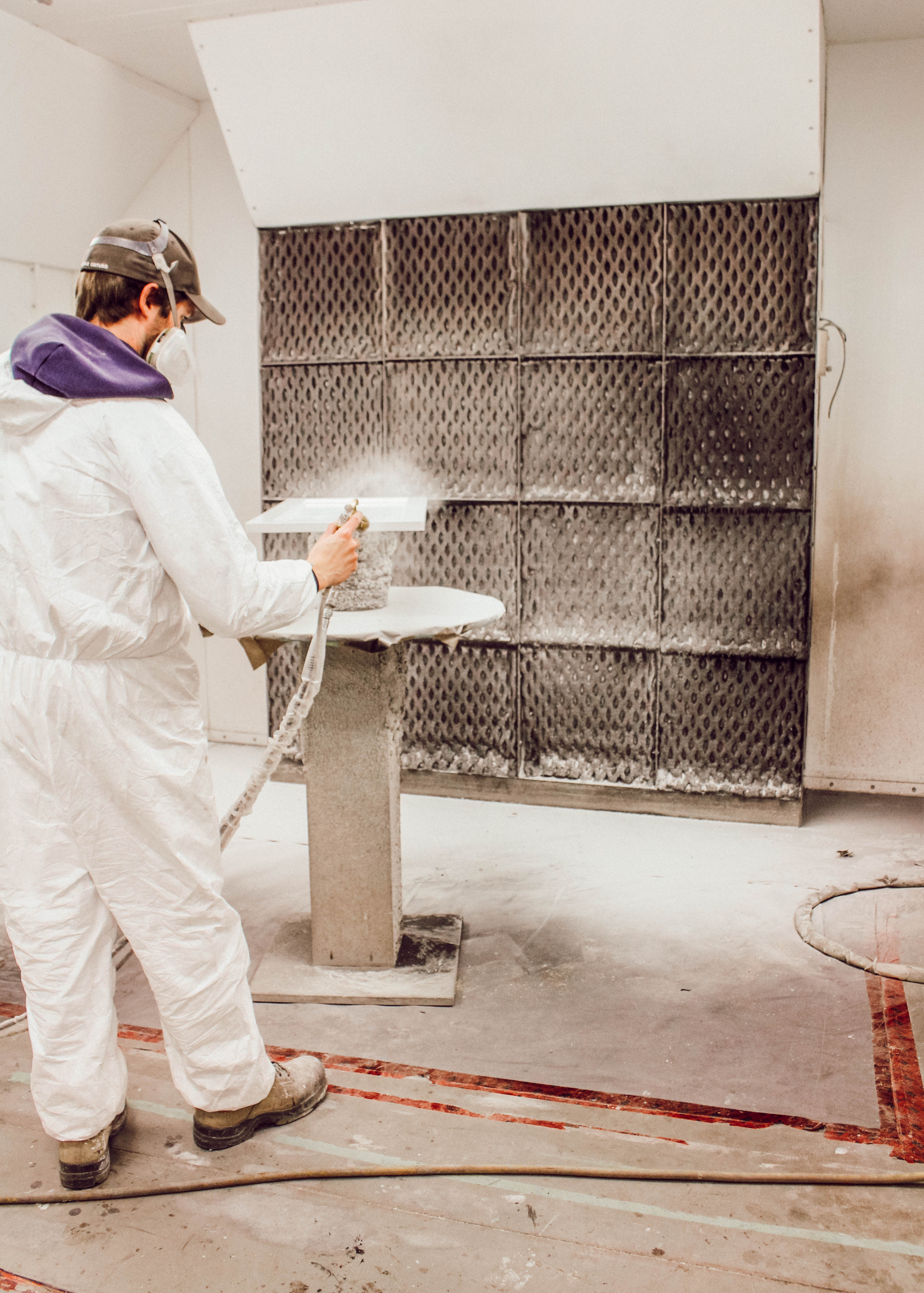 All the cabinetry fronts are set onto a drying rack and pulled to the side.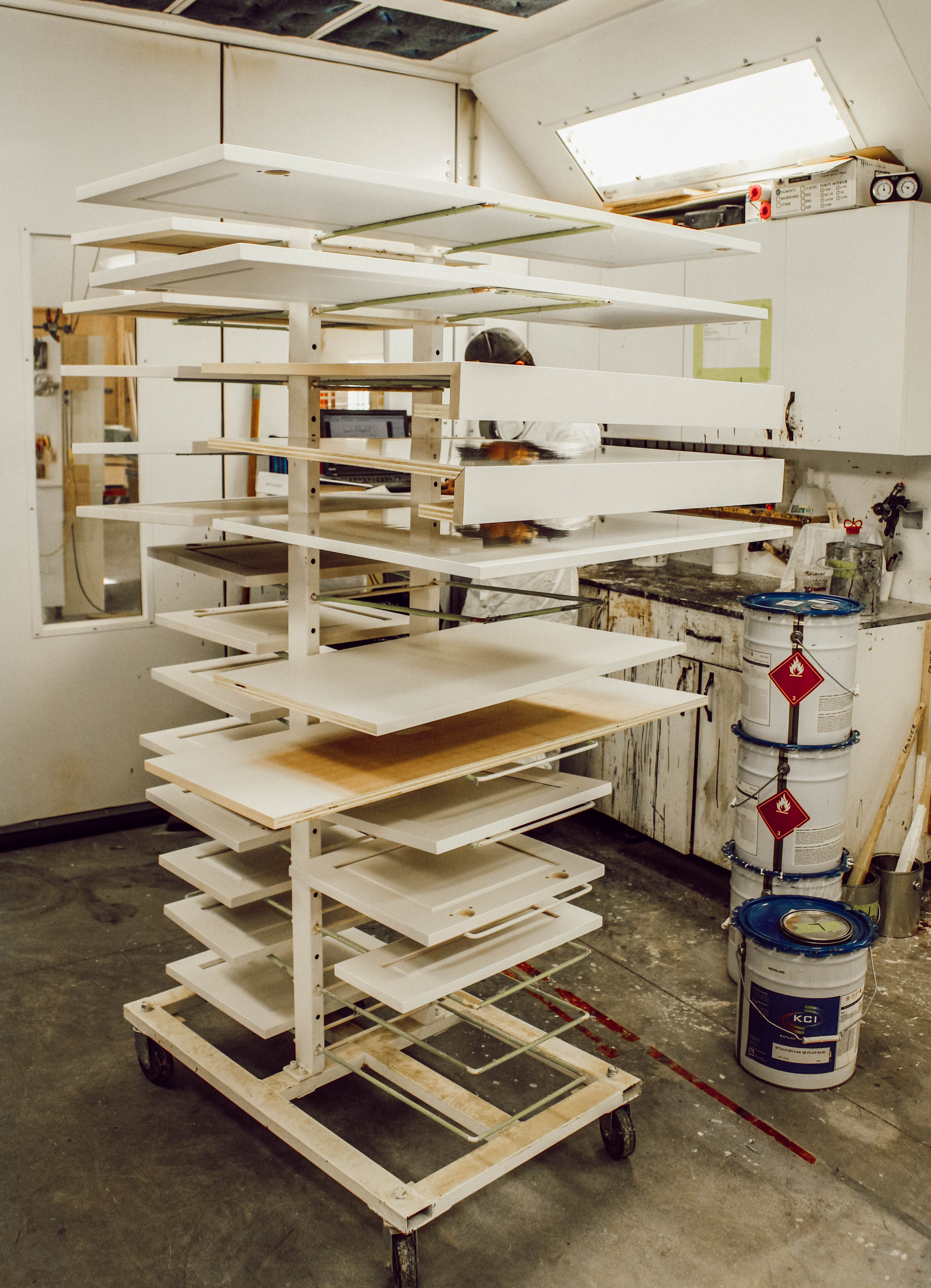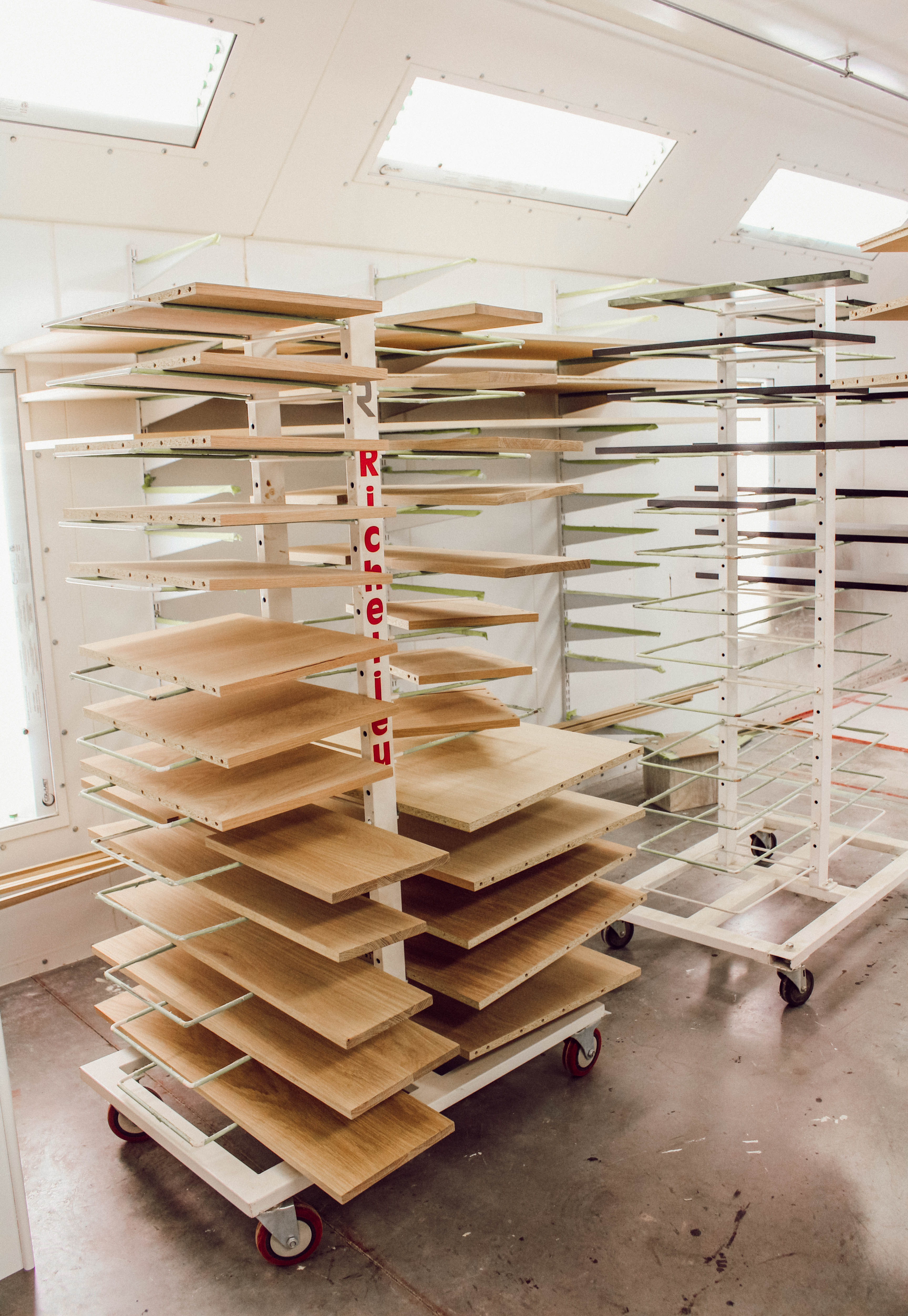 These are some of our closet and kitchen panels drying.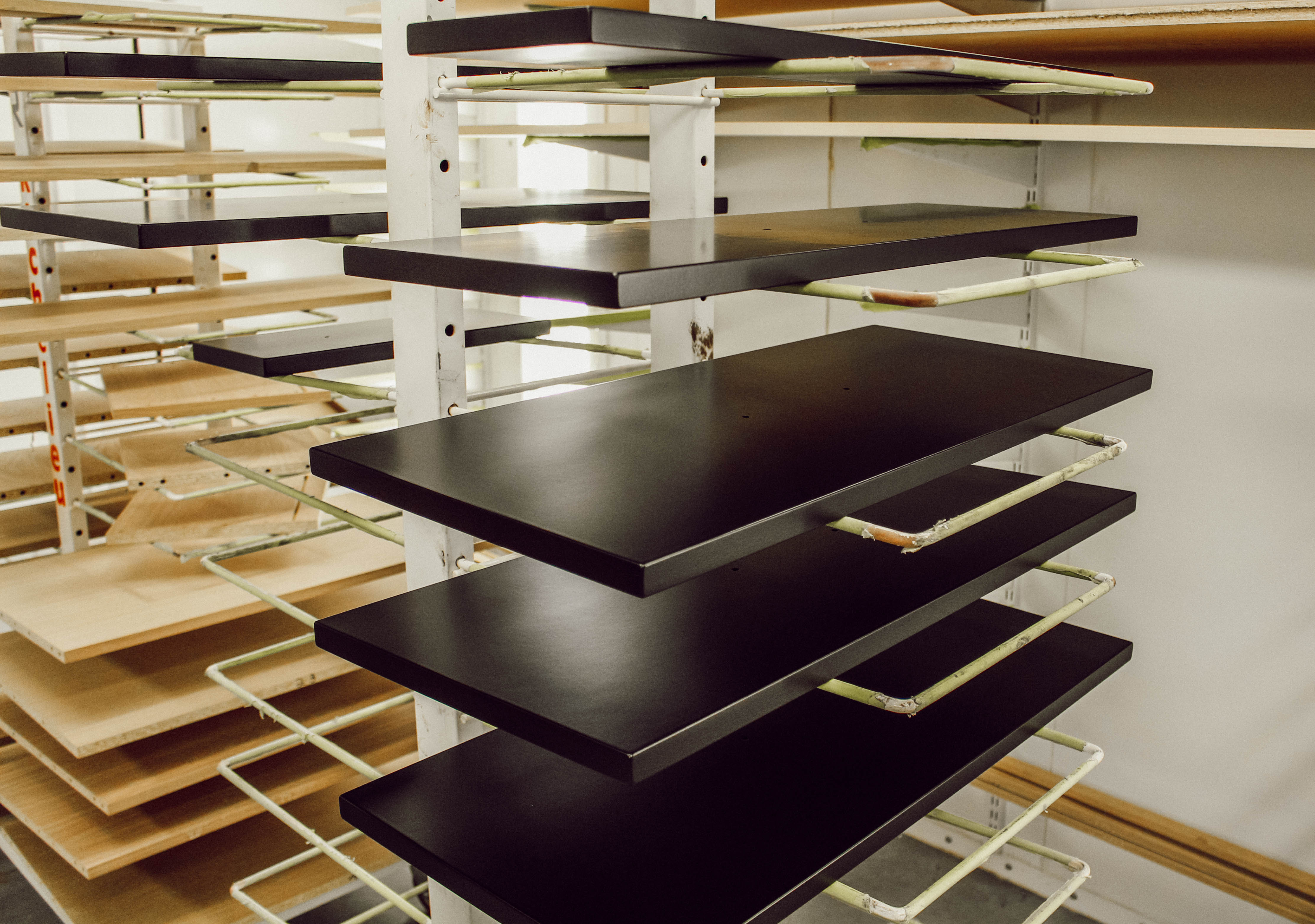 Below we have Marv holding some floating shelving for the kitchen and mudroom.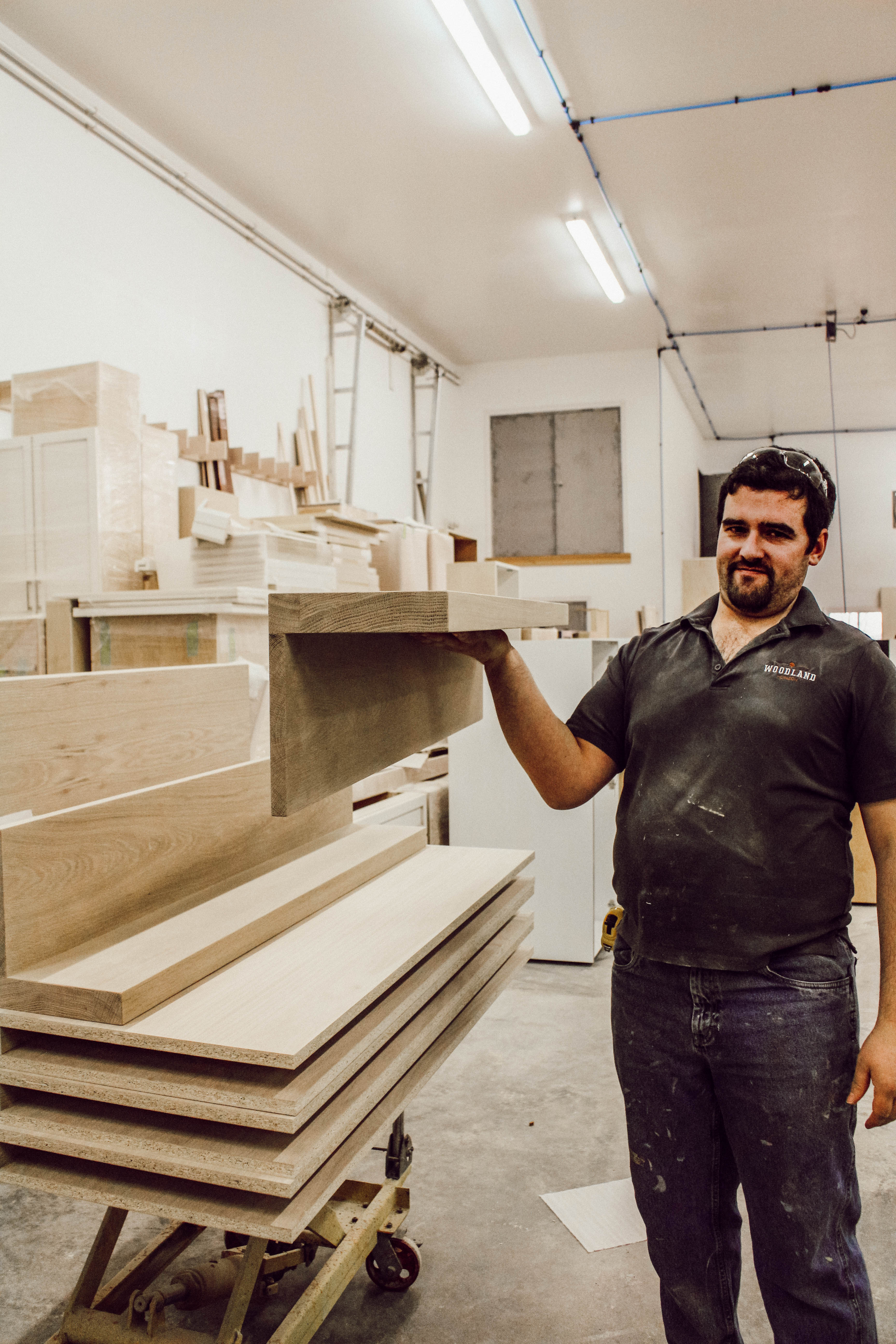 This is a pull out kidney shelf which is designed for that awkward corner cabinet in the kitchen. Big thumbs up for functionality!
The Stairs
They are such a big feature in our house and I'm so thrilled with them! If you follow me on Instagram, you've probably seen lots of previews of the stairs installed, eeek!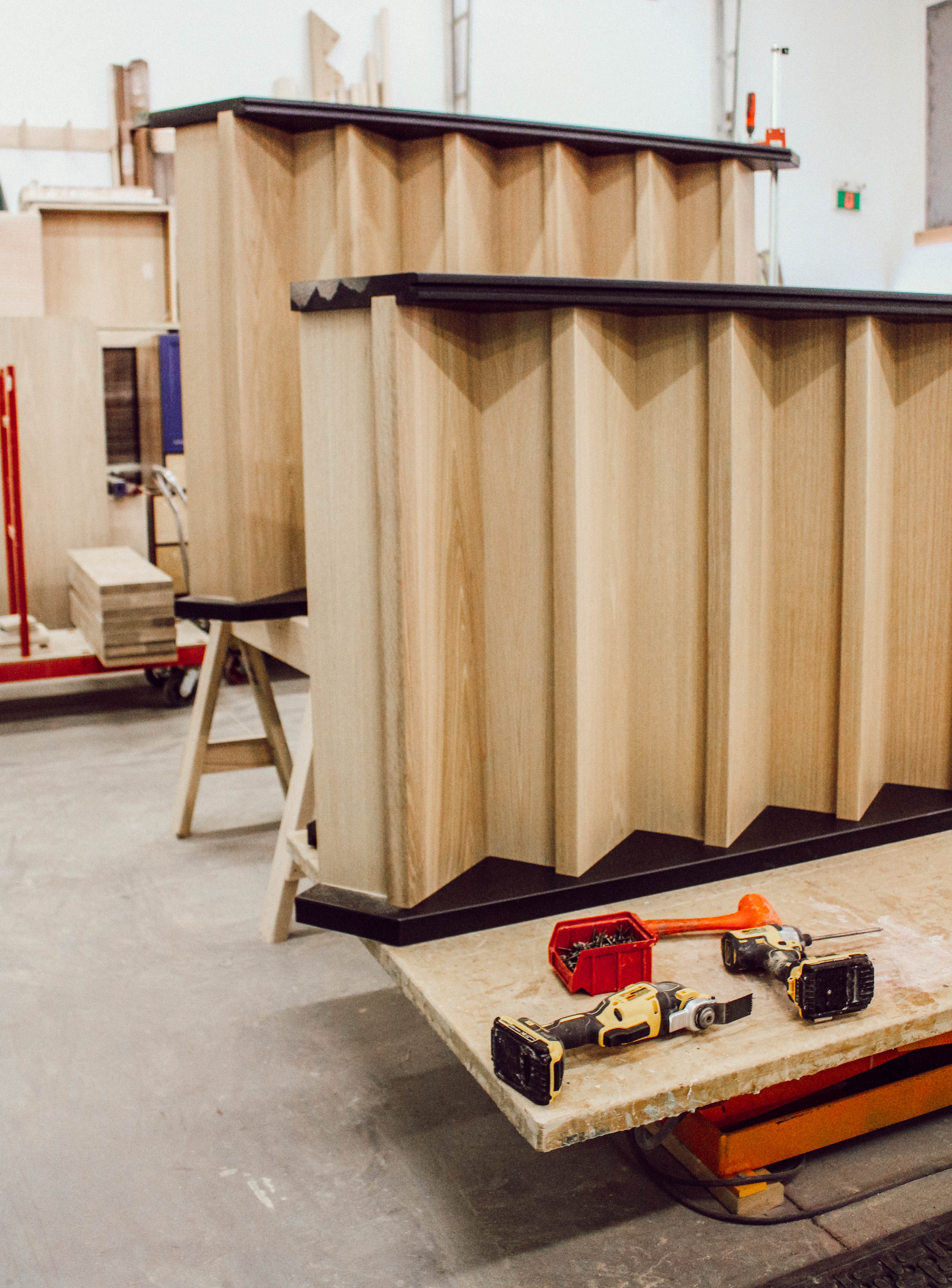 The below stair case is called an open-rise which we decided to do for our main living area to the upstairs floor of our home. We decided to keep the stairs open so that we could achieve a more modern and open space. Isn't it cool seeing how each piece fits together!?
These are the black support posts which keep the staircase strong along the upstairs balcony of our home.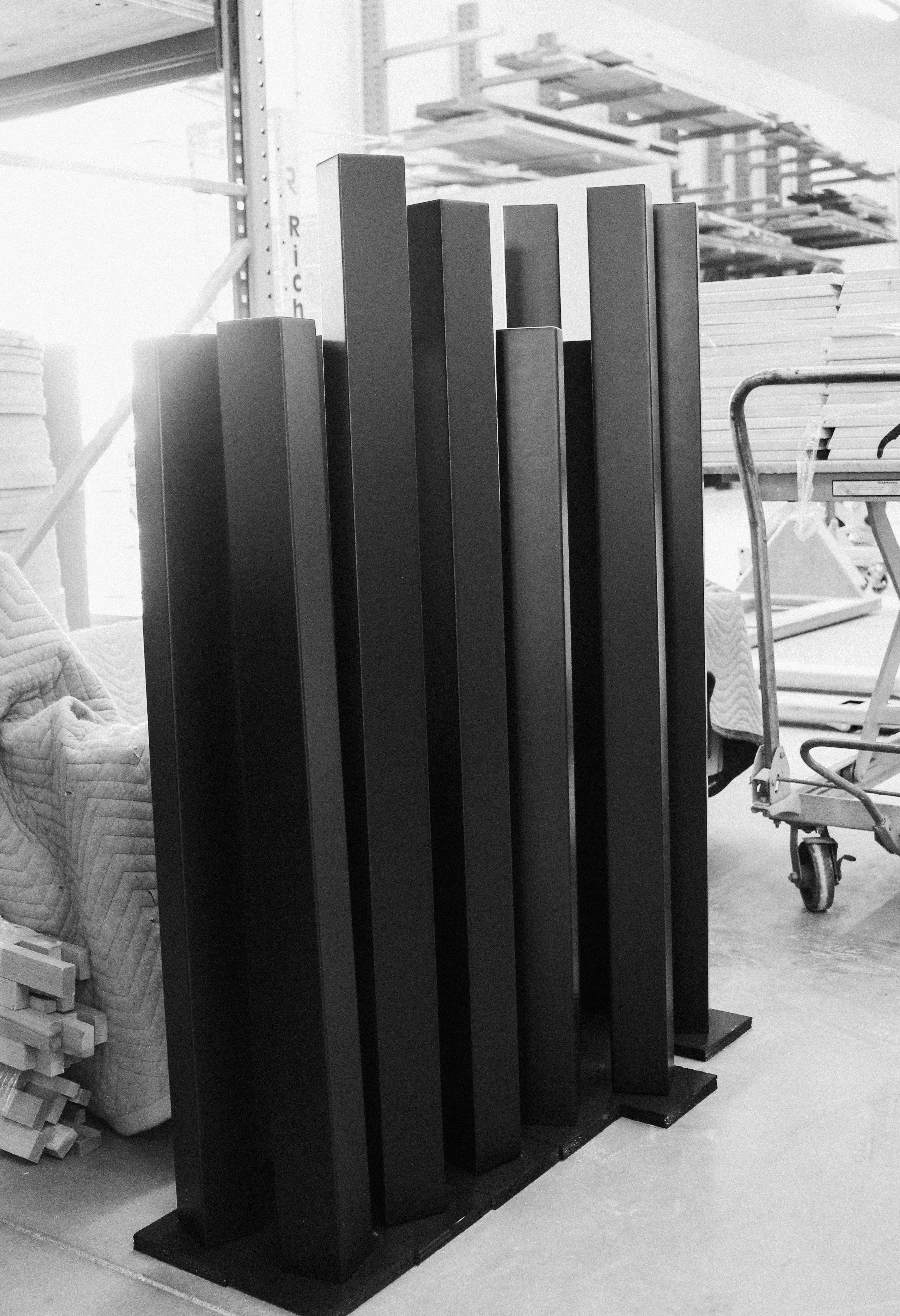 Over here is the holding grounds for the "DeKoning" cabinetry.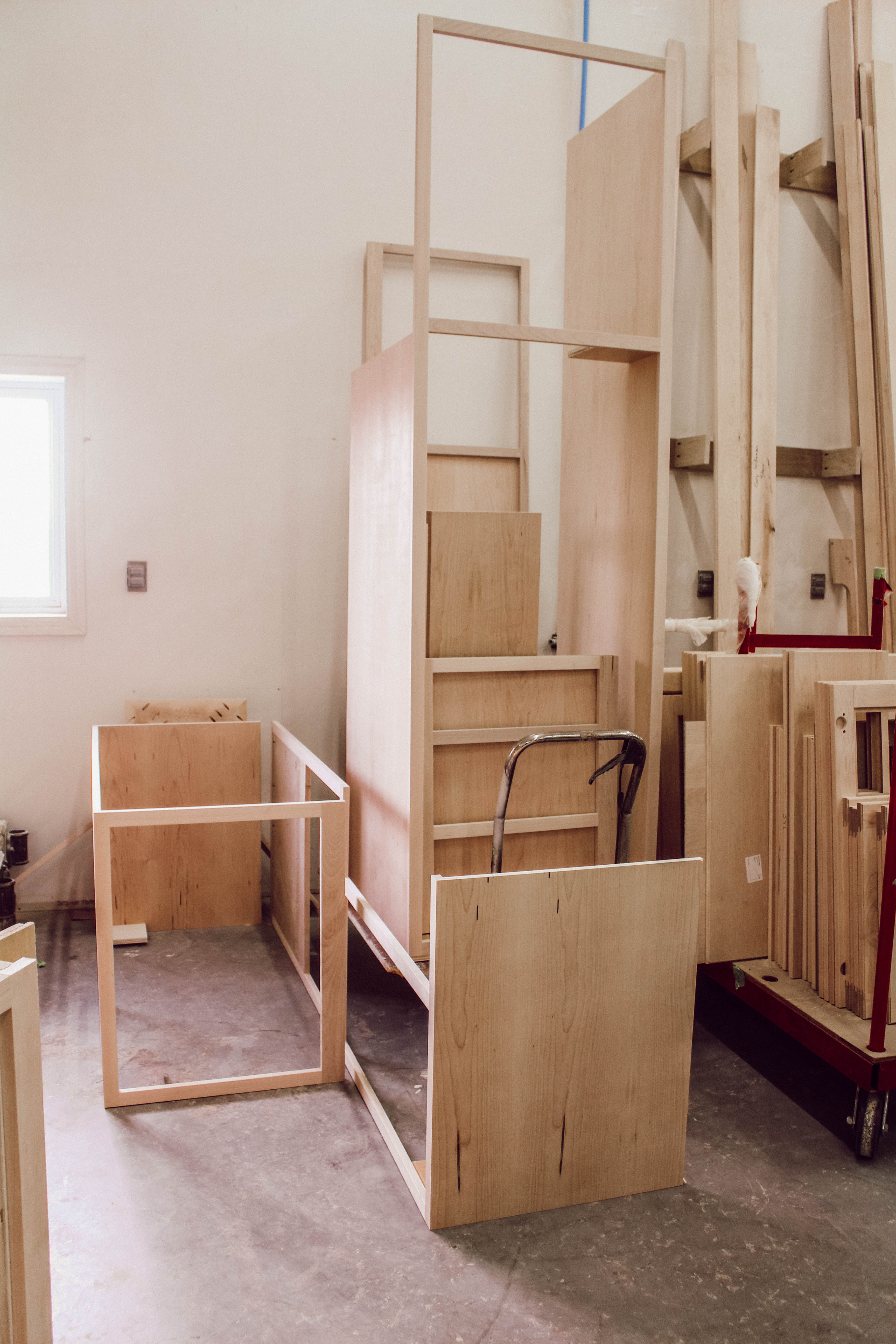 This is the far end of Woodlands shop where the products sit until they are finished and ready to ship off to their forever homes ;)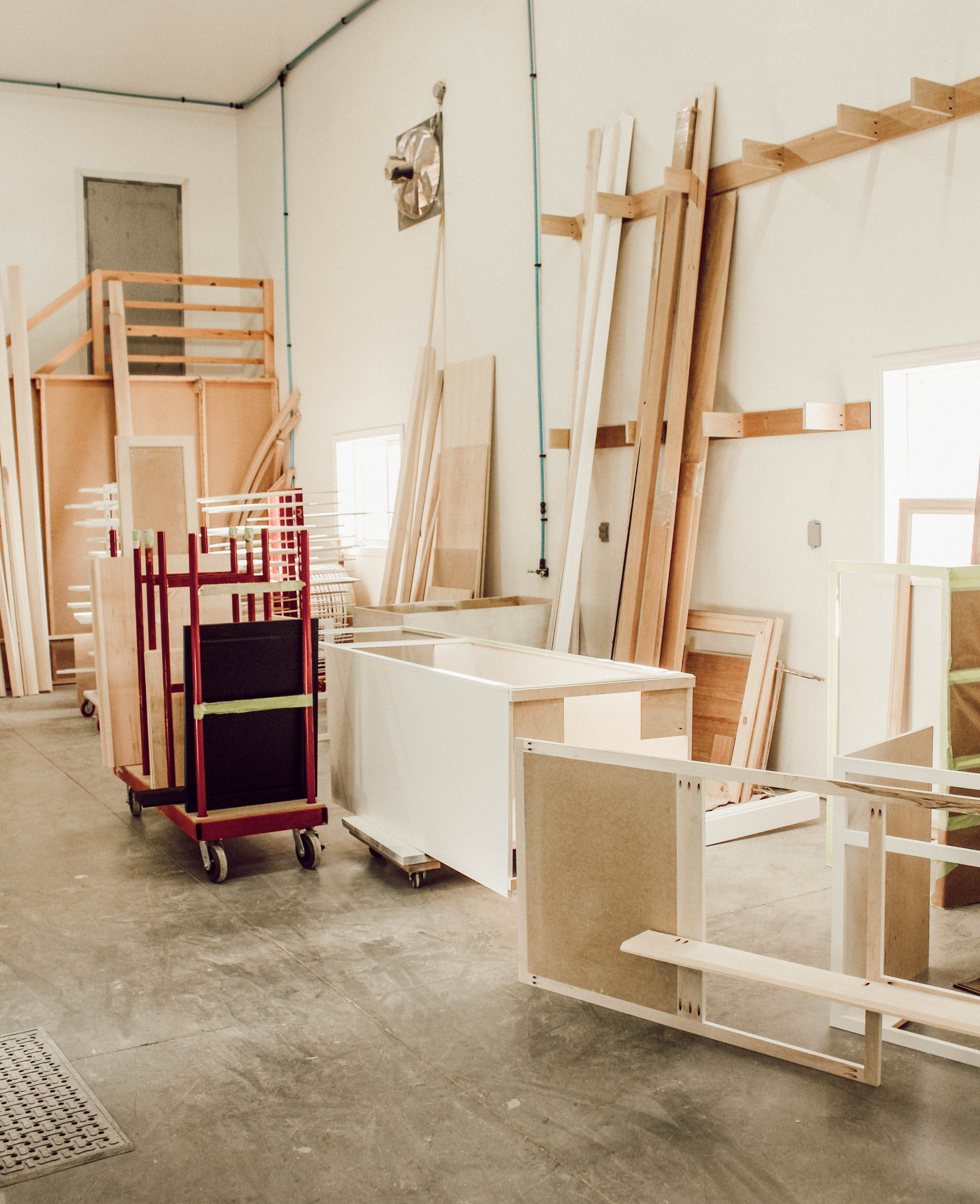 This is it for Woodland Horizon's production process — I hope you enjoyed the mini tour!
It's been such an amazing experience observing as parts of our home were made and I was able to witness the hard work and detailed craftsmanship that goes into each and every piece from Woodland. Their wood-crafting process gives me a whole new appreciation for local companies that make everything in-house, quality is what you're getting everything, especially in a home that will stand the test of time! I'm so thankful that Woodland allowed me to document the process and share it with you. These guys are incredible at what they do. They have been nothing but professional, always listening and suggesting creative ways to make every piece of your home functional and beautiful.
We cannot wait to share the finished product!
SaveSave
SaveSave
SaveSave
SaveSave
SaveSave
SaveSave
SaveSave
SaveSave
SaveSave
SaveSave
SaveSave
SaveSave
SaveSave
SaveSave
SaveSave
SaveSave
SaveSave
SaveSave
SaveSave