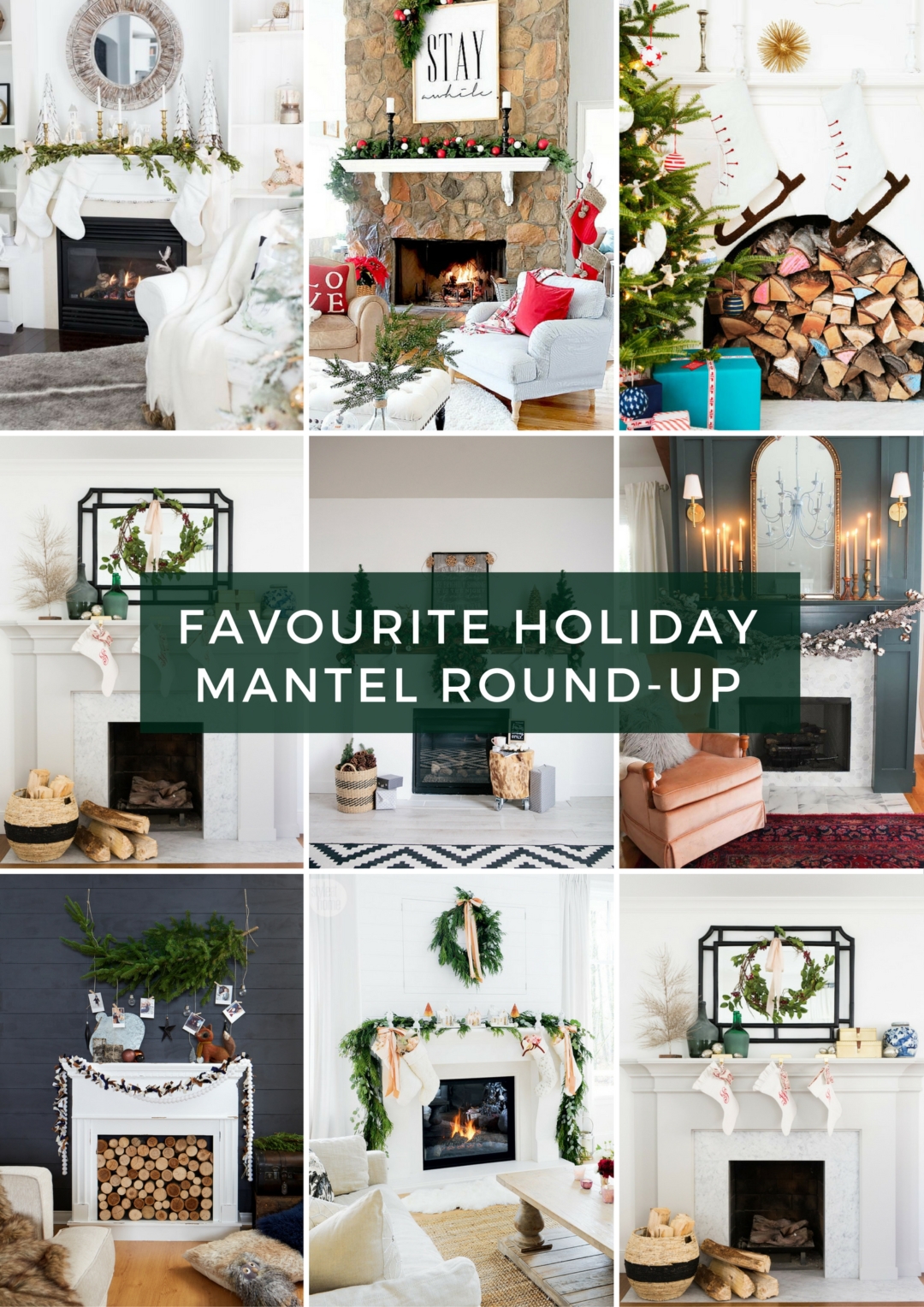 As we inch closer and closer to Christmas, I'm loving all the Holiday inspiration on Pinterest and Instagram. There's so many awesome colour schemes, traditional and modern, classic and whimsical decorations that I will never tire of seeing!  One of my favourite things to look at are mantels as I love seeing how other people arrange them, and we all know there are endless possibilities. So, today I'm sharing a few of my favourites- some that have lots of colour contrast, some that are soft and elegant, others natural and resreshing!
Favourite Holiday Mantel Round-Up
I absoutely adore the red vintage rug with the dark moody grey fireplace and all the gorgeous accents like the light blue chandelier and pink chair that tie in with the rug. The gold metallics really finish off the room, giving that feeling of holiday glam!
Soft, crisp and elegant, this fireplace is refreshing and gorgeous! I love the touch of greenery and fur rug which really warms up this darling and cozy space.
Simple and crisp, this fireplace feels Scandinavian as the wooden mantel and touches of wood really warm up this space. I love how simple yet textured this holiday mantel feels.
Bright and colourful, this fireplace looks amazing paired with touches of whimsical colour. What a brilliant idea to paint the fire wood ends in a pop of colour which ties in the holiday decor. The white walls and furniture keep everything feeling clean and grounded.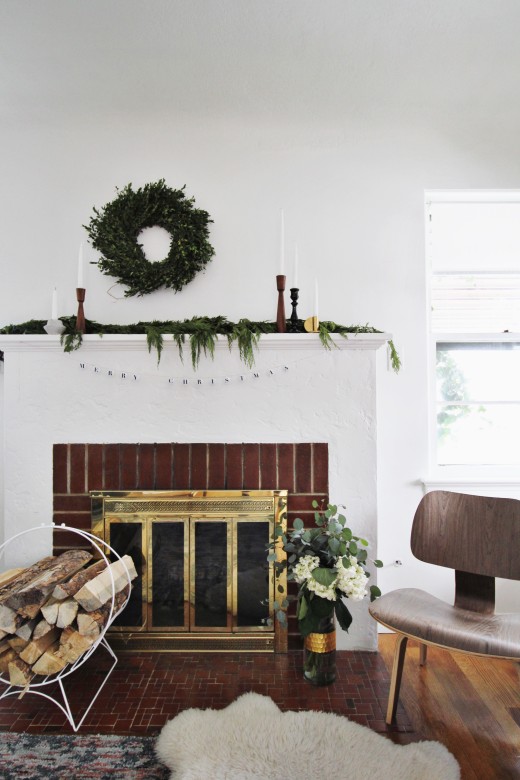 via
This fireplace has some old charm, like the red brick that surrounds the mantel. I love how this mantel isn't overdone, but simple and very natural. This is a fireplace that is easy enough for anyone to pull off with a few candle sticks and greenery.
This mantel is both a mix of modern and traditional. I love the classic red accents and I love how a simple modern picture can has such a dramatic yet subtile effect in this area. The touches of black really pull the whole look together leaving it visually appealing to the eye.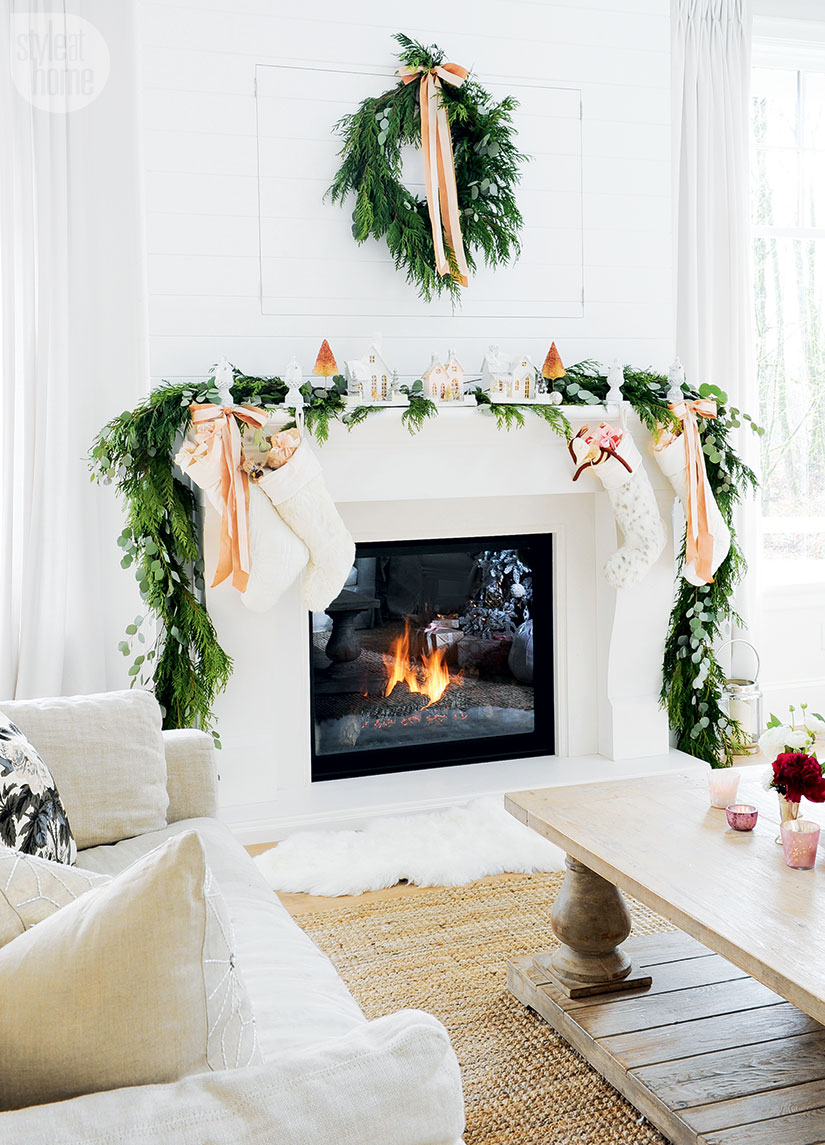 via
How gorgeous and pretty in pink is this fireplace? Its the perfect touch of soft and elegance with the natural colours from the rug to the lush greenery hanging off the mantel. The mini houses and touches of pink bring a feminine flare into holiday.
I love how eclectic and styled this mantel feels. The whole look is pulled together by the simple way of arranging colourful vases on each end, adding the mirror for drama and the traditional stockings add that sense of coziness we are all familiar with. The greenery and blues pop next to the crisp white fireplace, creating the perfect relaxing setting.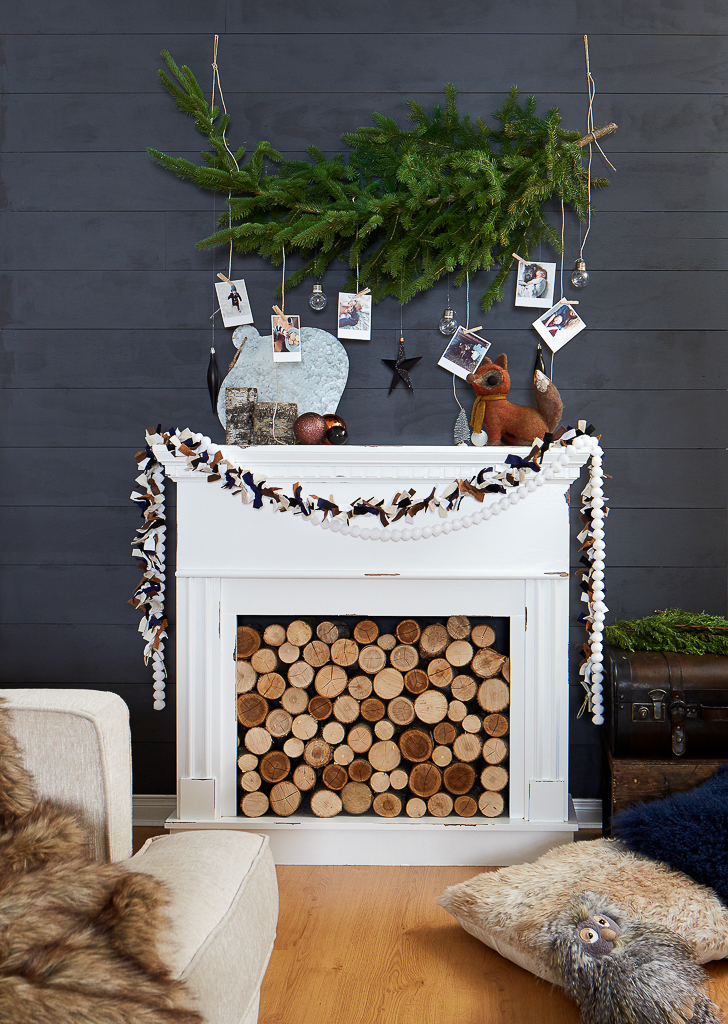 Lastly, I'm sharing my faux fireplace mantel. I love the dark contrasting shiplap and the pop of greenery hanging from above the mantel. The wood logs bring out the perfect amount of warmth while the non-traditional Christmas colour scheme is eye catching and minimal.
Do you have a favourite!?
You can see more Christmas insiration for your home in Hello Holiday!
Thanks for reading,
Kass