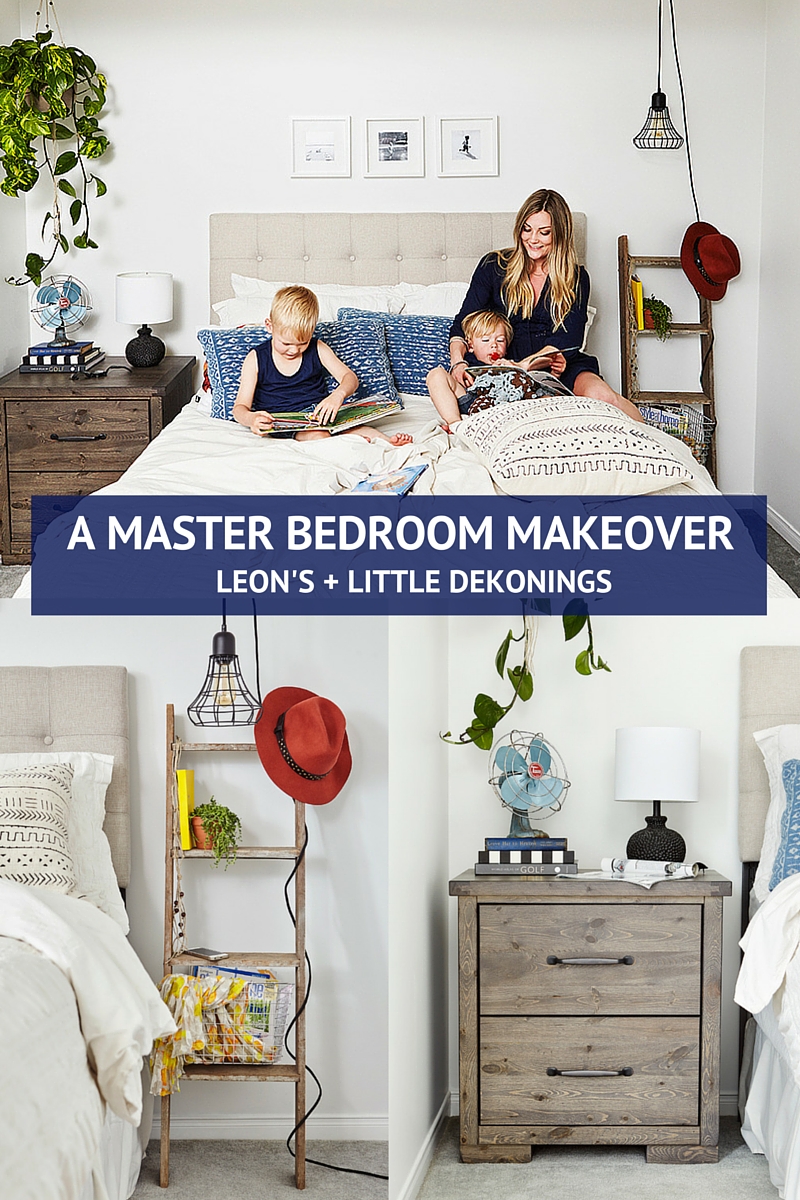 Over the past couple of months I have been busy transforming our master bedroom, just in time for Summer! With the launch of Hello Sunshine: A Guide For Your Bright & Happy Home, this was an area I really wanted to feature because of all the natural light that poured into the room. The master bedroom makeover consisted of me painting the walls while the boys sat on the bed and watched Paw Patrol- gosh that sounds like a crazy thing to do with kids around, but you gotta do what you gotta do (and if only you could see how silly I looked)!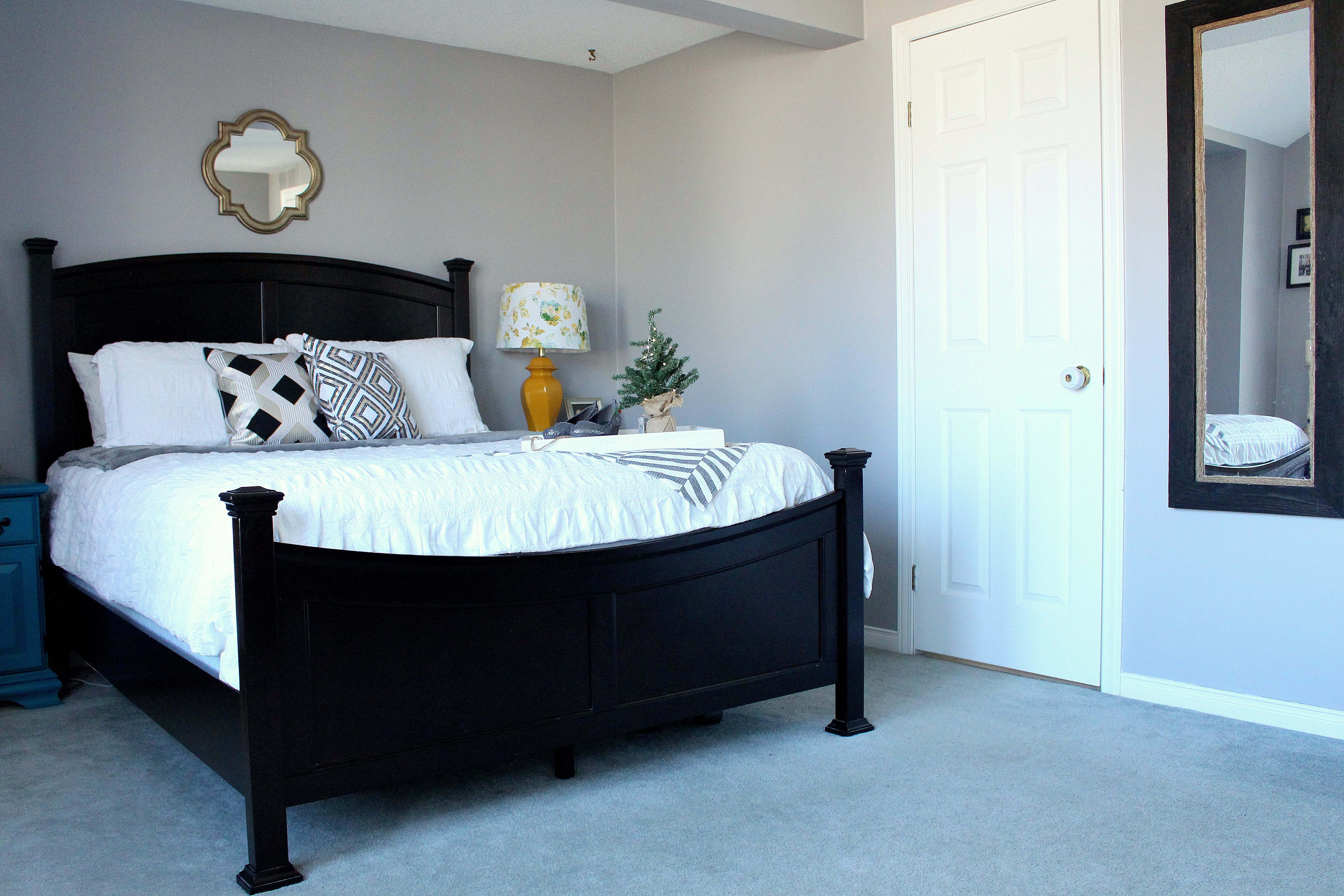 (click here for more before photos)
We first transformed this room back in 2012 when grey and yellow were the popular combos, ha do you remember? And while my sense of design has evolved, so did the rest of our house- which I'm so bad for sharing on here :(  sorry, I'll get better! Our bedroom before was dark and gloomy, the furniture felt to bulky for our bedroom (you can see more before photos here). It was time to liven this room up a bit!
Our master bedroom has been an area of our home we have slightly renovated to create more useful space. We once had a regular sized double door closet and used the spare bedroom for extra clothing storage. Once Max came into the picture, we had to convert the spare bedroom into a nursery and say good bye to extra clothing storage! That's when we agreed it was best to renovate our bedroom by giving up a few square feet, and moving the doorway to build a small walk-in closet. Thanks to my father-in-law's vision and hard work he made this reno possible! Since the renovation, it has dramatically changed the function of our bedroom for the better, hallelujah and what girl doesn't love a walk in closet!
With the help of some paint and new furniture courtesy of Leon's, a vision of our master bedroom came to life. Our space is now filled with country modern charm in a lighter brighter and overall refreshing way! You can read more in detail about the vision and makeover of our master bedroom on the Leon's Hello Yellow Blog!
SOOOO HERE IT IS, OUR MASTER BEDROOM MAKEOVER!!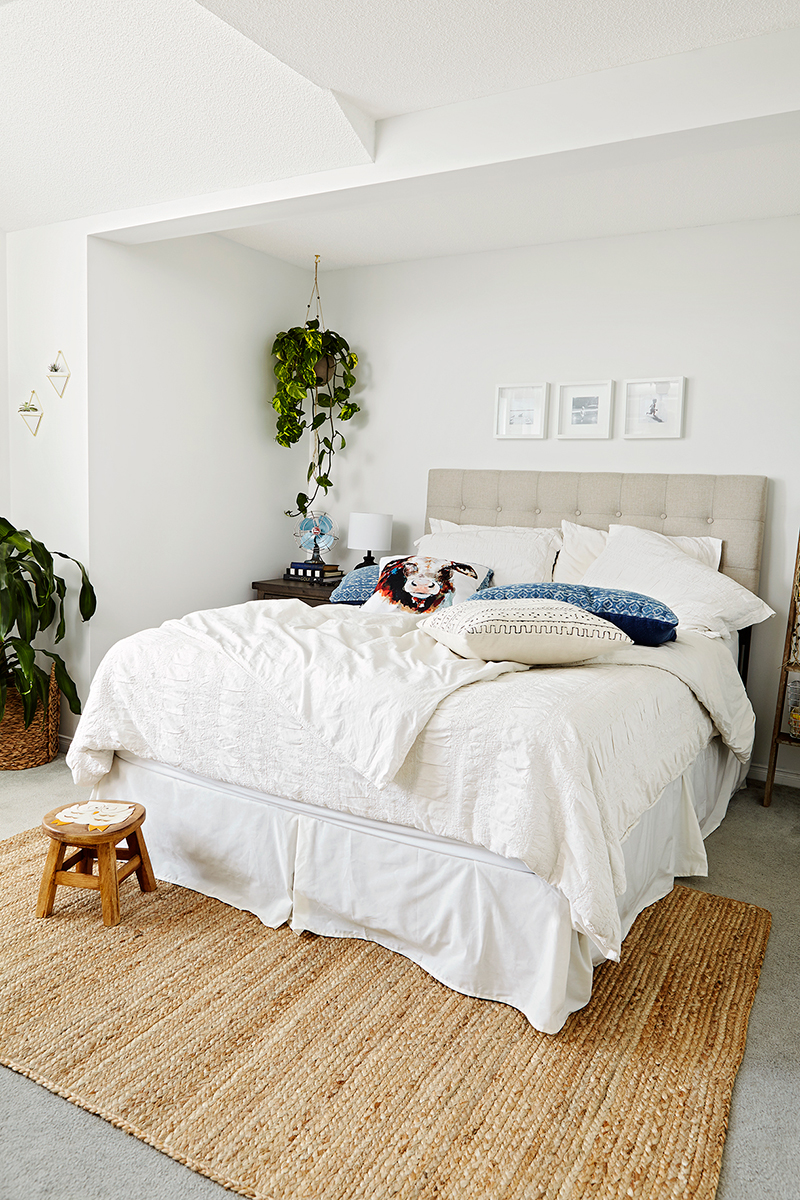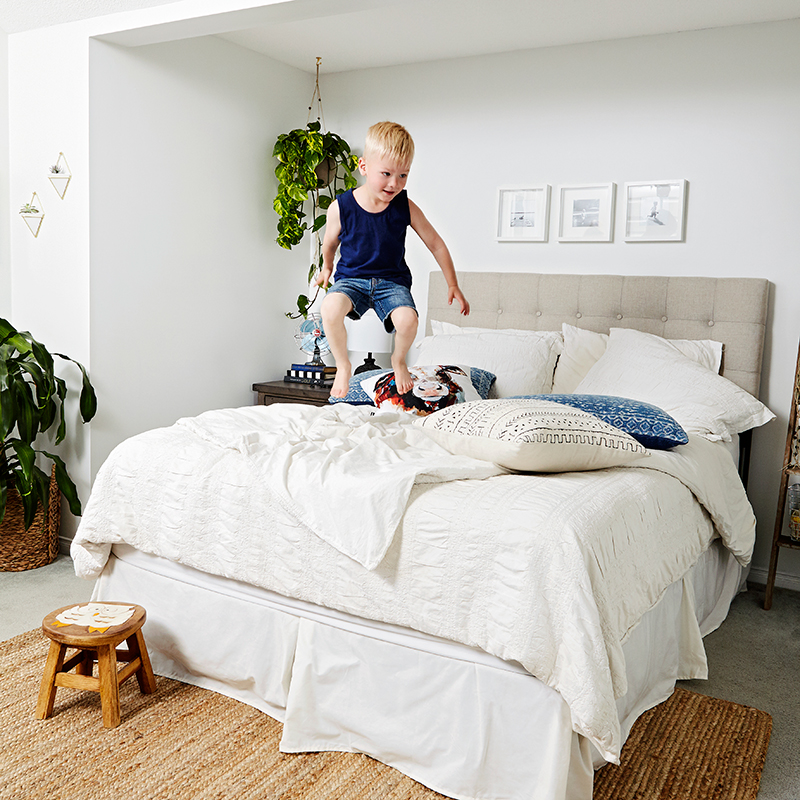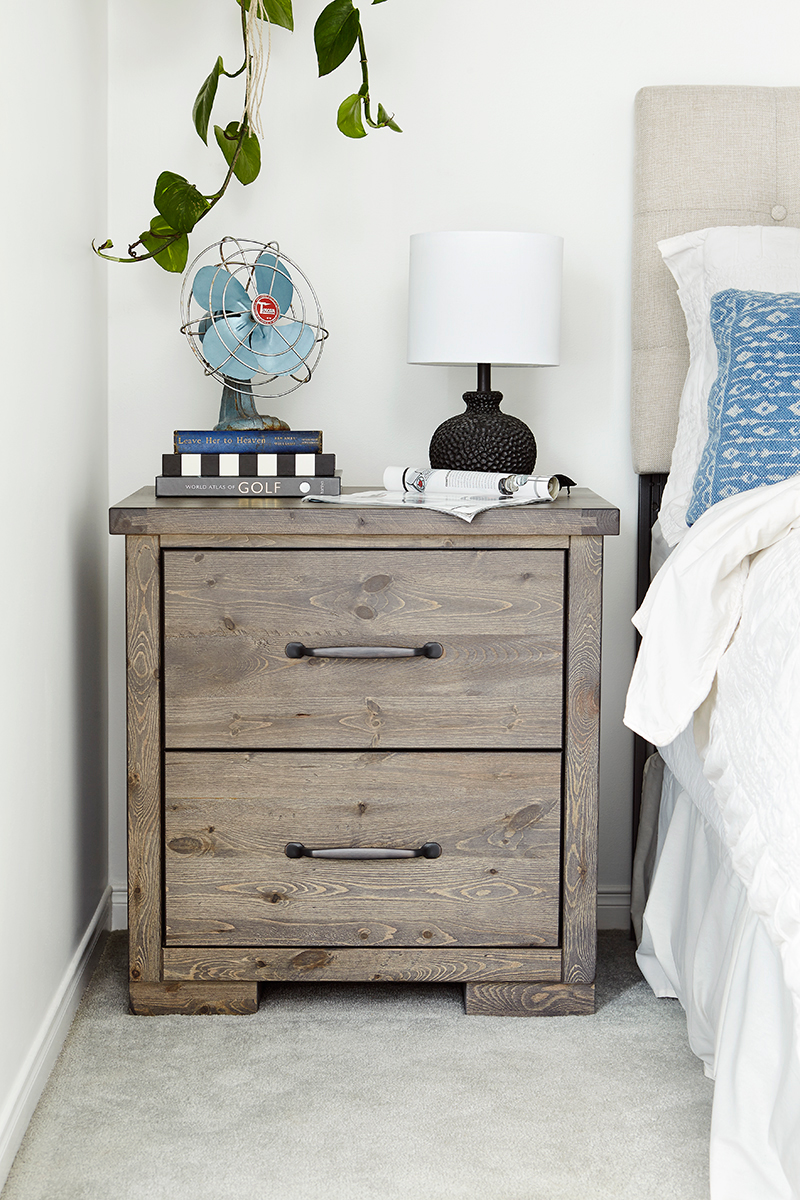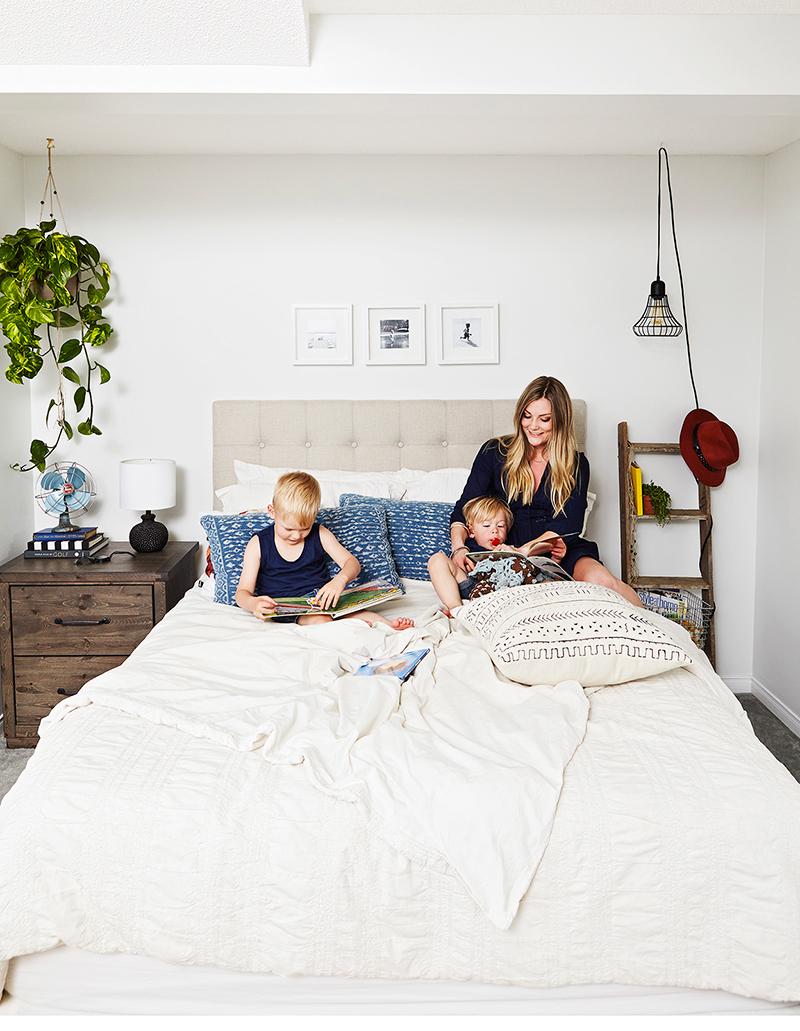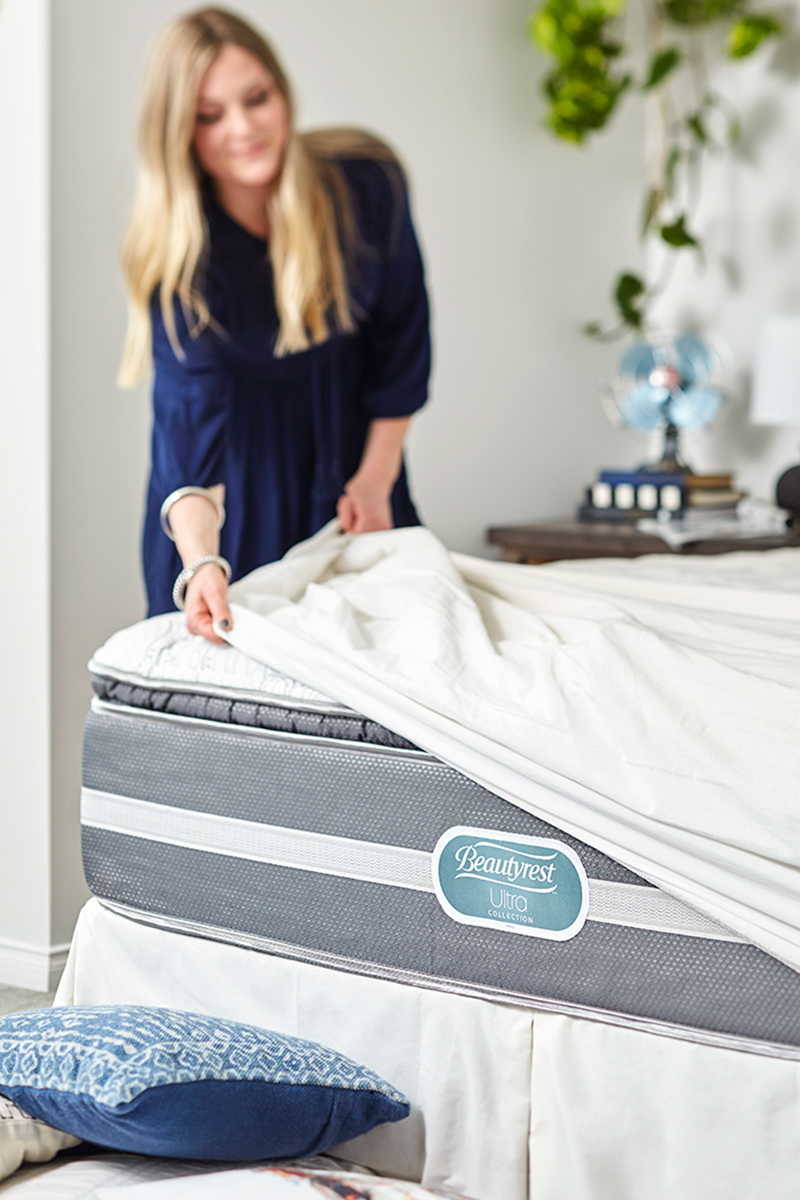 What do you guys think of the makeover? Doesn't it seem much brighter in here!?
Thanks so much for stopping by and I hope you love our master bedroom makeover as much as we do!

Sources
Jute Rug: Bed Bath and Beyond | Duvet: The Bay | Blue Indigo Pillows: HomeSense |White Mud Cloth Pillow: House of Pillows | Cow Watercolor Pillow: Society6 | Pine Ridge Night Table: Leon's Furniture | Tufted Headboard: Leon's Furniture |Beautyrest Mattress: Leon's Furniture |Table Lamp: Walmart | Black Pendant Hanging Light: Walmart | Picture Frames, Ikea | Ladder: antique | Fan: thrifted | Wall Vessel: Umbra Trigg