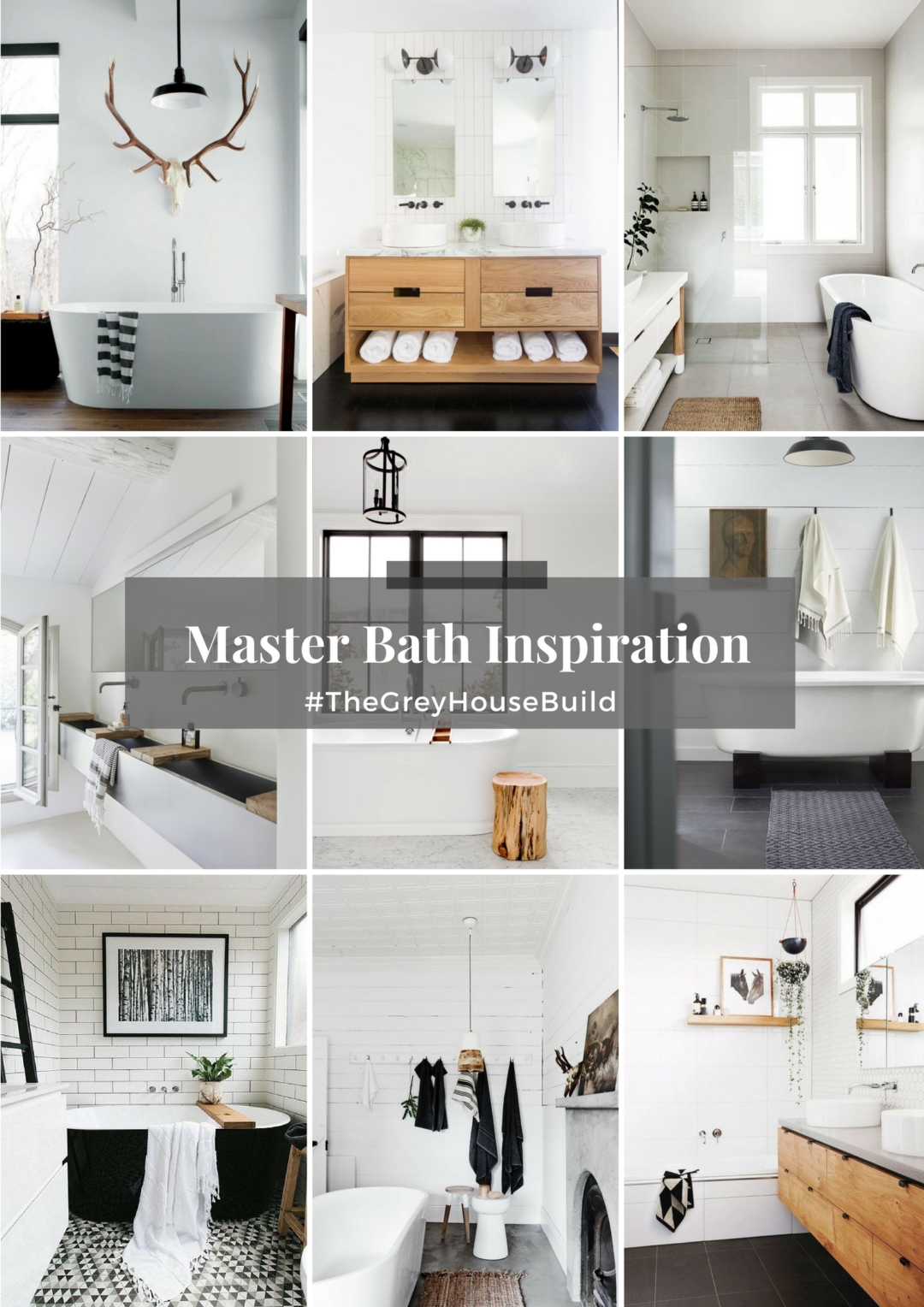 For starters…oh my gosh, it's September!! As much as I love summer, I'm stoked to welcome back school and get our lives back into routine again. Fall has so much to look forward too such as the famous PSL, cozy knits, comfort foods and lots of nature's pretty colours. With fall here, we are still trucking along in the house building department. Right now we are focusing on getting our roof on and the windows in, hopefully both of these will be checked off our list by next week. I'll keep y'all posted! After we have the house sealed in, all of the interior stuff starts to unravel!
The best part of #TheGreyHouseBuild, hands down are the interior finishes, although with Pinterest, narrowing down just one design style can be a quite a challenge for someone who loves a little bit of everything! If you follow me on Pinterest, you can see a better visual of the interior aesthetic we are leaning towards for our build. As for right now, I'm sharing the inspiration for our master bathroom #NoKidsAllowed, (haha ya right!)
Concrete like flooring, natural oak finishes and black bold accents are only a few of the inspired details that we've got our eyes on for our very own master bath.
Within our current home, we didn't get much of a chance to re-do our bathroom besides the odd DIY to revamp its 90's appearance. Starting fresh with a new master bathroom, one to call our own (no more sharing with the boys) we are SO ecstatic. The crazy part is figuring out where to begin with its design aesthetic! I have a love for warmth using wood accents and a minimal colour palette that consists of soothing neutral tones- in fact our entire home will be filled with this colour palette!
Bathrooms draw lots of attention to the vanity area where all the pretty little fixtures like to hang out. And more times than not, there is a certain piece in the bathroom that make a bold statement- do you have one of those? In ours, I think the vanity area will steal all the attention. I knew I wanted to incorporate a wall mount faucet, an old claw foot tub, black because I like bold contrast and something woody that would ground the room in a delicate rustic way!
Brent and I first got started by pulling some inspiration from Pinterest and meeting with Melissa at Watermarks Kitchen & Bath Boutique in Kitchener. They just finished remodelling their showroom and it feels like you're walking into a spa, everything feels so luxurious and dreamy! With a certain look in mind, Melissa showed us some of Kohler's new products for 2018 and from there we formed the master bath of our dreams.. you'll have to wait for the moodboard to see some of our details ;)
For now, here is our favourite master bath inspiration.
Which bathroom is your favourite!?
Kass