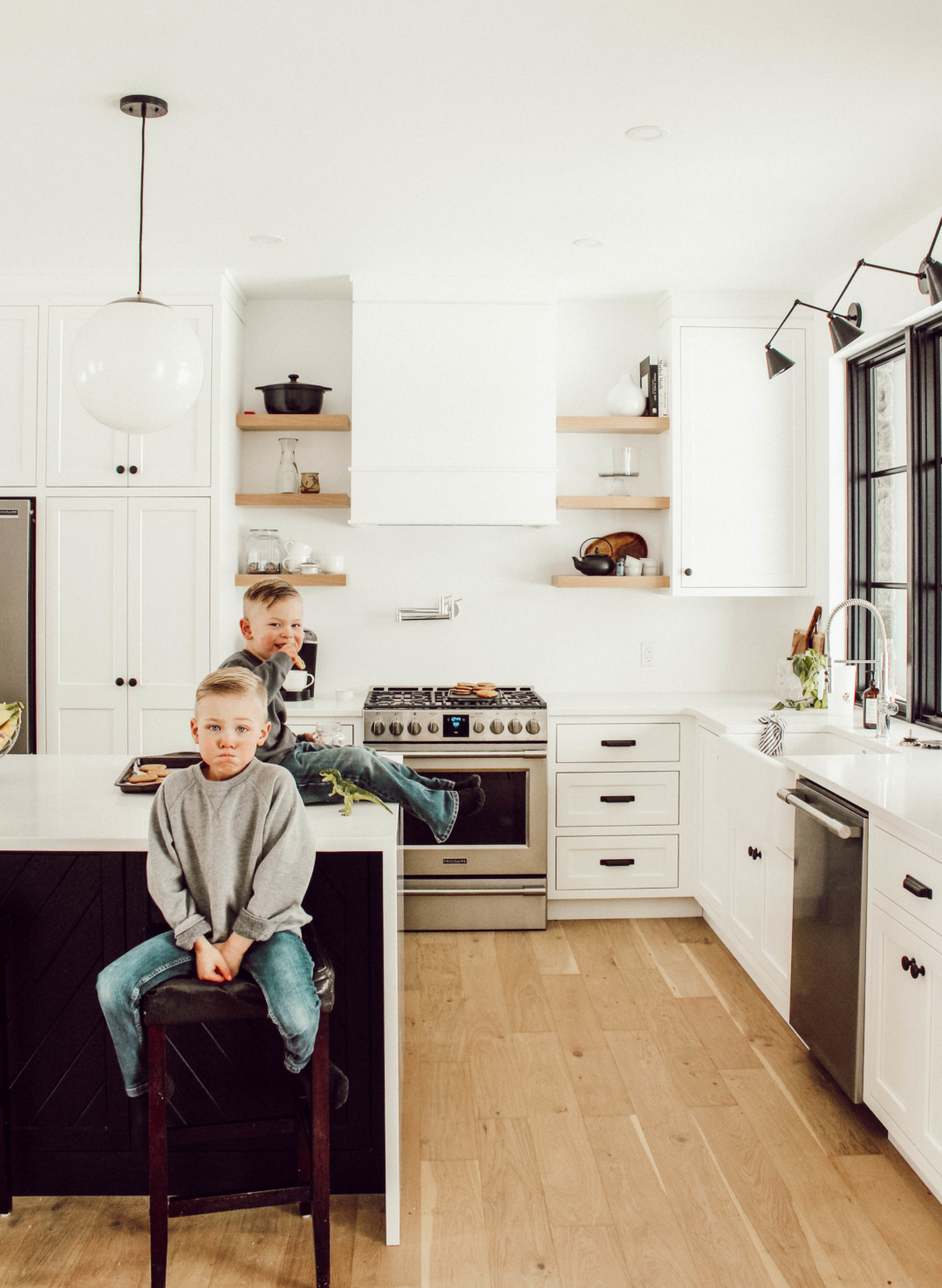 We've been living and adjusting to life in the new house for a few weeks now, eeeek!!
The boys have adjusted so well to the move and change, instantly they have made themselves at home… and yes, there have been more nerf wars and bullets lying around than I would like, haha, thanks boys! Jack takes the bus to school every day (and he loves it), while Max spends the rest of the day at home with me. This is how I know we made the right choice to move out to the country, because the change has been so easy for the boys, especially Jack transitioning into a new school :)
So far in the house, the master bath is the last room that needs to be finished up, we are just waiting on a few glass shower quotes, although we still need to do little things like hang mirrors and toilet paper rolls, source window treatments and that sort of thing, but it's coming along! Majority of our boxes are unpacked and we are just working on making our house feel like a home and getting the basement organized. There are lots of things that we still need to do over time, like tile the kitchen, which majority of people on IG said to grout dark vs. light — I'm still unsure!! We also have a few barn doors my dad is going to build for our pantry and mudroom entrance, but that is something we are going to take our time on over the next little while.
Also, I just wanted to throw it out there because I was SO ecstatic and it totally made my Saturday… Chris Loves Julia (an online home design/reno blog) shared our kitchen Saturday on Instagram stories — totally girl fanning over it, aahhhh!!! I've followed Chris Loves Julia for a few years now and I have always been so inspired by their interior design choices. Often times they like to play with dark muted tones which I'm a fan of. And I don't think they have one single wall painted white, haha!
Here's a few glimpses of the new house!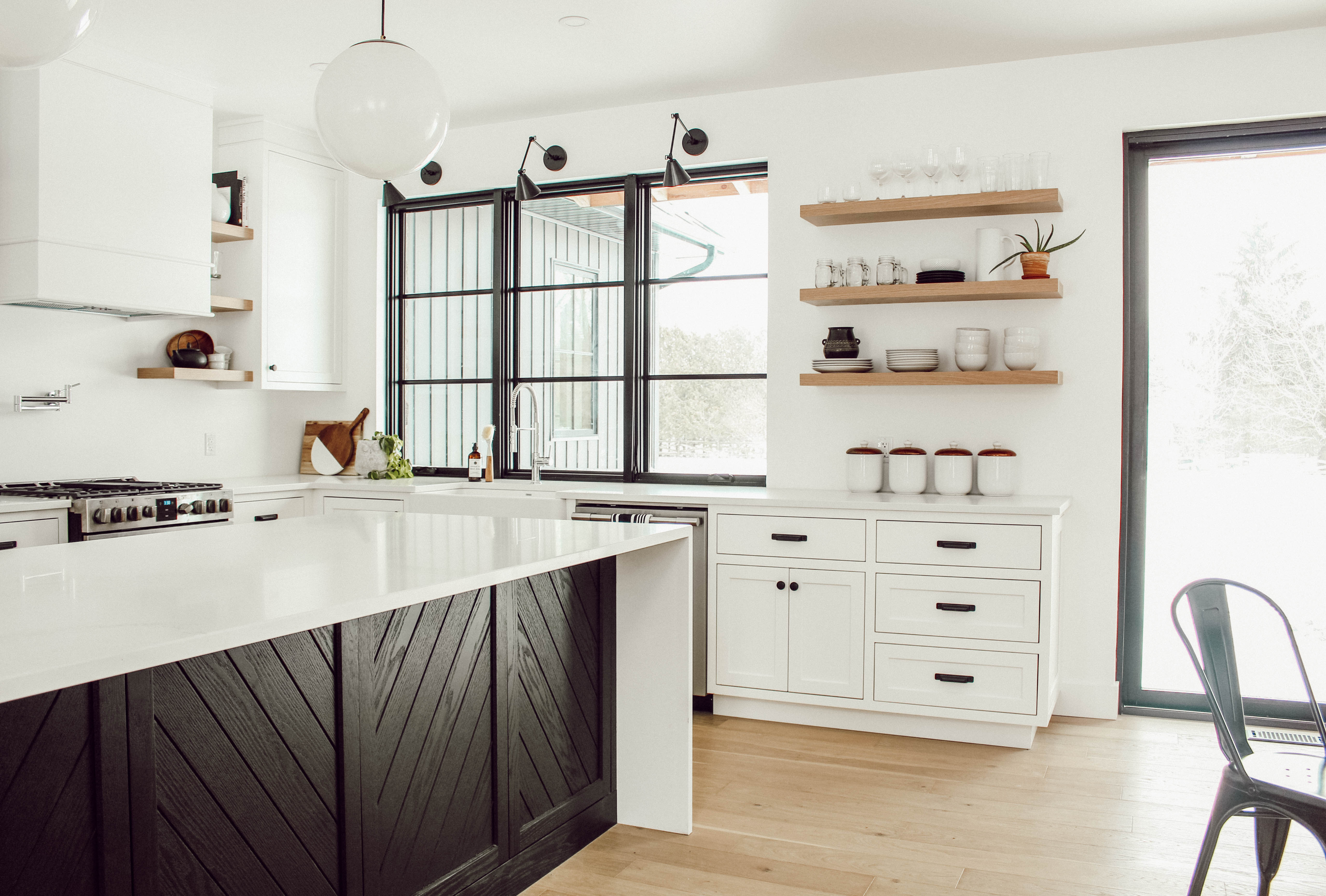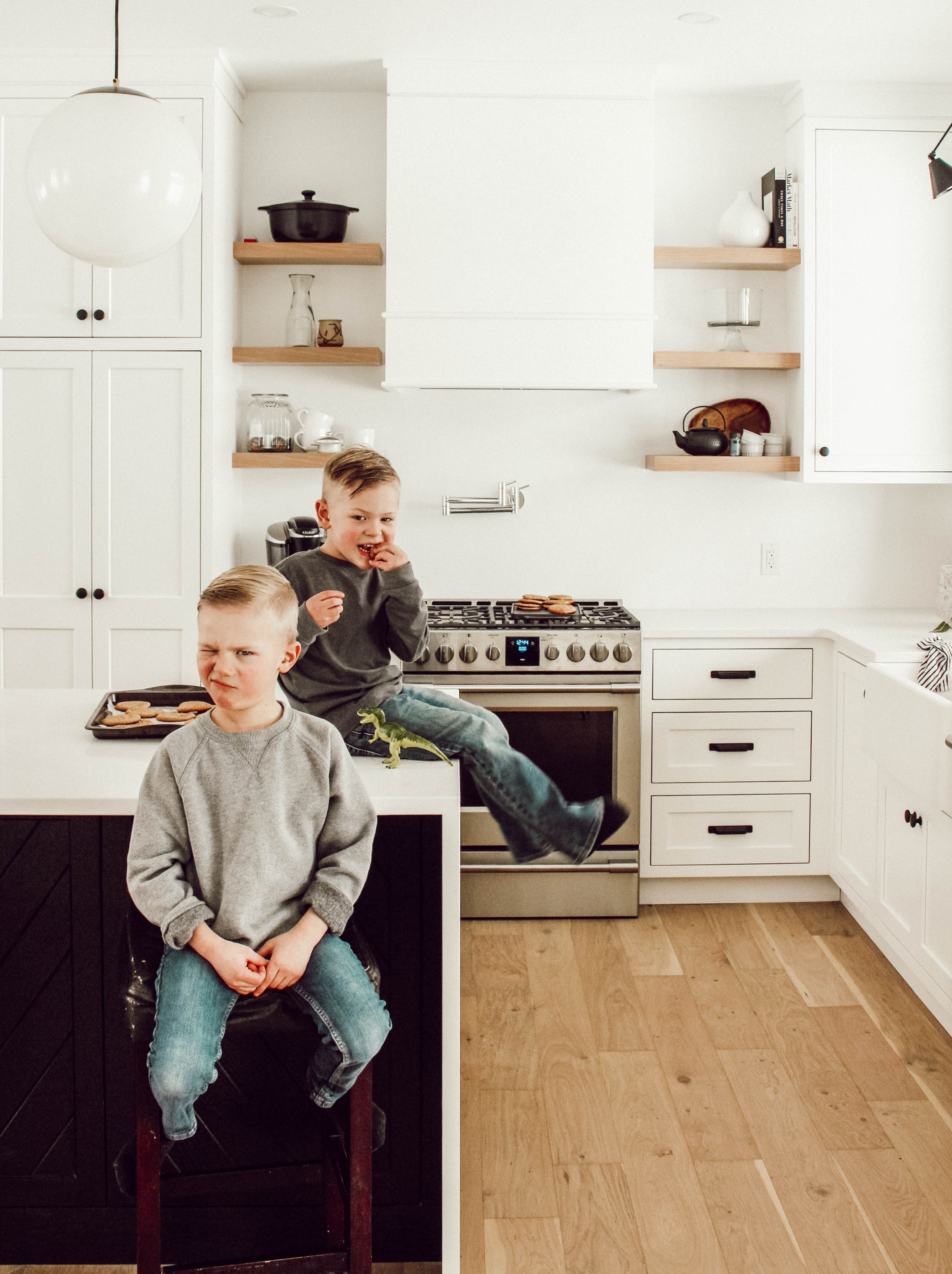 *note: Jack is very proud of his wink ;)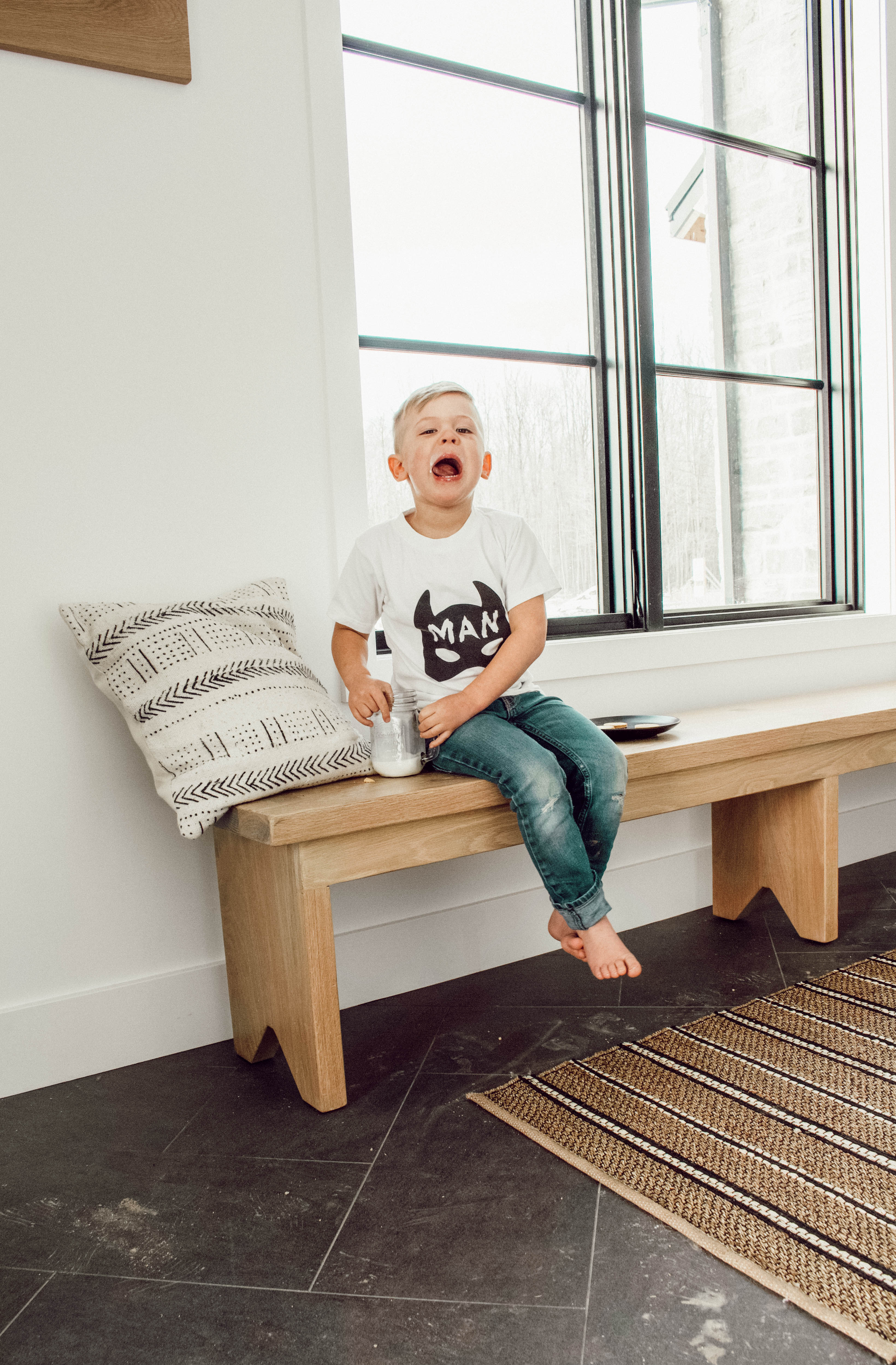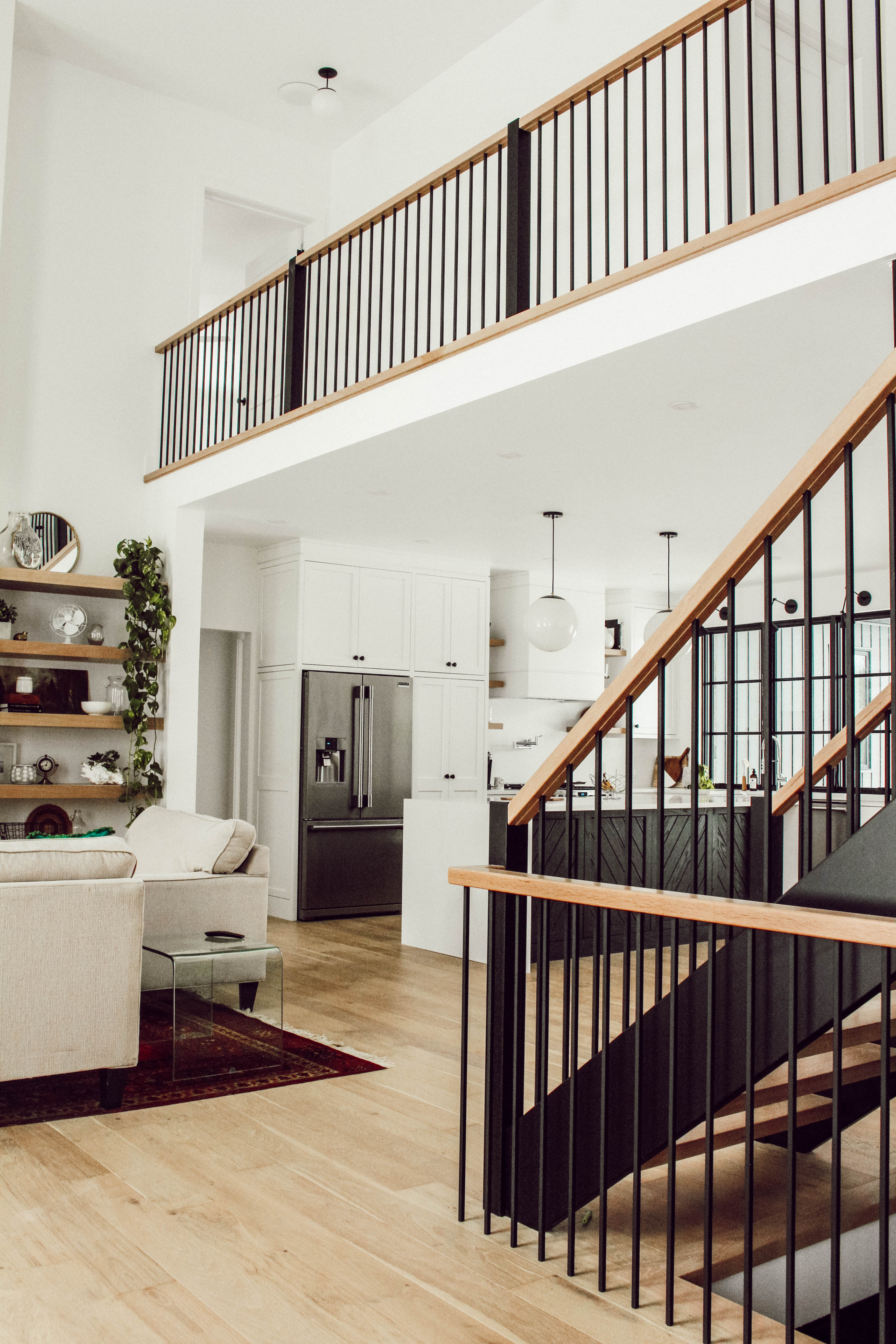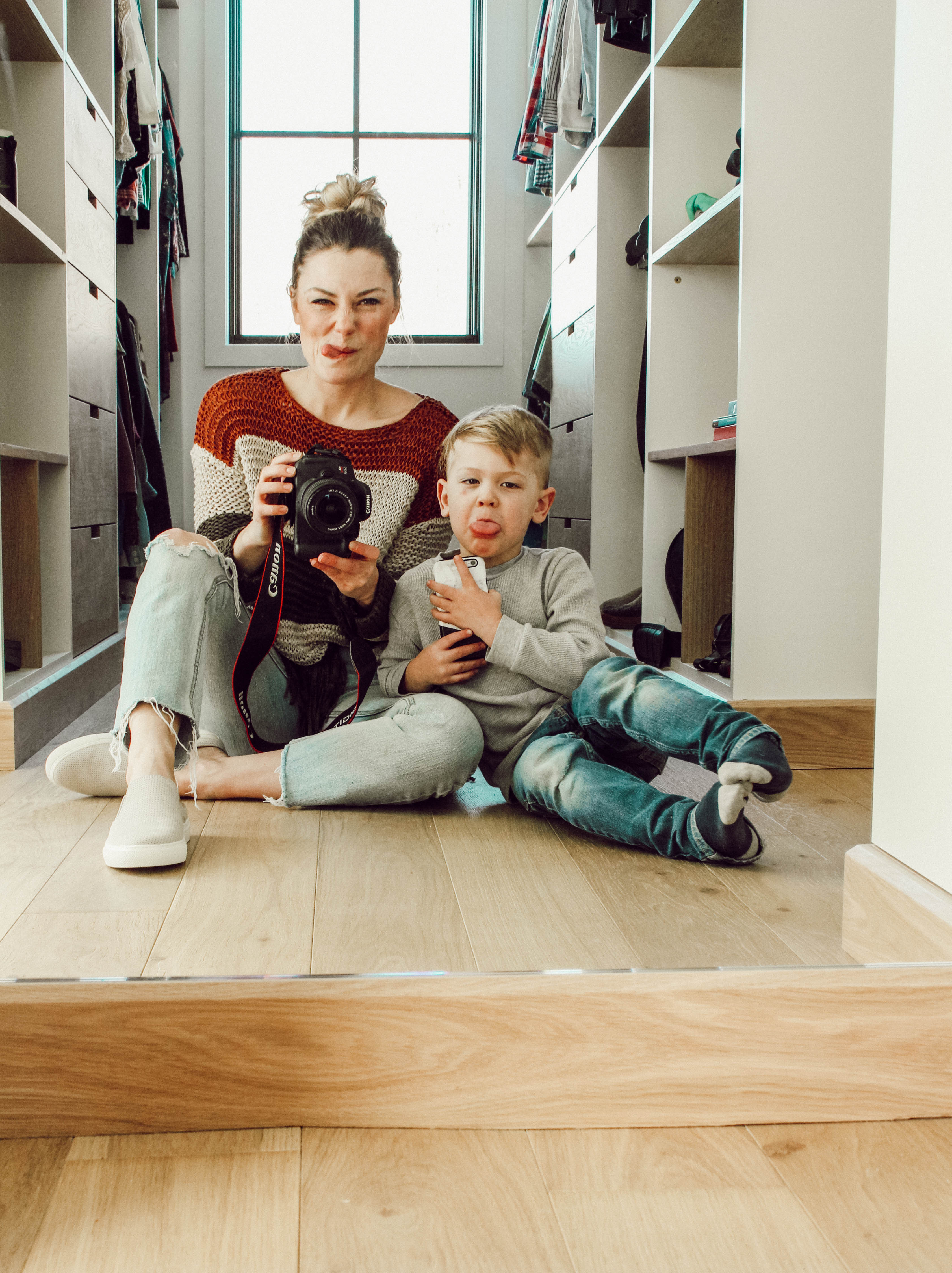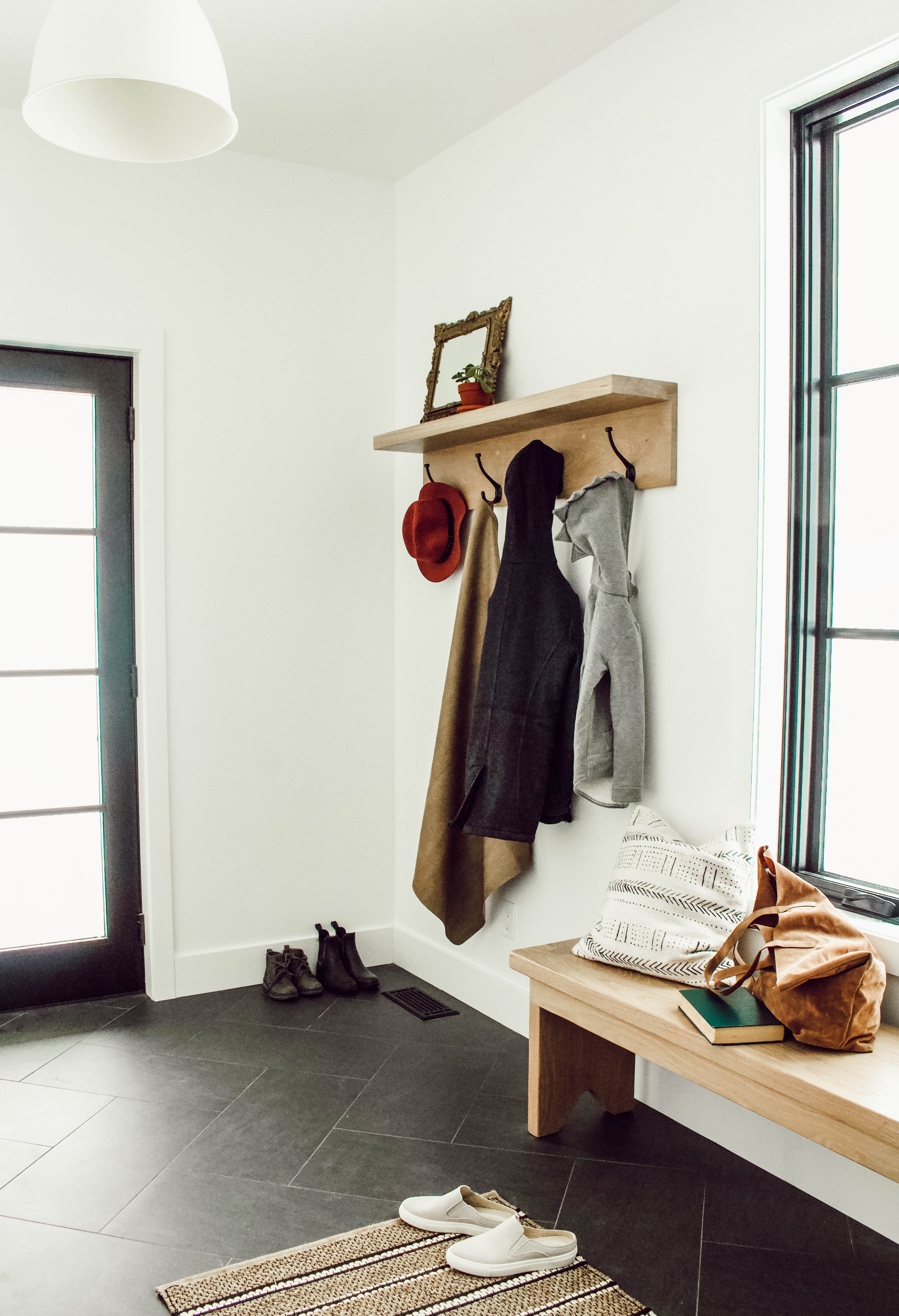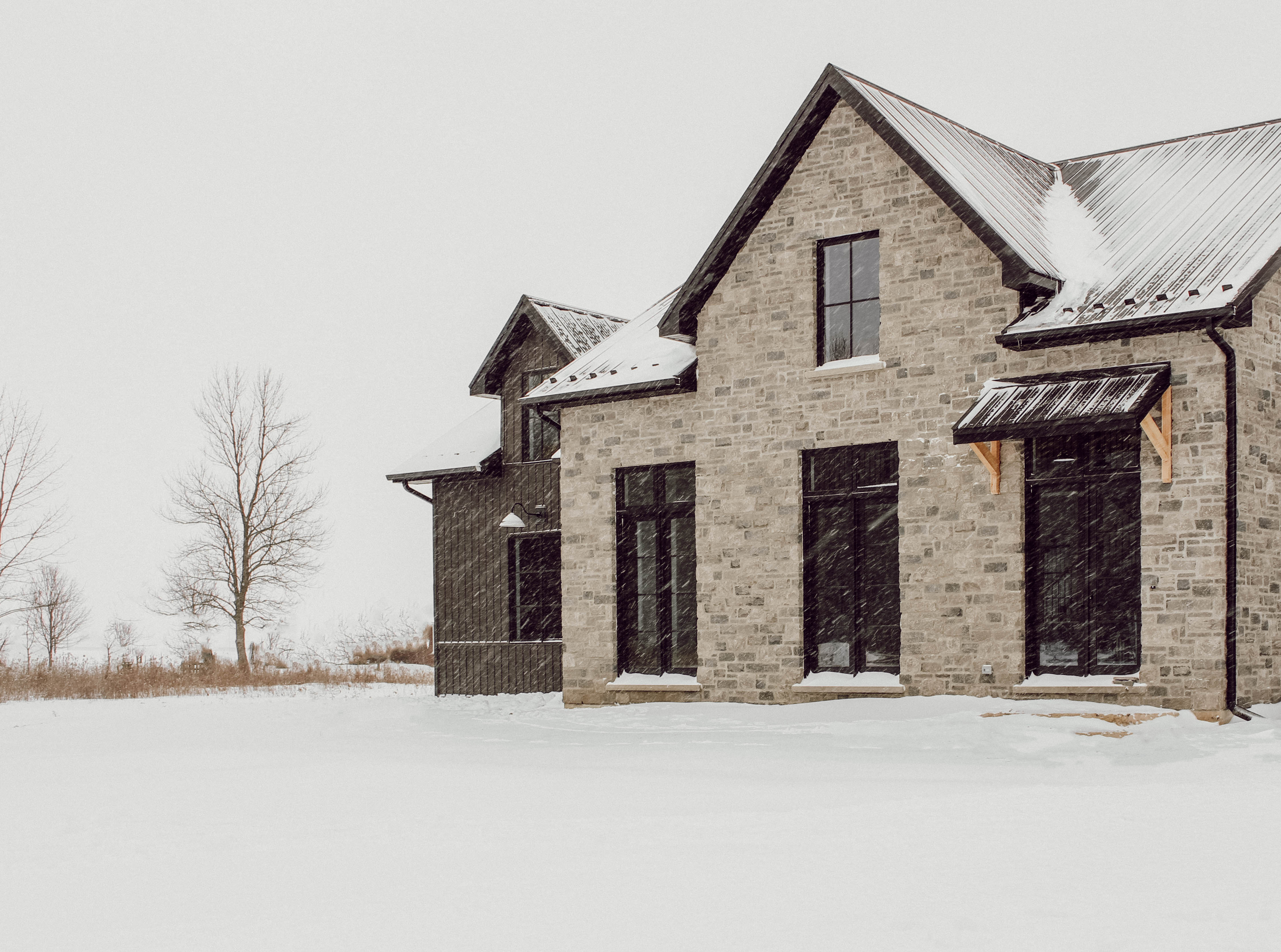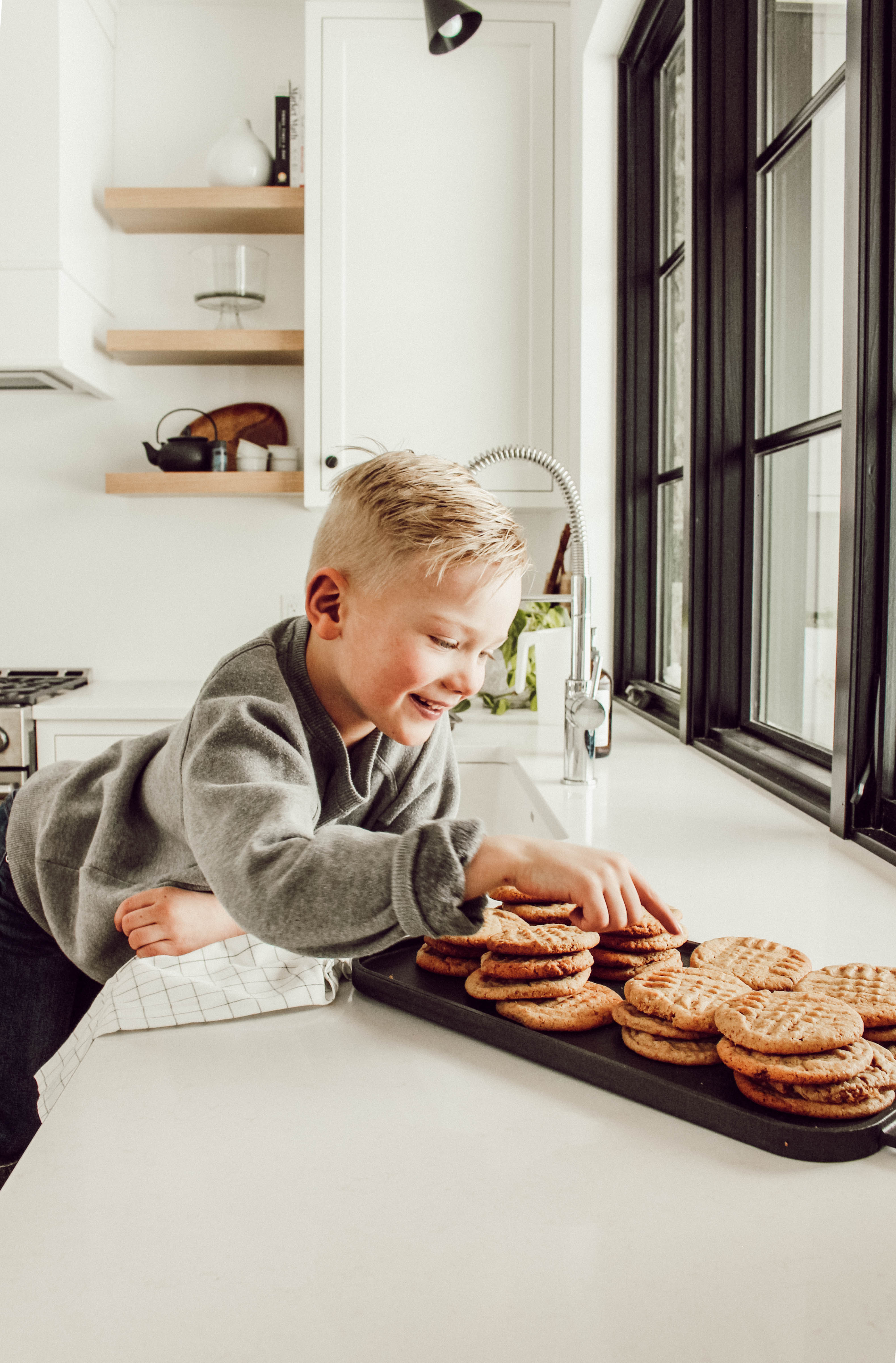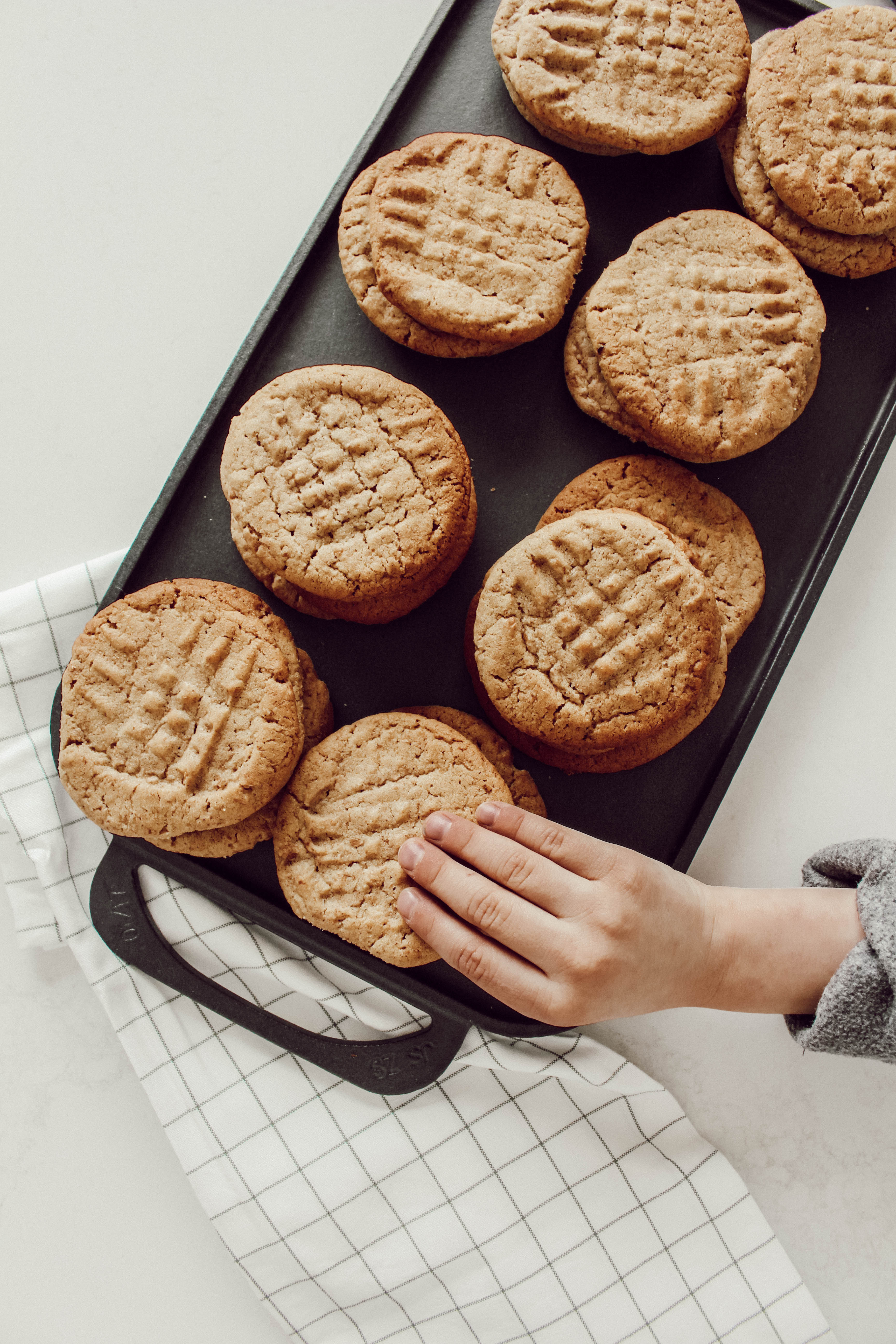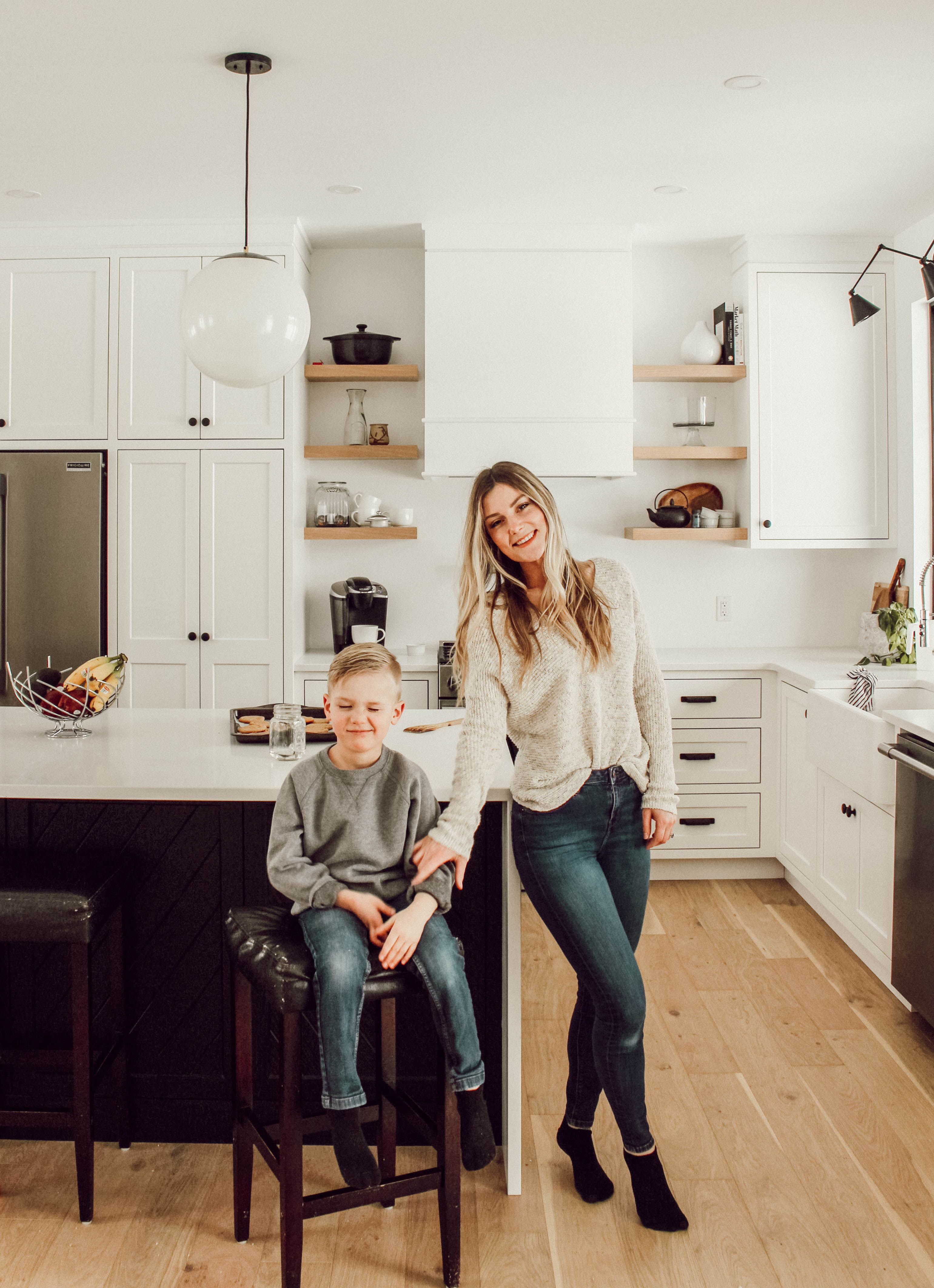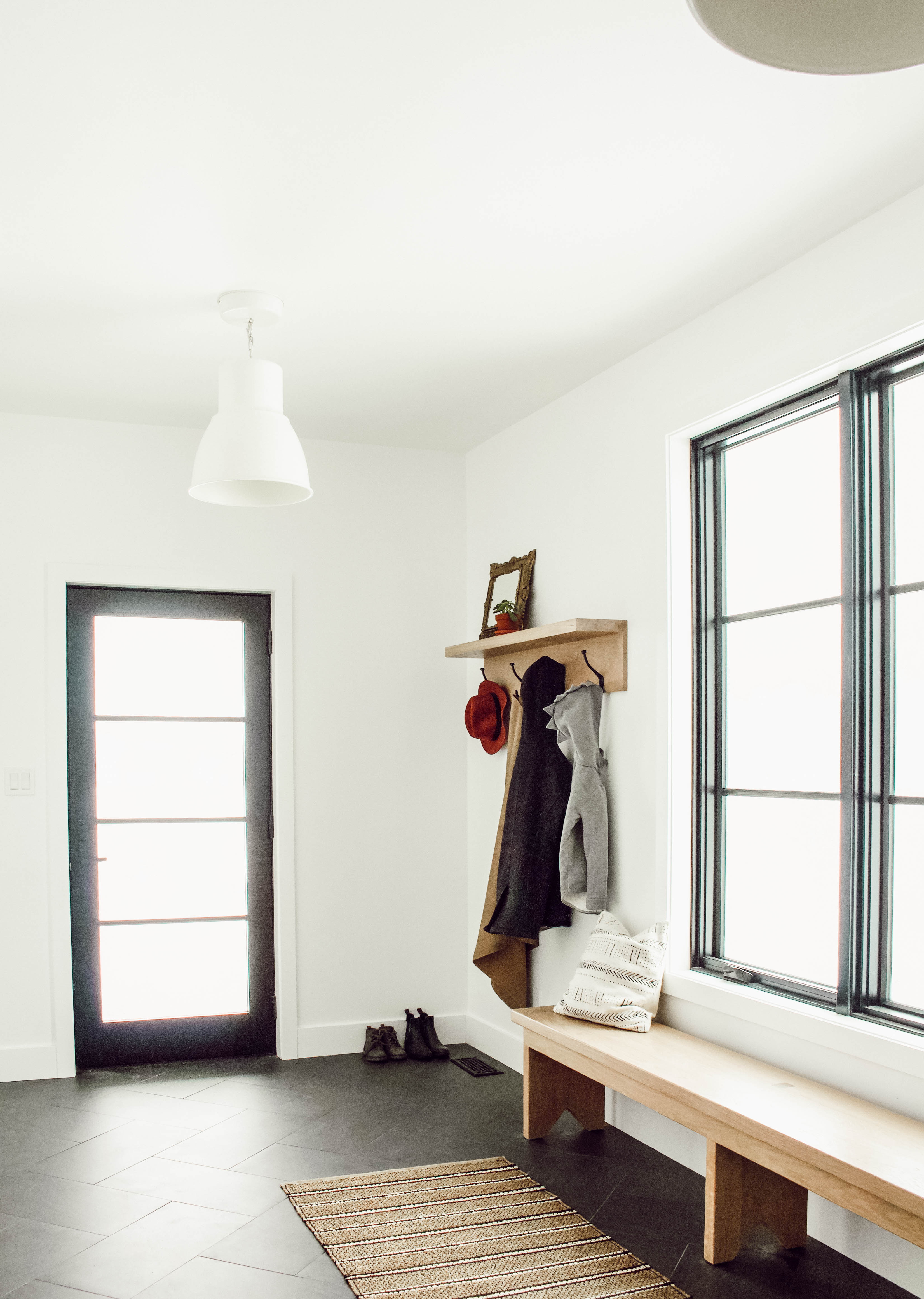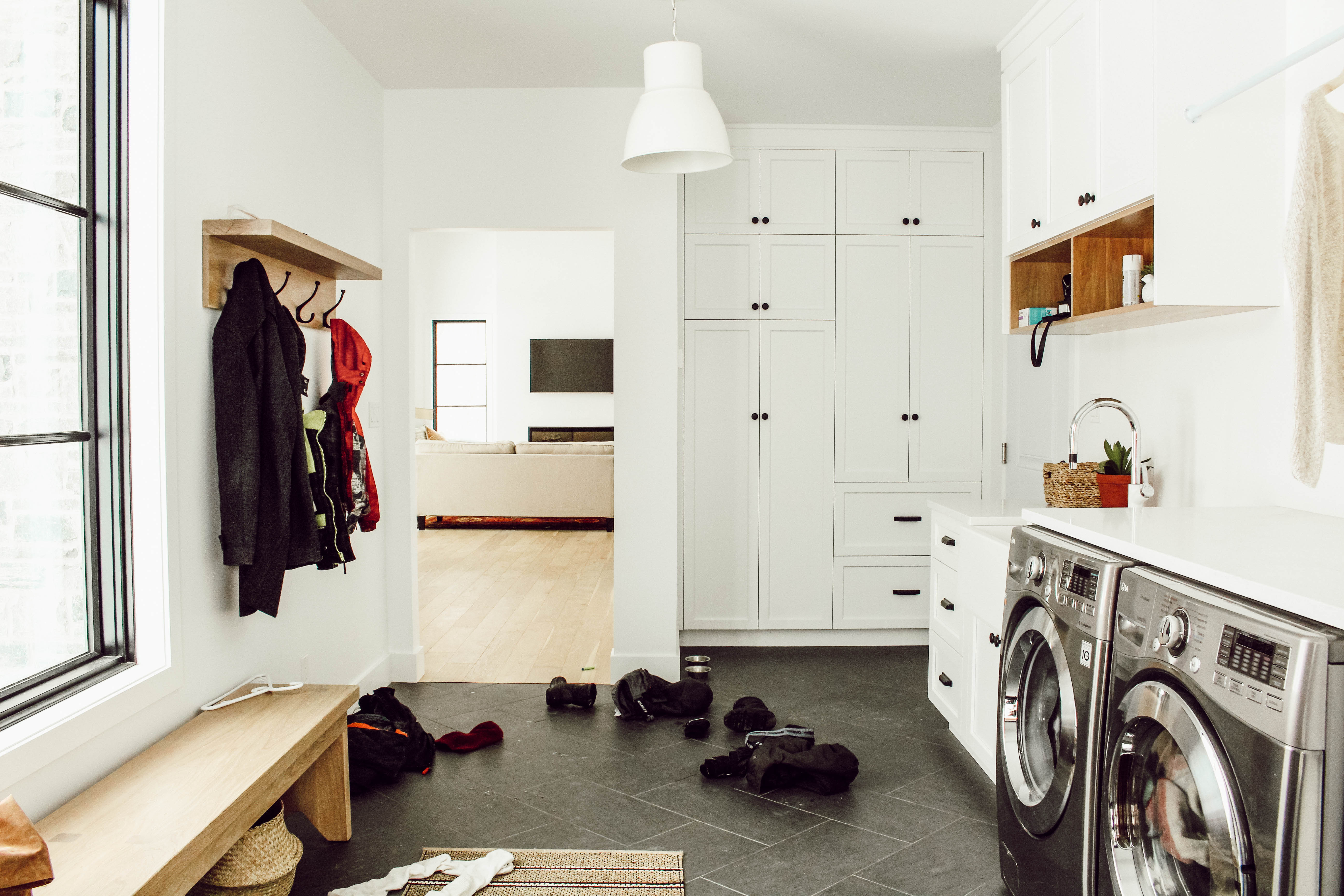 … and this is what our mudroom looks majority of the time.
Below are some of the finishing sources for #TheGreyHouseBuild:
House layout and design by Imagine Your Home — we worked closely with Imagine to build a floor plan that functioned well for our family right now as well as over the future.
All of our cabinetry, floating shelving, bathroom vanities and basement-second floor staircase were built by Woodland Horizon. Woodland used Oak wood in a natural finish (which they matched to our flooring) to keep our home clean and cohesive – this is something we requested and these guys are professionals at making everything look beautiful!
Our walls are painted in Chantilly Lace by Benjamin Moore. Cabinetry is painted in Chantilly Lace and the island is painted in Onyx by BM.
The countertops are quartz in the Calacatta Nuvo Collection from Caeserstone.
Our cabinetry hardware is from Richelieu, here and here.
Lighting is from Lucent Light Shop. 
We used 2″ and 5″ MDF flat board for our trim. Our doors are Masonite (Logan Collection). Charlie Spaling install the trim and doors — he does an amazing job so if you're local, look him up!
Our interior door knobs are from Home Hardware. Also! If you are from Canada and are looking for exterior goose neck sconces but at a reasonable price, Home Hardware has 14″ black goosenecks sconces for $188 — we used 7 of them on our exterior and LOVE them.
We went with an Oak engineered hardwood flooring from Rob Carere Flooring. The name is called Natural Topaz Oak by Kraus Flooring. The flooring has held up well so far and I love that it hides all of the dirt and any marks/ dents it has gained (so far) add more character to the flooring, haha so the odd mark doesn't bother me.
Our windows are aluminum clad on the exterior and wood casing on the interior side. We love how sleek and minimal they look. We also went black on all the interior casement, which is a bit of a risk but we love the black pop next to the white walls!
If you have anymore questions, let me know and I'd be happy to answer them :)
PS. Brent and I are going to do a Q + A on Instagram next week, so look for that in the highlights section on IG!
SaveSave
SaveSave
SaveSave
SaveSave
SaveSave
SaveSaveSaveSave
SaveSave
SaveSave
SaveSave
SaveSave
SaveSave
SaveSave
SaveSave
SaveSave
SaveSave
SaveSave
SaveSave
SaveSave
SaveSave
SaveSave