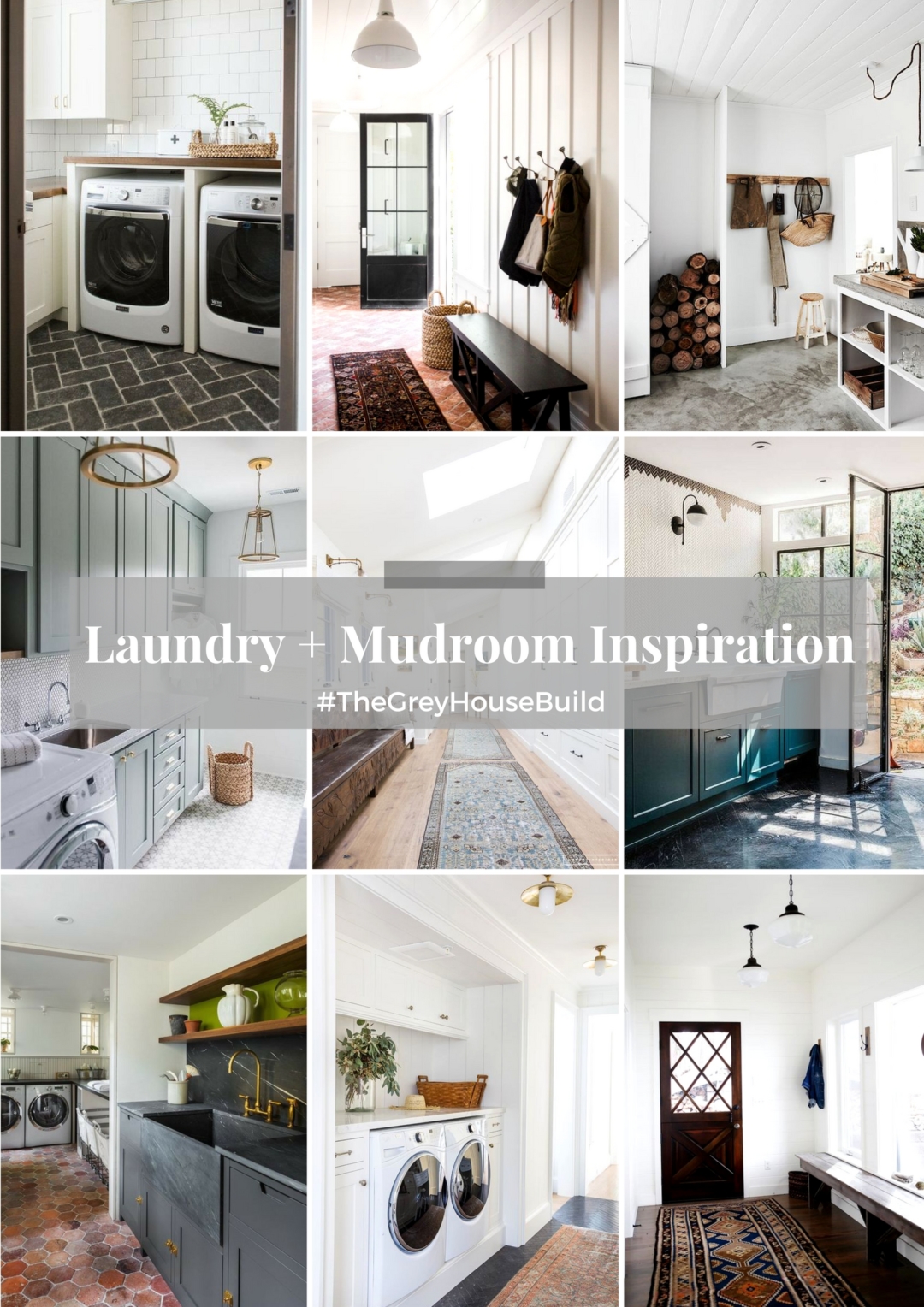 How much do you enjoy doing laundry!? Now there may be the odd person who enjoys it, and maybe, maybe that's because you've got a pretty AWESOME laundry room to fold ALL the laundry… Well if this is true, sign me up!! If there is one thing I despise, its laundry. I hate scrubbing grass n' dirt stained boy jeans, sorting all the laundry, washing, shaking and sorting the hung stuff, folding it all and putting it away! It's such a 126900 step process and sometimes I mix the boys clothing up because they are basically the same size- yes, Max is a lil tank!
With #TheGreyHouseBuild, my mission has been pretty simple: create all functional spaces throughout our home, laundry and mudroom being a big one on the top of our list! Being a mom of boys, we go through A LOT of dirty clothes. On top of all the laundry, our boys love spending a good chunk of the day outdoors throughout every season of the year, therefore the boys are usually dragging mud in the house during the spring, leaves during the fall, snow during the winter and sand + water + more dirt during the summer! To sum it up, families use their laundry and mudrooms quite a bit so why not design a laundry room that isn't hidden in the dark dewy basement?
A laundry + mudroom is the perfect solution to all of our needs!!!!!
In the process of designing our home with Imagine Your Home, we designated a larger area located off of our garage to a combined laundry + mudroom. Since we are moving out to the country, I knew the boys and well all of us would be spending so much more time outdoors and that it only made sense to have an area of our home to contain and clean all the muddy boots and outdoor clothing. It only made sense for the mudroom location to be right off of the garage. To take our laundry another step further, Brent's mom had given us the idea to add a laundry chute- brilliant! So we decided to add one coming down from upstairs, where the boys bedrooms are located, which will drop directly into a cabinet (to-be built by Woodland Horizon) within a corner of the laundry room. After all this laundry and mudroom talk, it's getting me pretty excited to have a space just for all of this and I may be making up excuses to do laundry ;) haha maybe…
Our Laundry + Mudroom Floor Plan

During my inspiration search, I have been noticing a lot more designers are incorporating both a laundry and mudroom area into their homes. It's becoming a room of presentation, a room to glamorize and utilize all at once.
But it makes perfect sense.
With living a minimalized lifestyle (another big trend happening), it makes sense to have a room that can be functional and host both laundry and all of your outdoor wear. Now this takes me back to my parents farmhouse (the one I grew up in) where we had our washer, dryer, sink and all my dad's barn clothes in one room. When my younger brother and I were heading outdoors or coming in from outside, this is the room we used, the dumping grounds for all of our snow gear! Now that I mention it, this is kind-of a farm thing… am I right!? I have even heard of farmers putting a closed-in shower stall into the laundry room- smart, real smart… probably a well thought idea of a farmer's wife ;)
All in all, I have come to the conclusion that when you live in the country or even in the city, having enough room for outdoor wear plus your laundry machines while you have kids, big and small, this space and functionality are something we can utilize to its full potential.
Below are some gorgeous laundry + mudroom inspirations that I admire. They are all functional and seem to have a similar layout with a statement door leading outdoors with flawless tile flooring and stunning lighting fixtures!
Laundry + Mudroom Inspiration
Which room is your fav? And what do you think of the combined laundry and mudroom theory?
Thanks for stopping by,
Kass