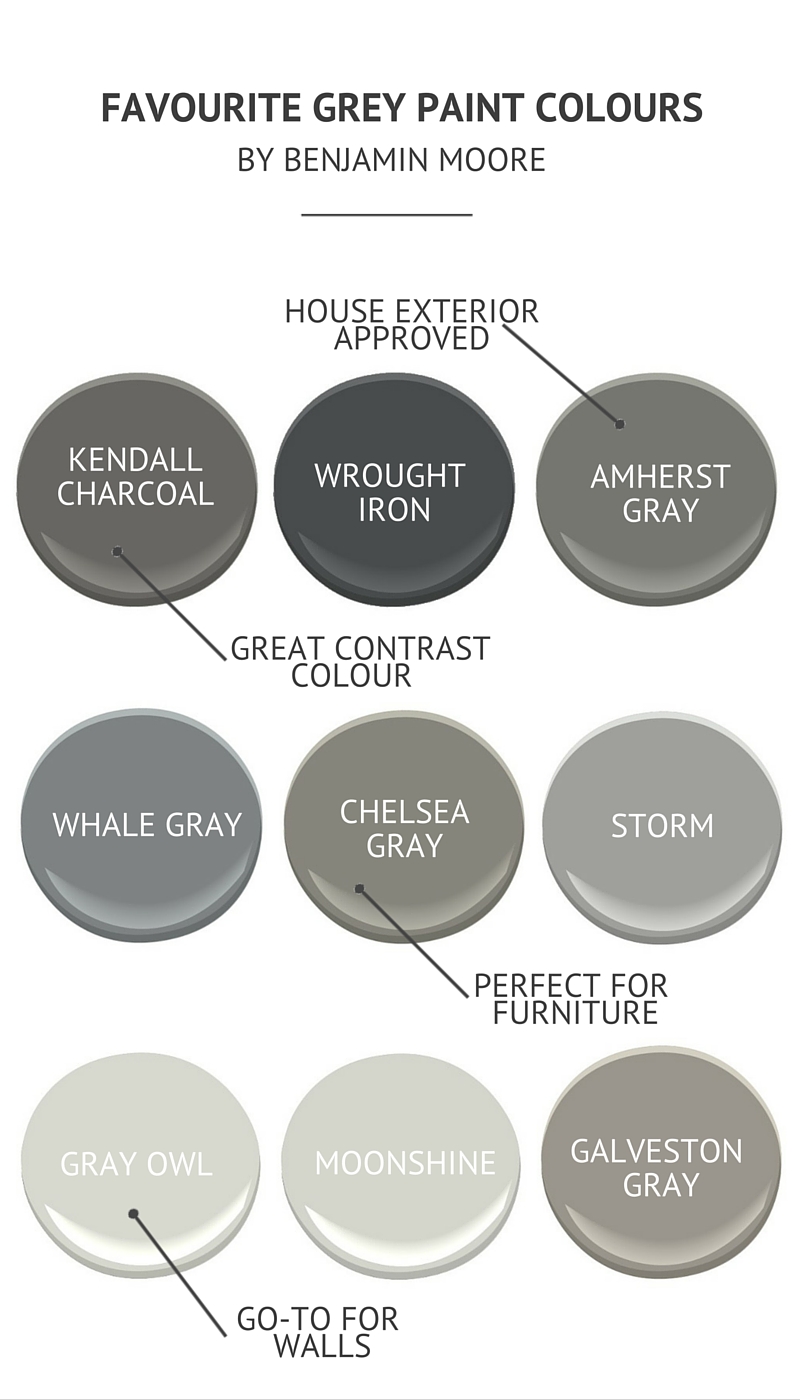 Over the past year or so, I was keen on changing the colour palette in our home. After taking an interest in home design, I learned the type of style I was attracted to and what exactly fit our family and home. What I mean by that is I'm the only girl in our household, therefore pink isn't something I care to accent our home with, but maybe my wardrobe instead. I love a mixture of styles but I feel most comfortable with a neutral colour palette. Neutral is most likely known as a safe zone in the home design department, but if you're on a tight budget it makes sense to go with neutral for higher priced decor items that will stick around for years to come. I love adding natural elements such as plants, fabric and wood into a space which really makes the environment feel comfortable and inviting. And I'm a sucker for contrast as I love black and charcoal greys next to lighter tones with a little punch of colour — those are the types of interiors I'm always pinning! I wanted to make our home a little more modern with a neutral colour palette but still keep some country charm. The first part of a makeover and most effective way to change up a space is by painting the walls, therefore our entire main level was painted! The kitchen and living room were once two different colours, seen here, and I painted over them using the colour "pure white" by Benjamin Moore. This keeps the room flow uniform. Pure white is extremely light but not quite white, it has a sight grey/blue undertone which gives a bit of contrast next to white and works well with cooler tones and I needed the wall colour to flow with our kitchen cabinets; heres some grey kitchen inspiration from a past post. By mid October, I finished painting our kitchen cabinets in Chelsea Gray by Benjamin Moore. I must say it has really changed our whole main level! Although it's a little more on the warm side of the grey spectrum, it looks cooler in our kitchen, my guess is because our counter tops and backsplash have brown and cream undertones throughout. Chelsea Gray feels like a true grey!
Since majority of our home interior is painted in a grey hues, I thought it was only necessary to share some of my favourite grey paint colours and I've literally went over every grey shade in the Benjamin Moore fan deck!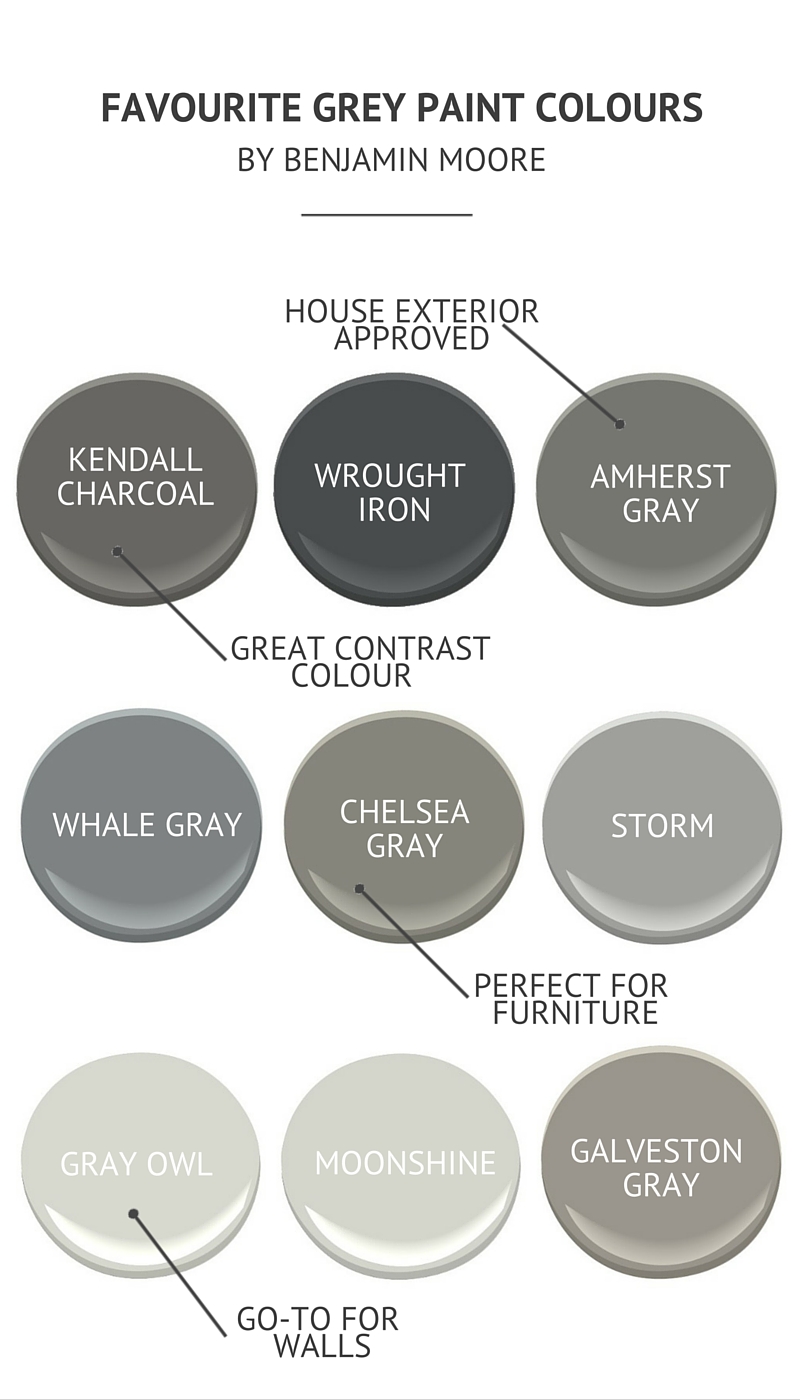 Wrought Iron
Very bold and saturated. If your looking to make a statement, this pure deep masculine colour will do just the trick. The wood vanity brings out so much warmth next to Wrought Iron!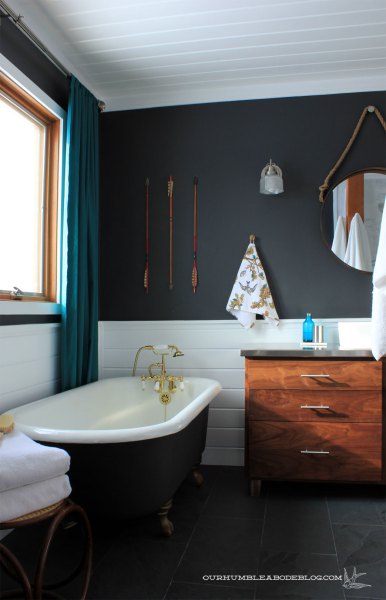 via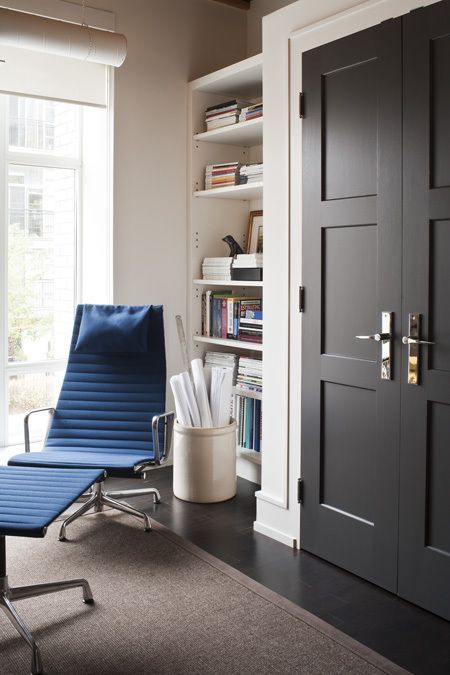 Storm
Cool and light, this is the perfect medium neutral-toned grey to make your furnishings pop. It's the perfect colour for a den or a masculine space.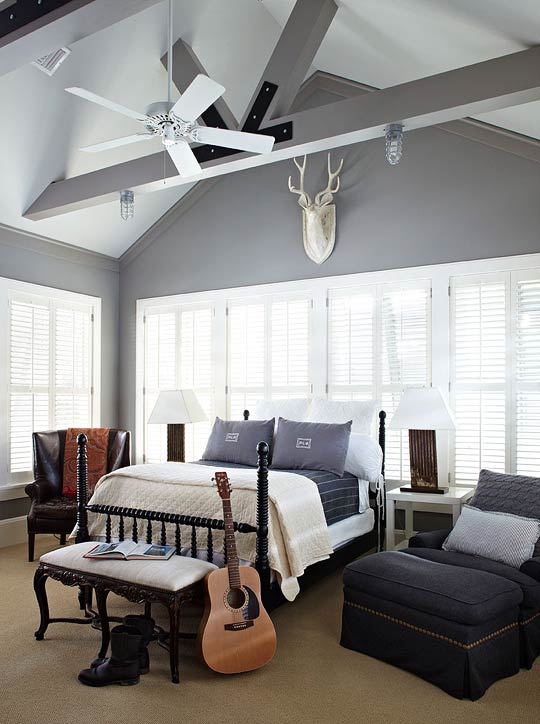 via
Gray Owl
Classic, soft and complementary, this is a great primary colour for your home. Gray Owl is very popular and many people lighten to 50% for an extra light and airy feel. We used Gray Owl in Max's nursery here.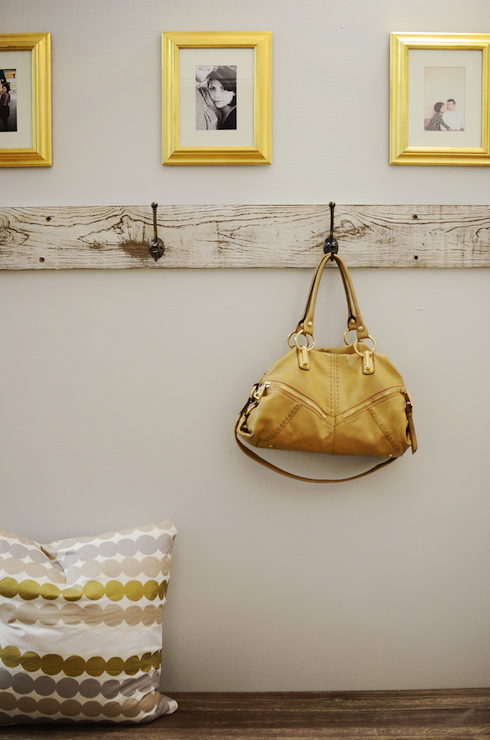 via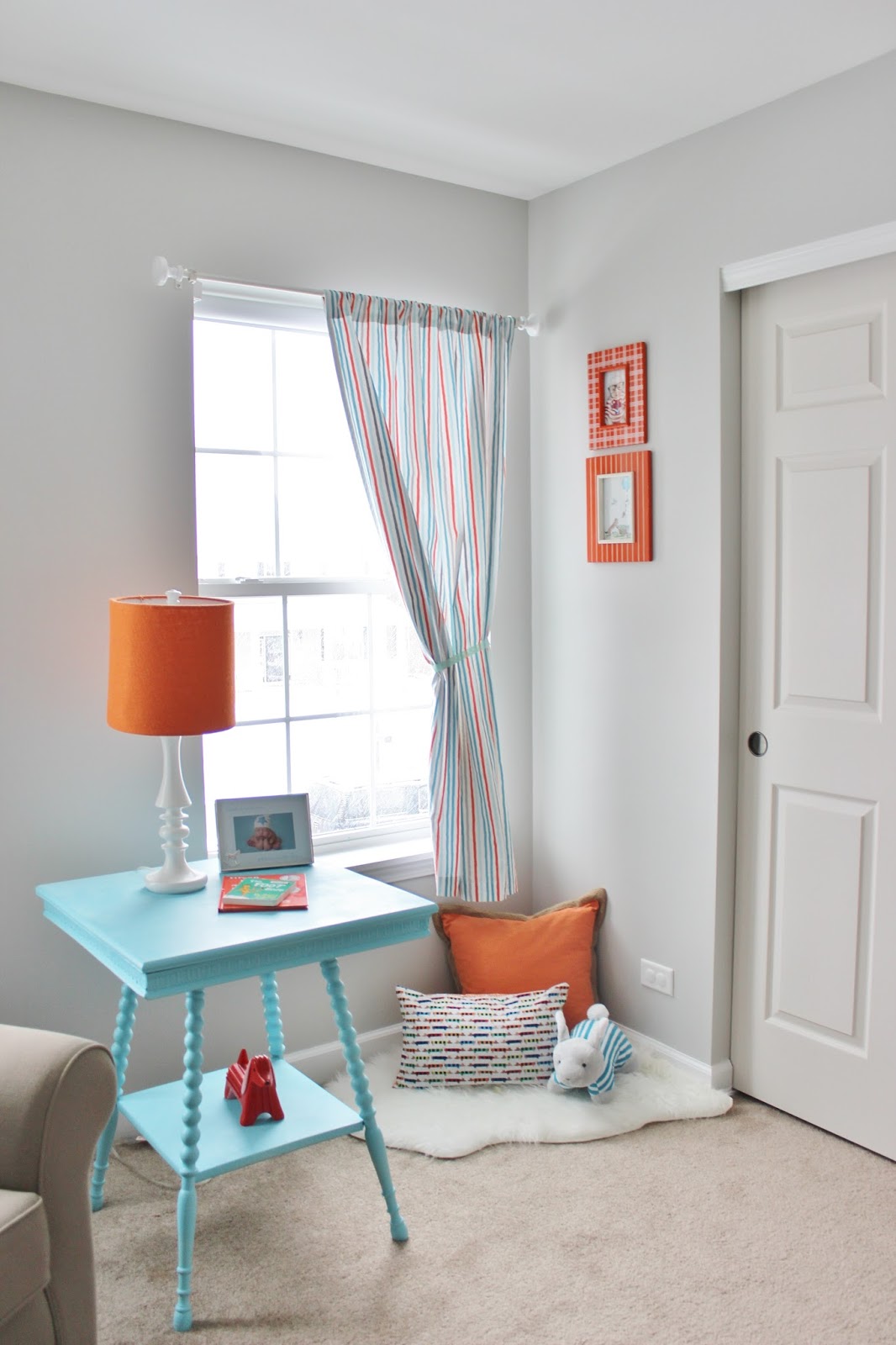 via
Chelsea Gray
This polished cool and confident grey adds a touch of refined quality to any room. Chelsea Gray is seen most on cabinets and other furnishings, that's because this colour is the perfect balance between cool and warm, giving you the best of both worlds!
Kendall Charcoal
Rich and luxurious, Kendall Charcoal looks great contrasted against pure white. This colour gives ultimate presentation to any room. The white picture frames draw in your eye as Kendall Charcoal does a great job illuminating them.
Whale Gray
This colour is bold and excites with a slam of cool hues. Whale gray has a blue undertone which looks beautiful paired with rich classical accents. Diamonds and bling bling is what I'm talkin' about!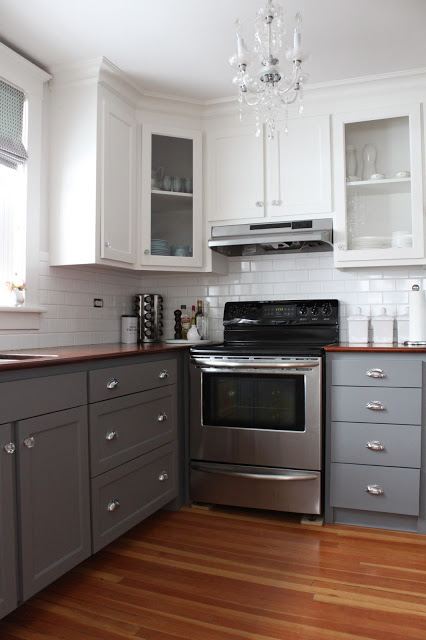 via
Moonshine
This soft pale shade of grey compliments every colour. It's so subtile and calming even when your home is a mess it wont feel that way, promise!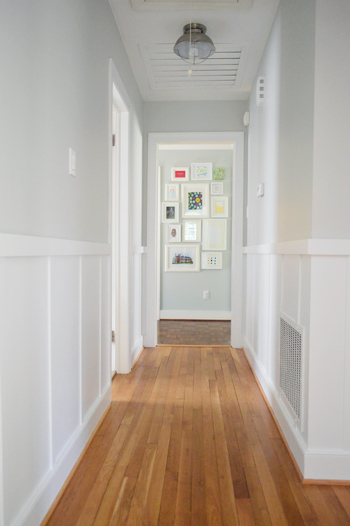 via
Galveston Gray
This colour is extremely welcoming with a neutral earthtone hue. It's sure to warm up your space and it will make your guests feel right at home.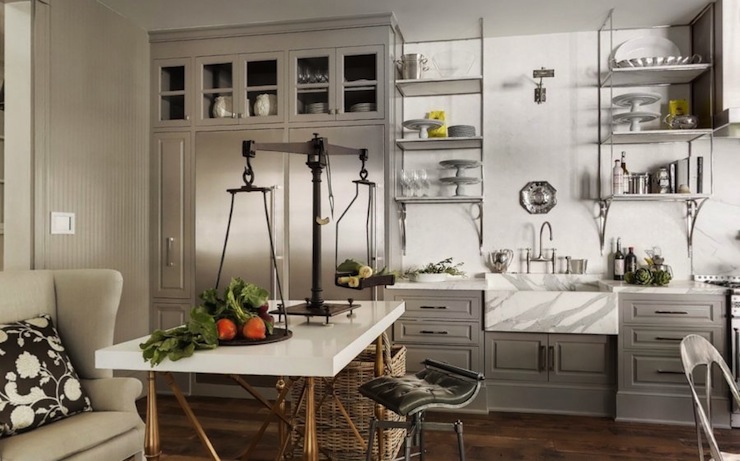 via
Amherst Gray
This colour is very timeless and can be used from traditional to modern spaces. Amherst is known to brighten and give an enduring historic finish to your exterior as well. You can never go wrong with this colour (it's a personal fav).
Well, which colour do you like the most!? My top three are Gray Owl, Kendall Charcoal and Chelsea Gray. Make sure to come back, I'll be sharing my kitchen cabinet reveal soon!
Thanks for stopping by,