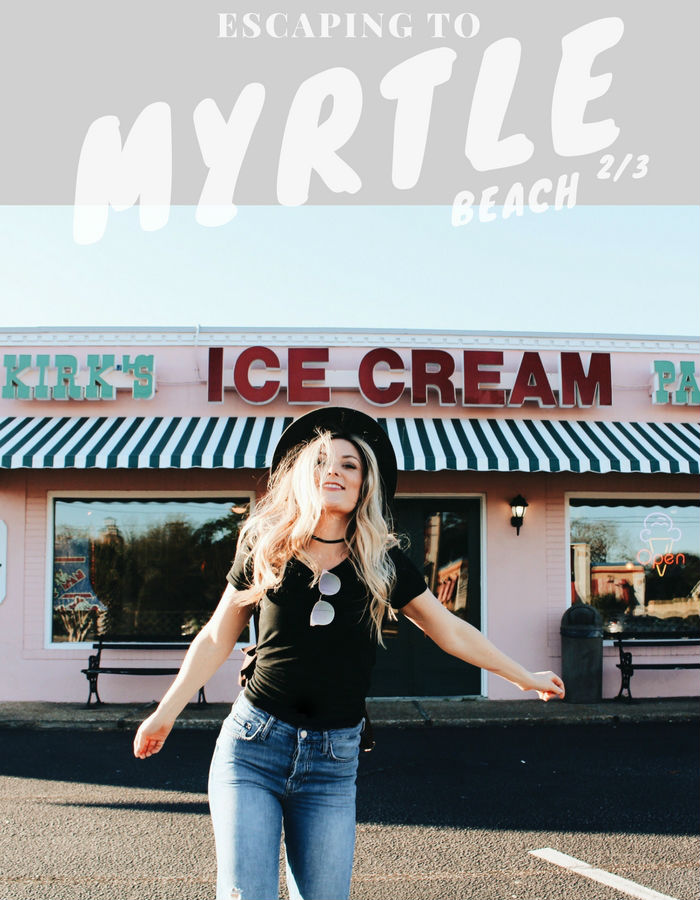 The last few weeks of February in Canada have been amazingly mild, mild enough that Jack, Max and I have walked to and from school a few times… but now that the mornings are back to the negatives, there's no chance we're walking in the am- Jack is pretty annoyed about that I must say. Which brings be back to Myrtle where a tee and boyfriend jeans were on repeat, making me so excited for spring! In Part 1 of our trip to Myrtle Beach, I shared the arrival and first full day…but I think the last few days of our trip were my fav!
Autumn and I started our morning a bit later on the second full day. We both slept in a little, which btw is rare when you have kids, am I right parents!? It was a luxury to swing those blackout blinds across the patio door and sleep like a baby. Our first stop of the day was the Collectors Cafe and Gallery where we enjoyed some fine Colombian Supremeo Bean coffee… and then we indulged in the Pasta Du Jour (with chicken) which is penne noodles in a cajun rose alfredo sauce- it all tasted AH-mazing! After lunch we toured the Collectors Cafe and admired all the art within each of the 6 rooms. Yep, 6 rooms full of fun and unique artwork but I think my favourite was the mosaic tile on the washroom floor- now that was so cool!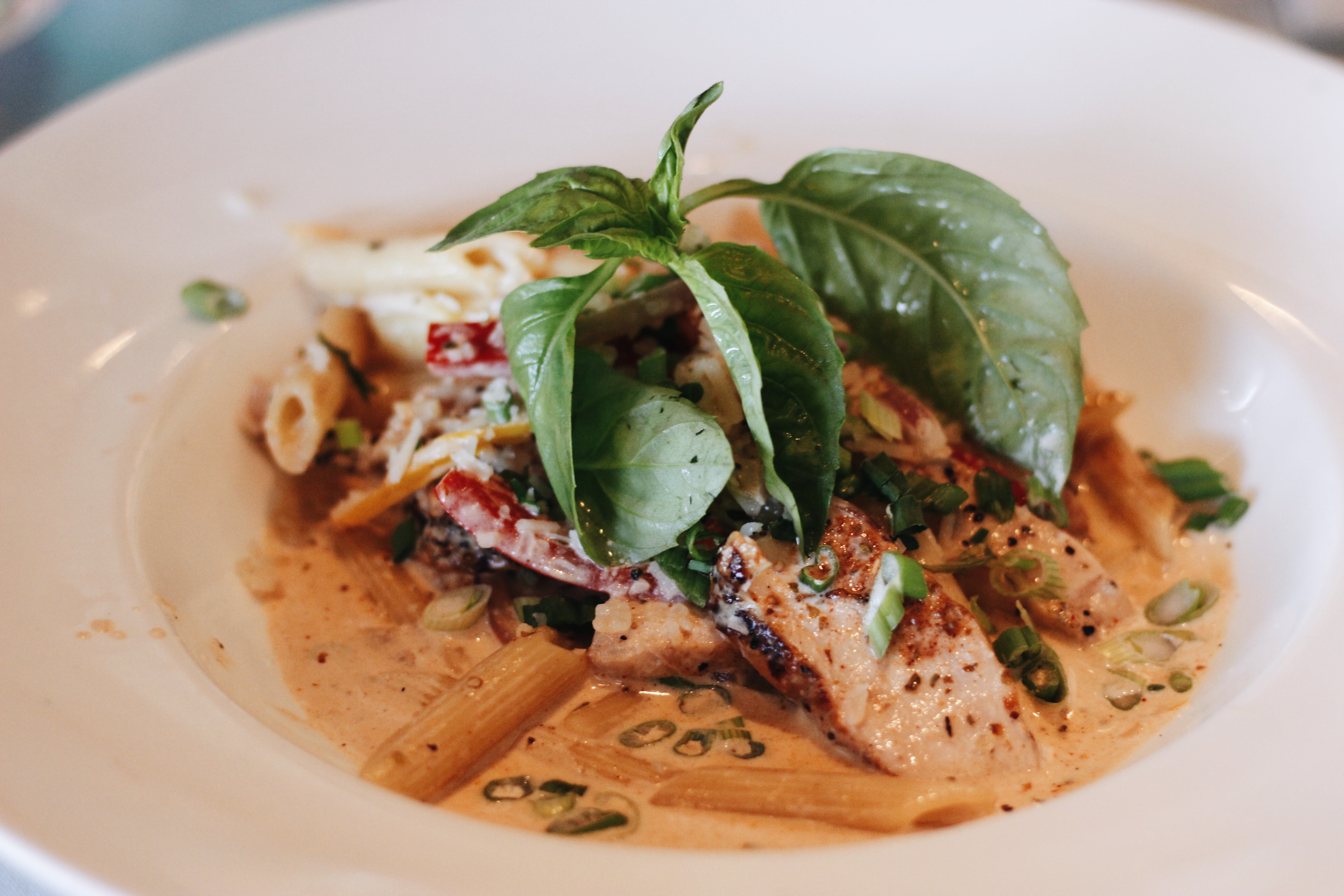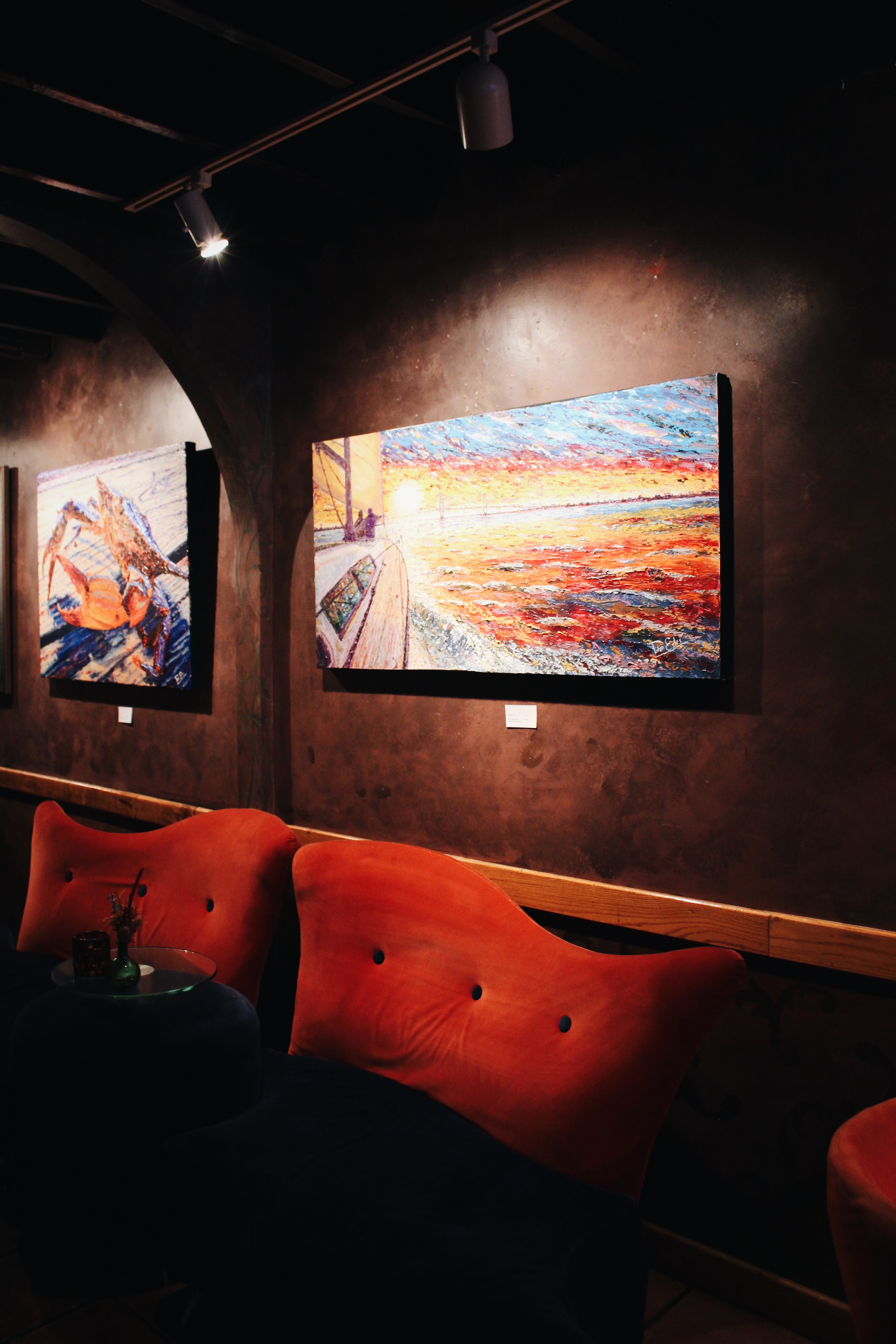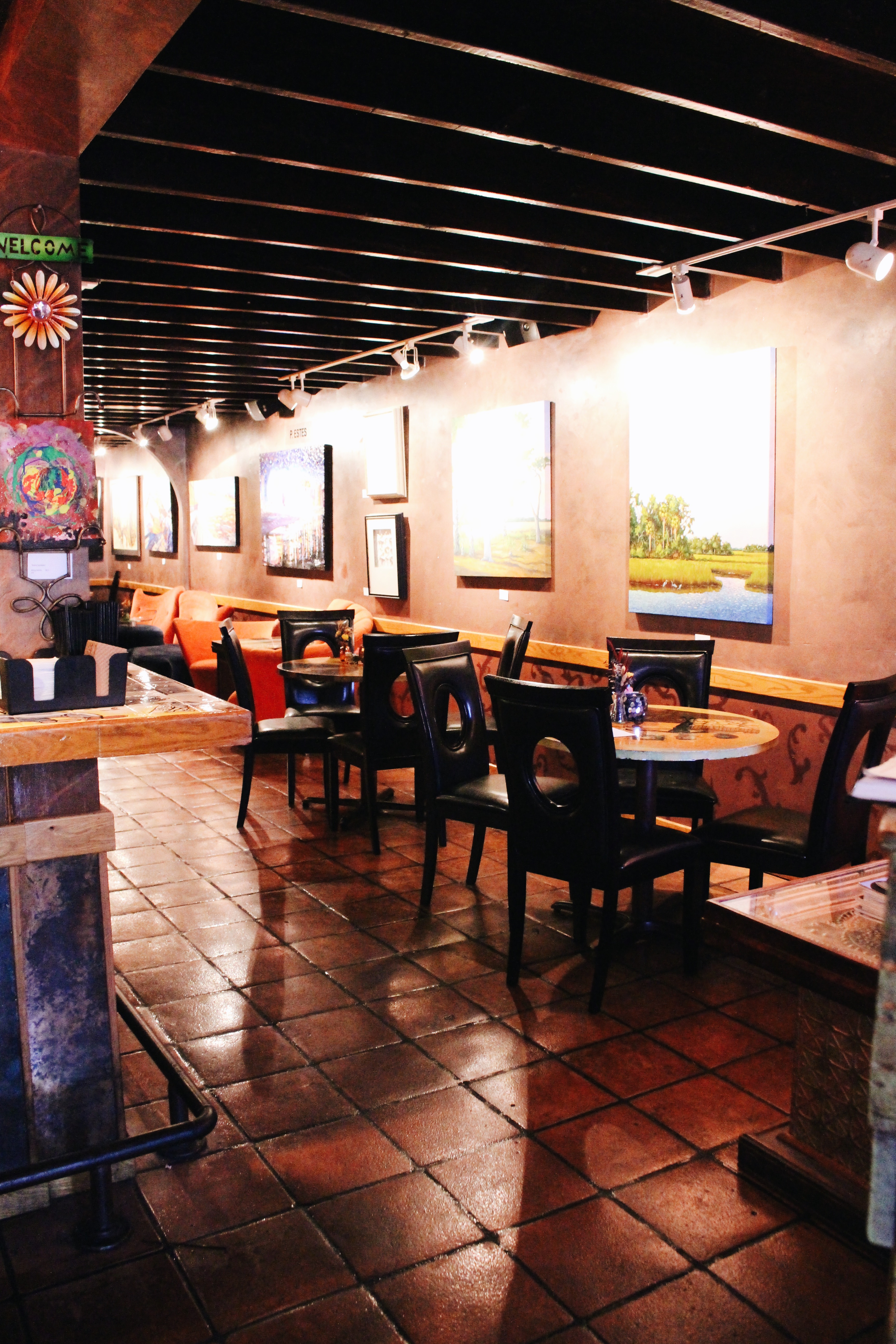 After our delicious lunch we Ubered on over to Broadway at the Beach, which is known as the most popular tourist destination in the Myrtle Beach area. There's something for everyone from shopping, arcades, food, entertainment and attractions, the selection is full of endless fun! After a loop around Broadway, Autumn and I decided to walk around Myrtle and check the town out for ourselves…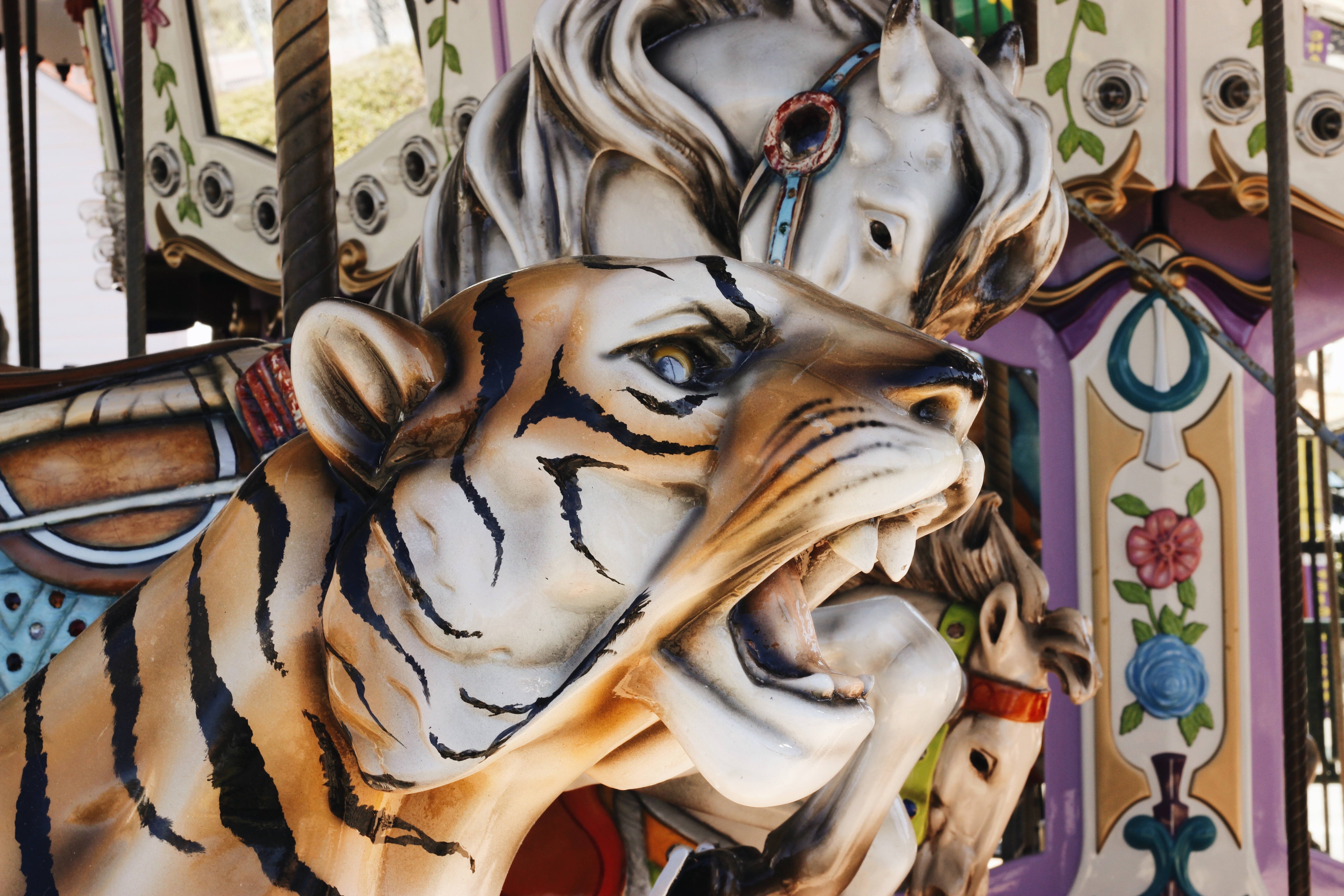 Two girls, some palm trees, a vintage RV and our cams… thats all we need to have a good time!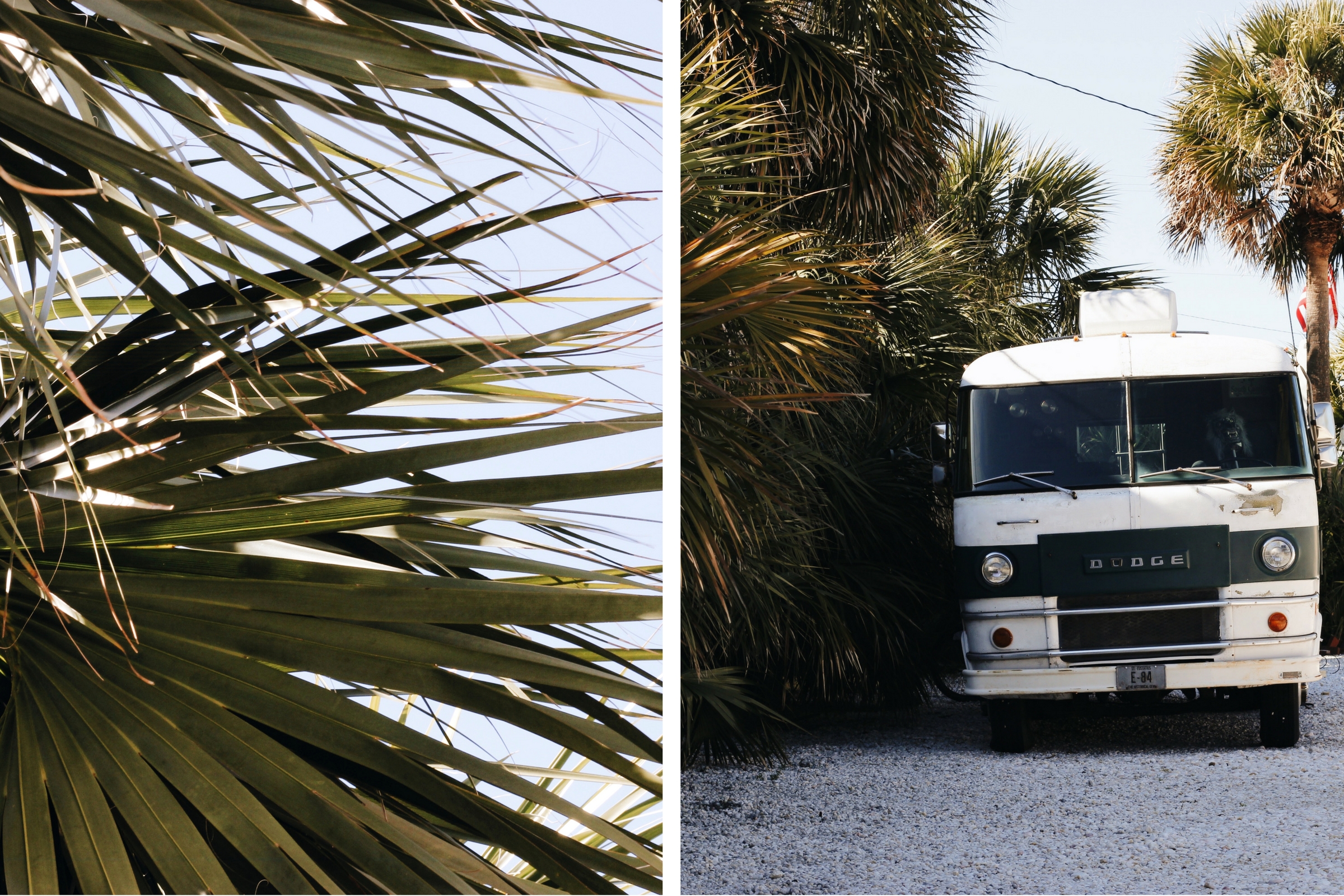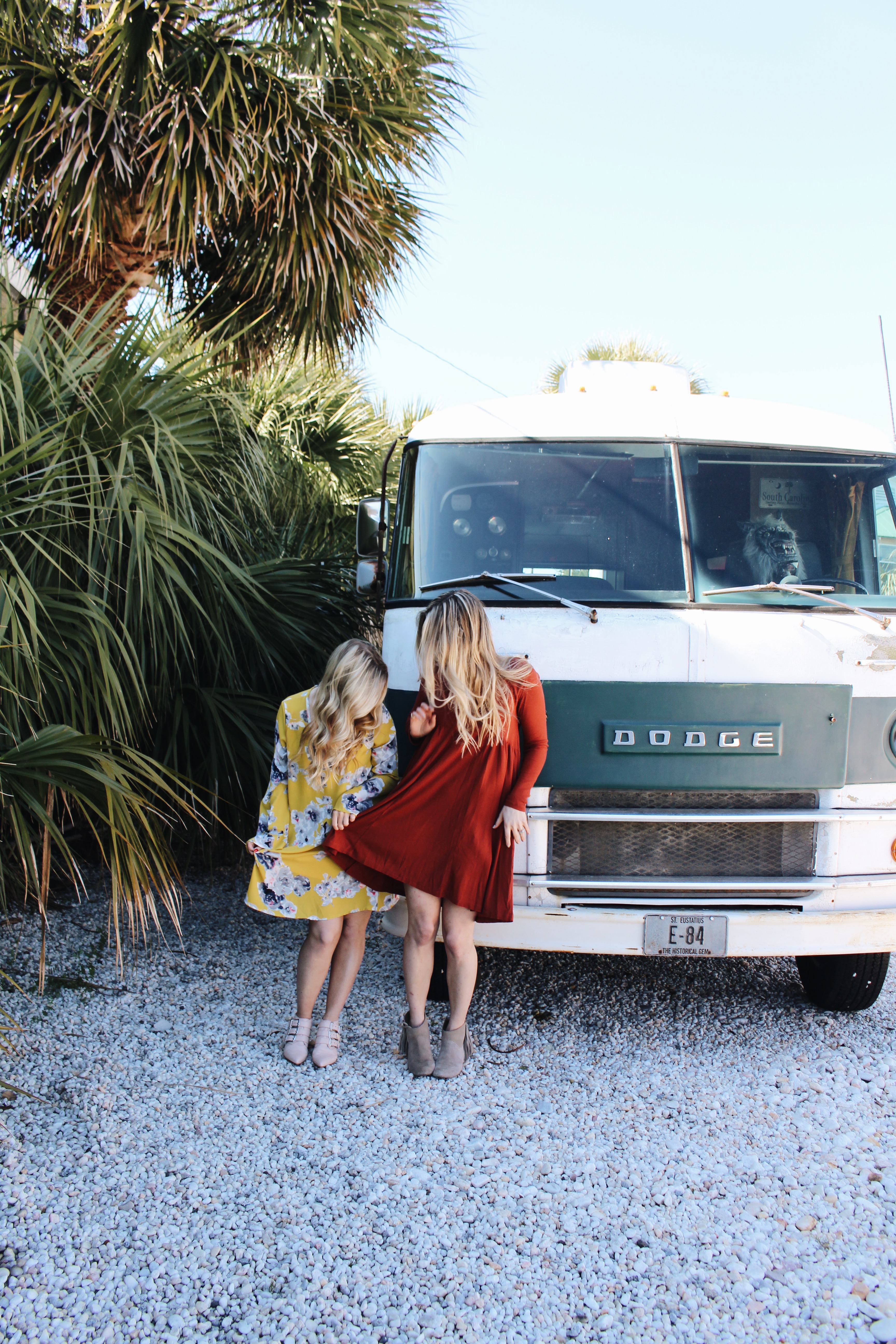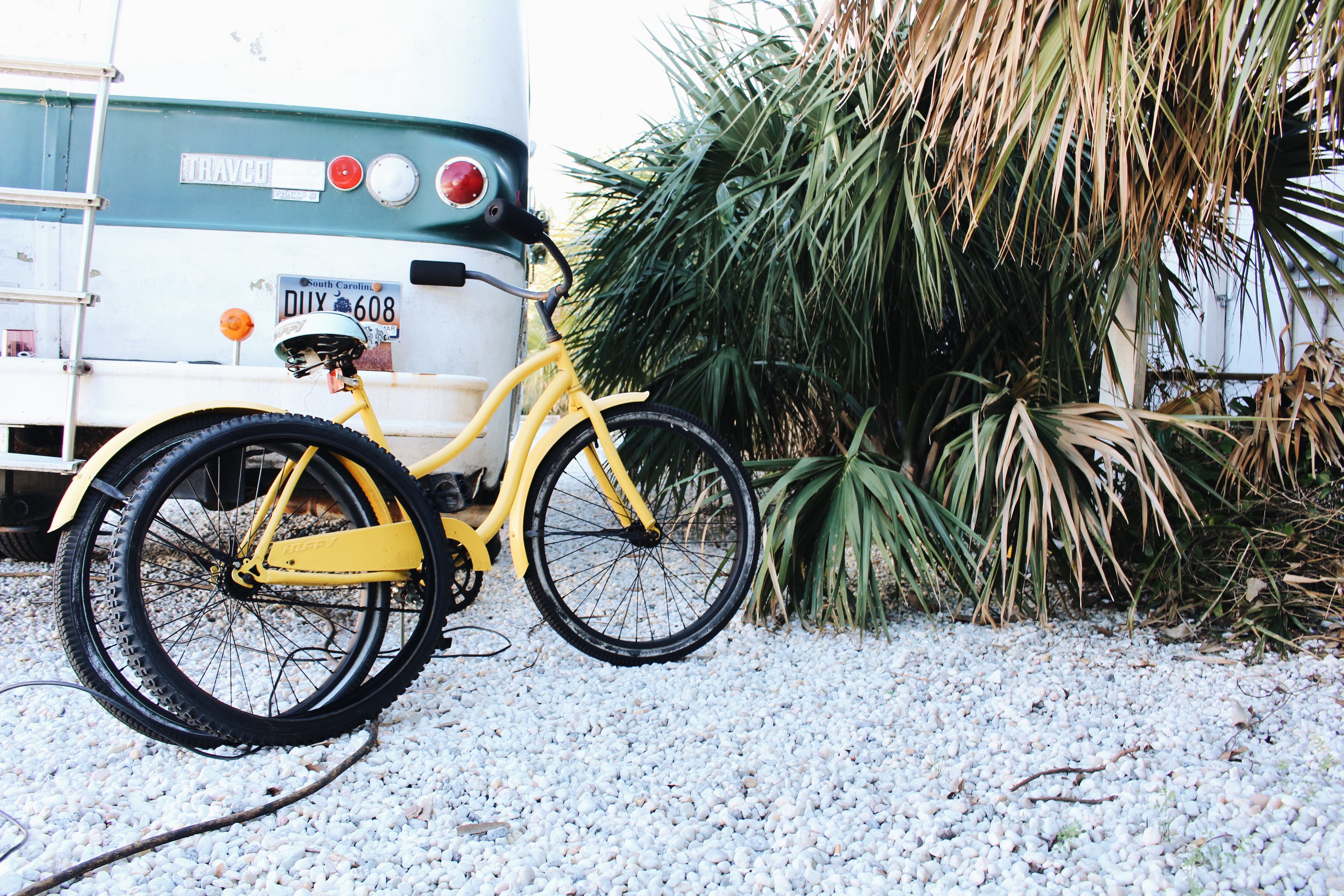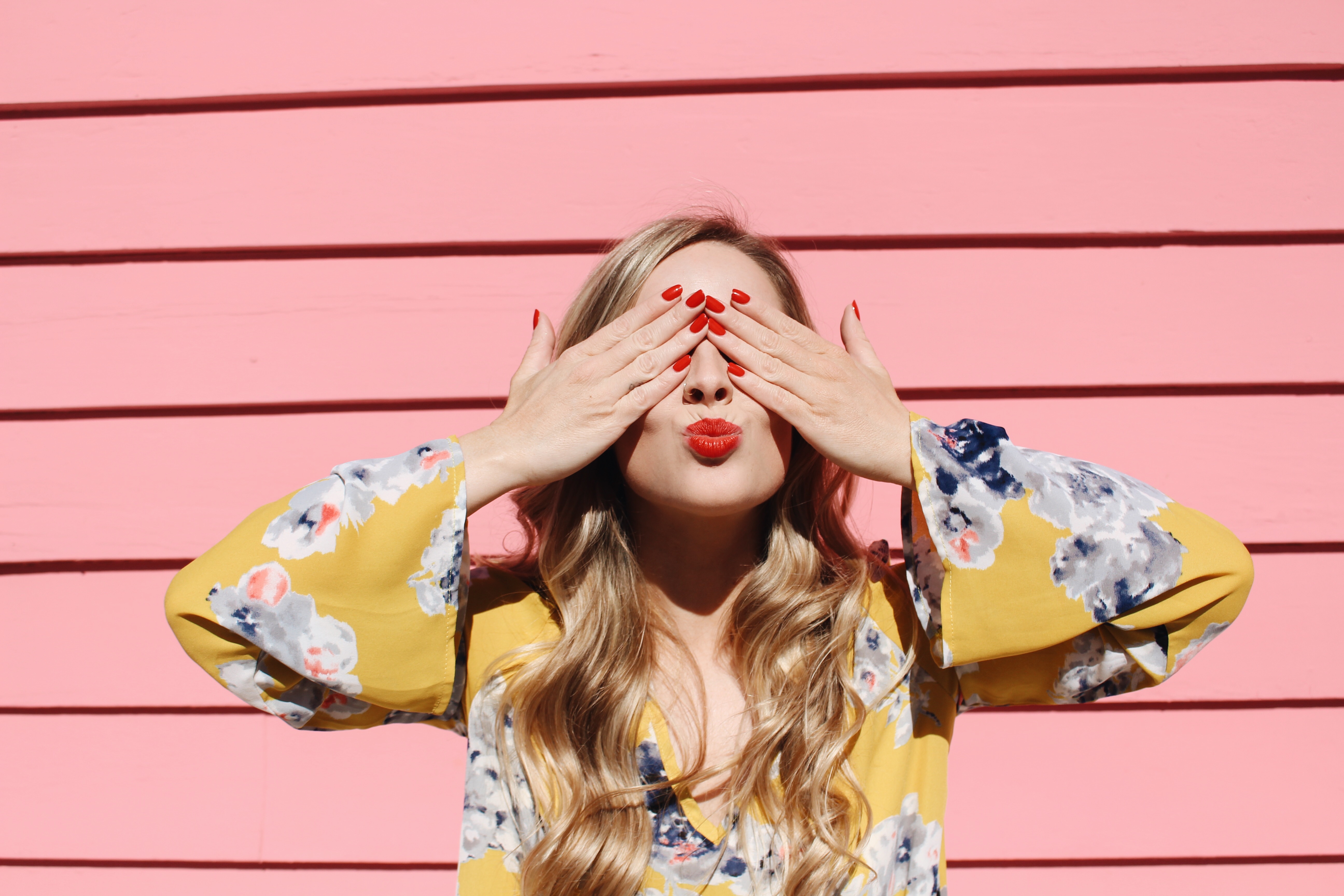 Did I mention that Myrtle Beach has so many colourful houses and buildings!?
Kirk's Ice Cream Parlor
Aut and I ended spotting this little 1980's ice cream parlor on our way to another attraction. We couldn't help but admire how cute this vintage place felt, so we ended up stopping in here for some ice cream! When walking into Kirk's, it's like a typical ice cream parlor with coolers full of ice cream, and I swear they had over 40 different kinds to choose from. Then there was a second part which was filled with retro tables and chairs, arcade games and ride on toys, you know the ones that kids sit on in the mall- it was like we were living in the 1980's era with forest green walls (which are actually on trend btw), and stained glass chandeliers… even the smell of this room reminded me of my Grandma's house. We got into conversation with the ice cream scooper and in turns out Kirk's is a family run business + there are two locations in Myrtle Beach!
Ice cream + sunshine!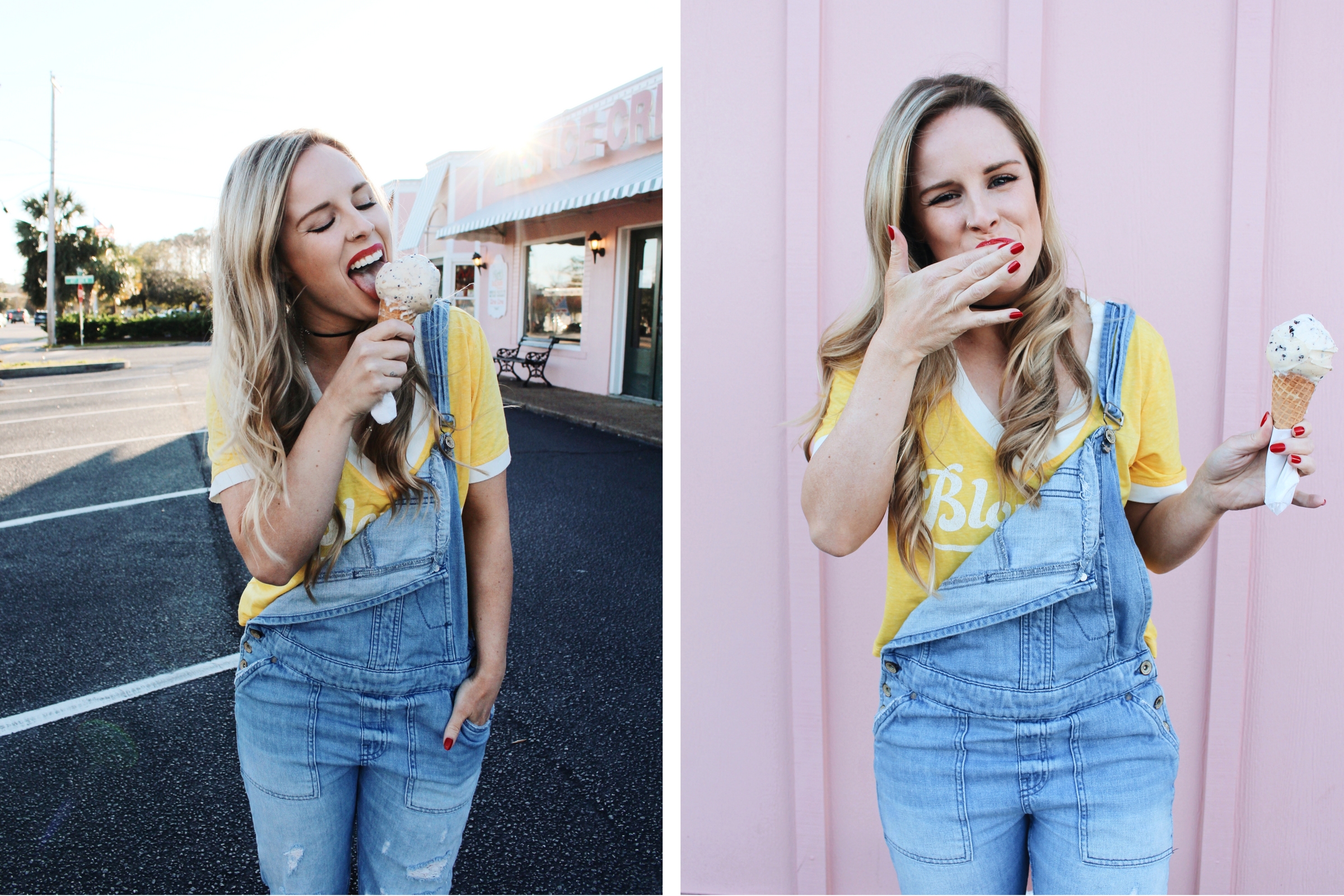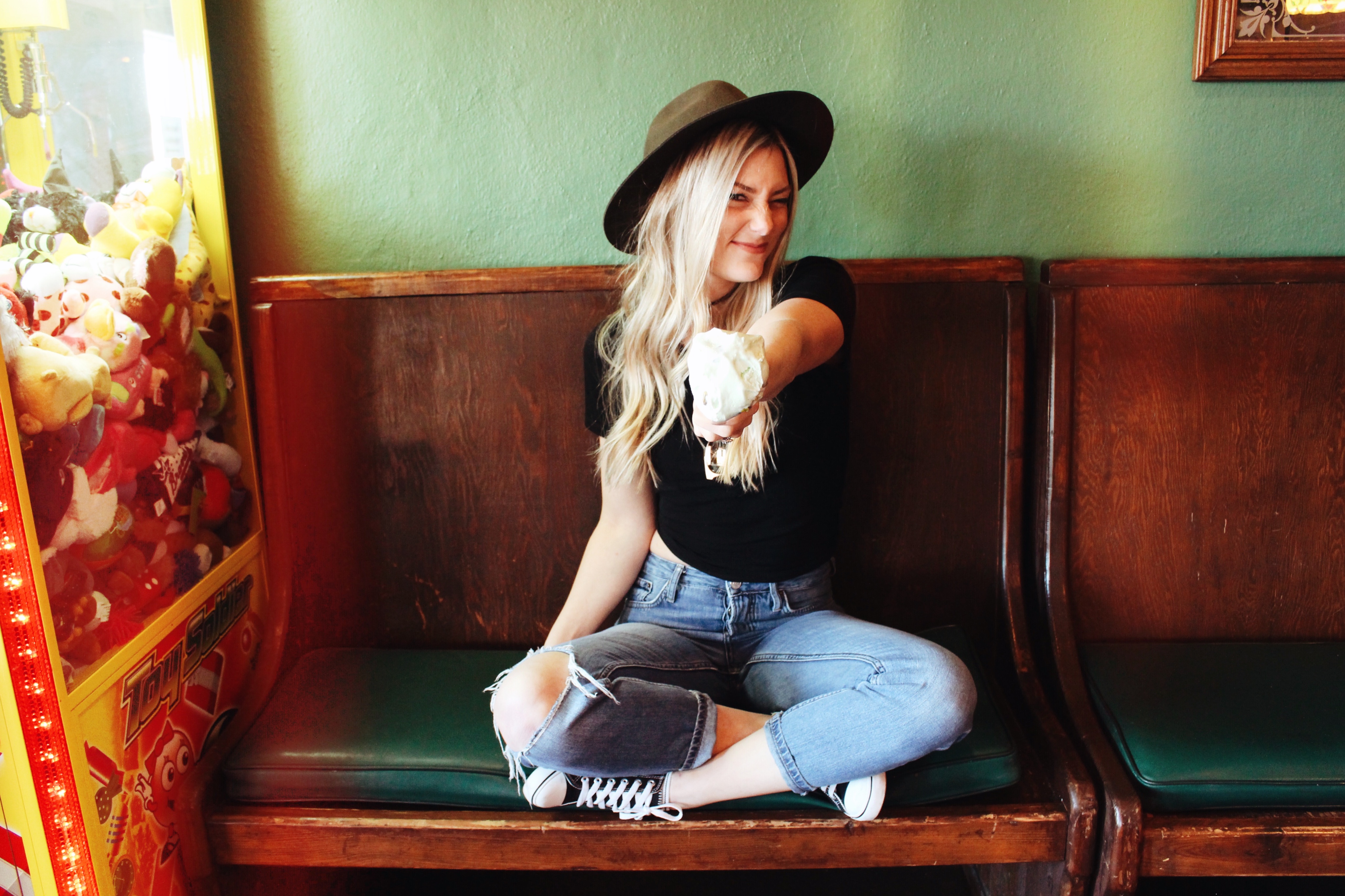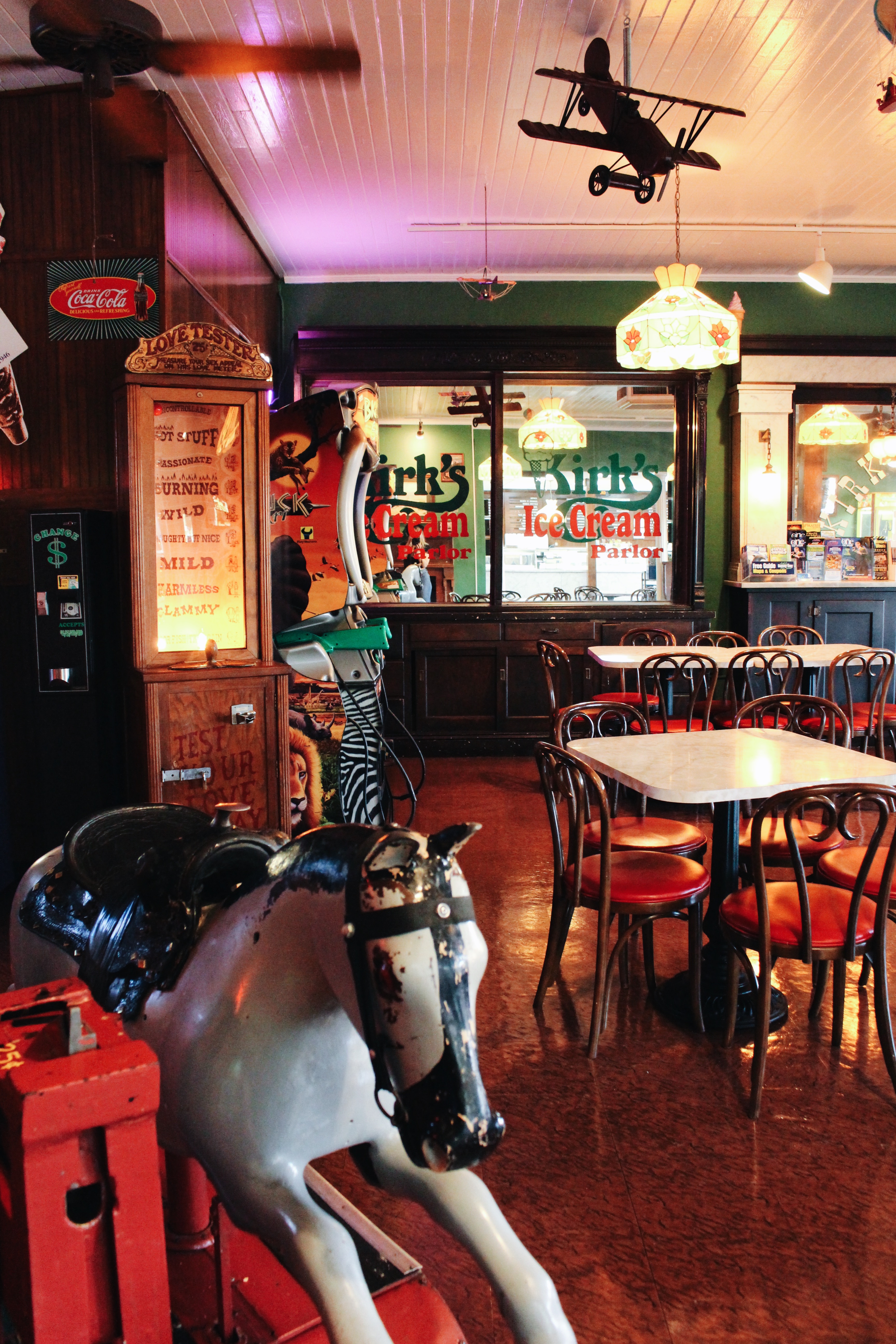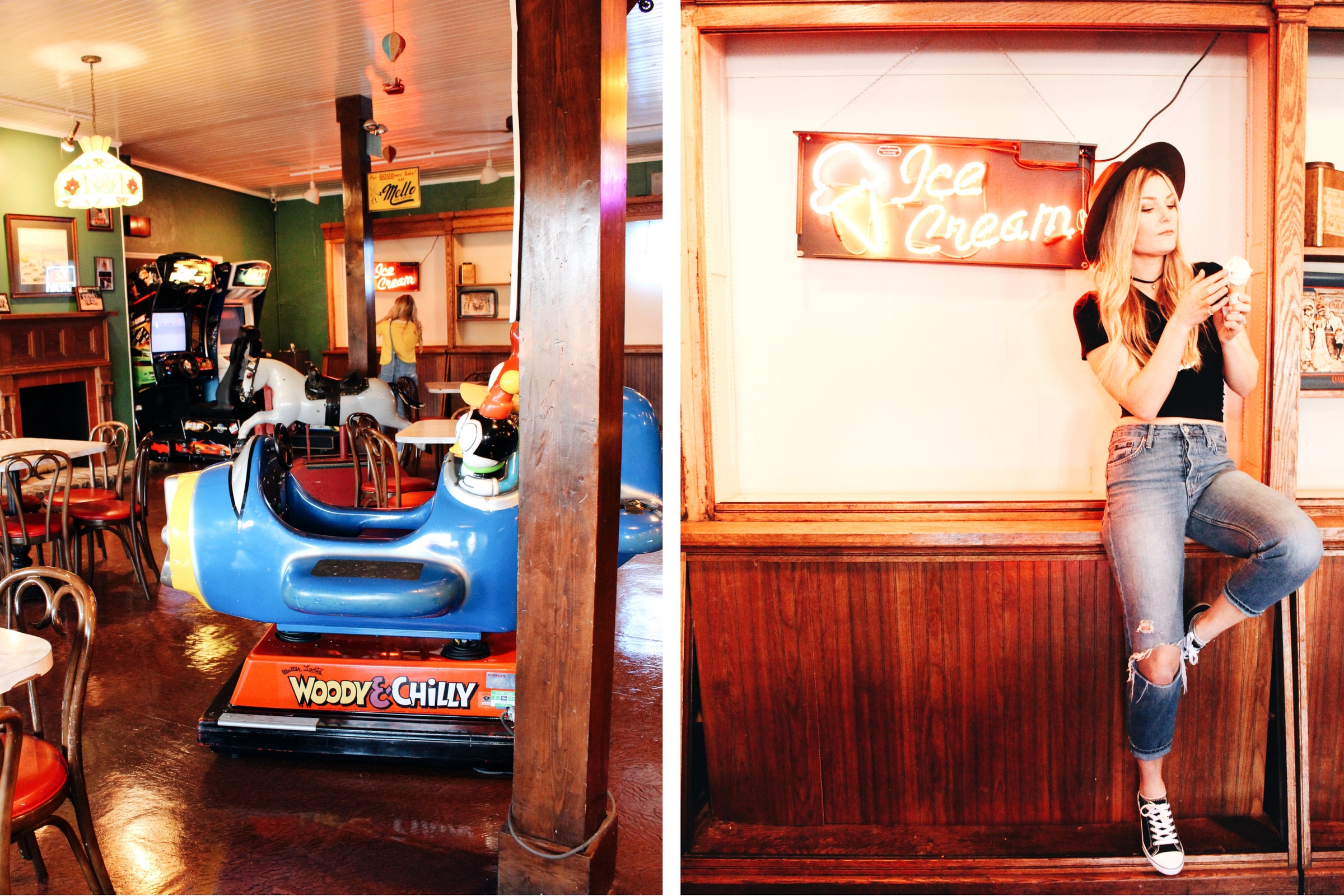 After our ice cream and little photo sesh, we headed to the Alabama Theatre where we watched ONE The Show, which is voted the #1 Live Entertainment Theatre by Myrtle Beach by visitors and locals. Combining extraordinary talent, sizzling visual elements and extravagant costuming with hit songs from many exciting musical genres (like Tay Swift's "Shake It Off"), I was impressed with the entire show! There was also a co-host comedian, Ricky Mokel, who was hilarious! Unfortunately photos were not allowed during the show, but if you are looking for a night activity, this is one I would visit again. After the show, most restaurants were closed so we went with the best late night food our Uber driver recommended, The Waffle House. Autumn and I both devoured a bacon cheesesteak melt served by our girl, Rhonda. Rhonda was such a hilarious go-getter at the Waffle House. She told us a little about her DJ service she does on the side and she also made it very clear that NO females should be walking alone at night (she called us a cab once we finished our meal- thanks Rhonda!)
We had such a great day being tourists and exploring Myrtle Beach. There is so much more I would love to go back and see!
If Myrtle Beach looks fun enough to visit, which I swear is! Porter Escapes will do all the planning for you- click here to learn how.
Stay tuned for Part 3 of Aut and I's #EscapingToMyrtle adventure.