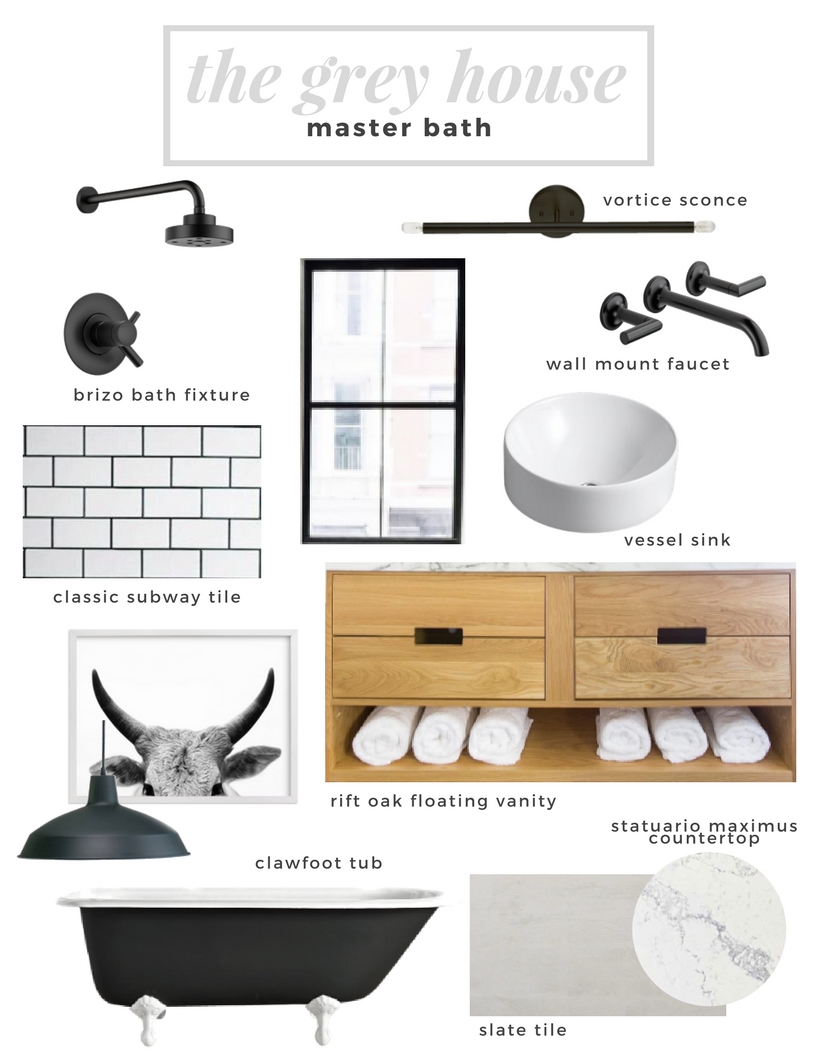 Last week I shared some of our master bathroom inspiration which consisted of natural oak, slate tile, crisp whites and black accents. Isn't if funny how oak has come back into home trends since the 90's. This time it's been toned and muted to blend and bring out its natural grain instead of applying dramatic tinted furniture lacquer and/or high gloss stains- thank goodness for that!
Our master bathroom design started with Imagine Your Home, and if you remember Lester and his team from previous posts here, they designed the layout and structure of our home.
The Master Bath Layout

We had a few items that we wanted to check off for our master bath, them being:
Open shower, possibly doorless– Brent originally wanted a shower room, but I knocked that idea out the door, though I'm kinda digging the idea now! Or, I have seen showers incorporated into the room by using just glass for a minimal look.
His and her vanities — now let's see whole keeps their side the cleanest!
Soaker tub — We have never used our own bath tub to soak in, but I do believe that our kids would use it a lot because our bathroom backs onto the backyard… if you know our boys, you know that they get pretty dirty from the outdoors.
Exterior door — this goes hand in hand with the tub. Also, my in-laws have the same setup with a tub and the exterior door- It's such a great idea to keep dirt contained at the end of the day when the kids are filthy from head to toe.
The next part was incorporating some character and solid bones into the bath through our vanity design (thanks to Woodland Horizon), bath fixtures, tile and all the other bathroom necessities. Below is a rendering of our vanity area created my Marlin at Woodland. This whole design was created from scratch by incorporating some of our master bath inspiration and the fixture finishes from Watermarks (more about them below) to make a vanity area that checks off all of our necessities including bold urban country style, or whatever you want to call it ;)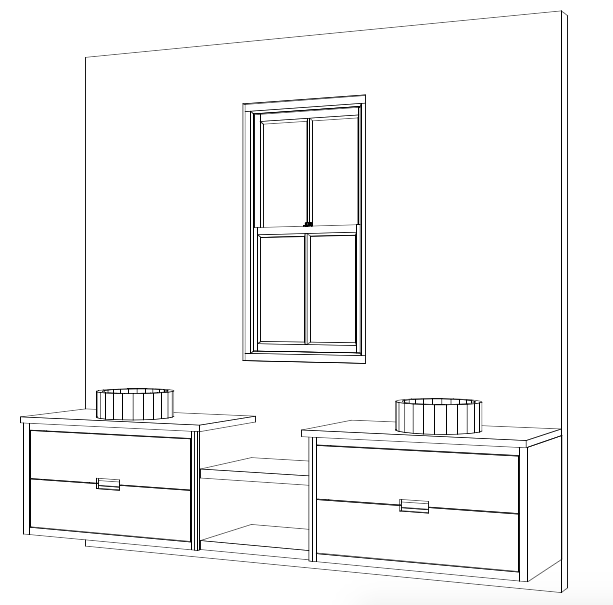 Since working with Tri-Mech for our plumbing, they recommended we visit Watermarks Kitchen and Bath Boutique in Kitchener/Waterloo.
Watermarks has been helping designers, builders, and customers bring there visions to reality. They pride themselves in providing top quality, exclusive products with a level of service that is recognizably exceptional. When it comes to bathrooms and kitchens, Watermarks has all your needs covered!
When visiting Watermarks, we loved how their showroom was setup displaying all of their product, much like walking into the ultimate bathroom oasis but x100 because there are so many beautiful fixtures and collections to choose from! They even offered the boys to sit in their very own bath tub so I could take advantage of our time browsing the floor. Right away I was drawn to the Kohler and Brizo Collections– both so flawless and minimal with modern designs that I absolutely admire. Majority of our master bath will be filled with the "Jason Wu for Brizo" Bath Collection, which consists the most gorgeous finishes. (Below is an image of Brizo fixtures in a jaw dropping bathroom!)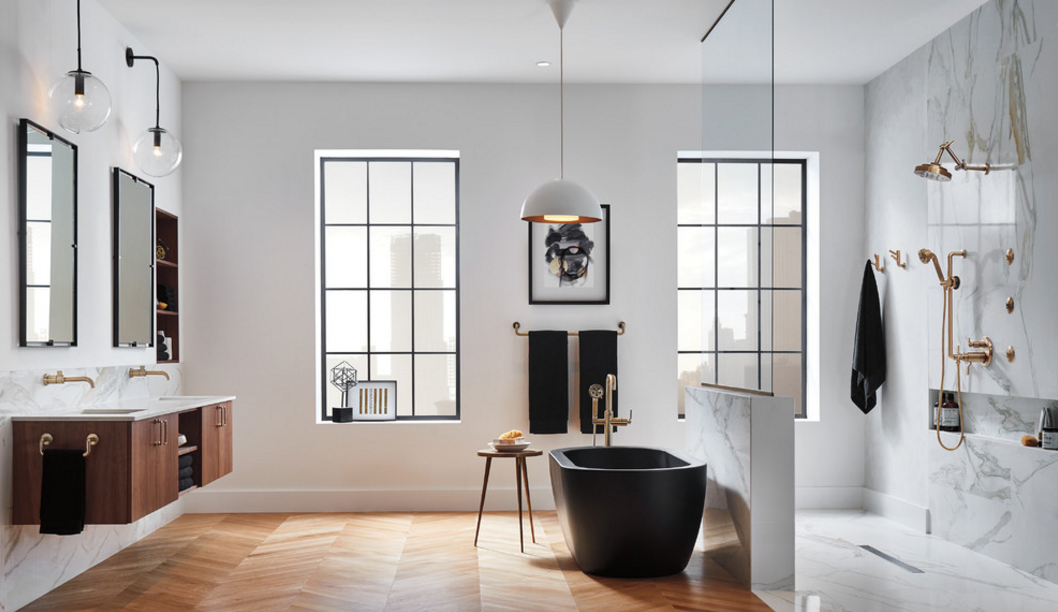 Most of our master bath inspiration is filled with round vessel sinks, wall-mount faucets, white counter tops, oak floating vanities with a minimal design but with a tad bit of character to keep the eye pleased. Sometimes I wonder if I will still love our bathroom design 10 years from now… knowing me, I will still love it but I will be onto the next big trend. One of the design aspects I wanted to keep in mind while designing our bathroom since this is our forever home, is to keep a lot of the permeant finishes classic. It's definitely fun to keep up with the trends, but for me, choosing something modern but still classic that is versatile wins all around! Also, simple inexpensive items like bath mats, towels, decor and etc.,  I will be able to swap out as the trends change and evolve into the next big fad. One of the our biggest design commitments right from the gecko, were our black interior windows. I feel like certain interiors need to aquire that type of style for them to thoroughly work, which isn't necessarily for everyone. The black winows are a big reason why our master bath required black fixtures to make the room really pop!