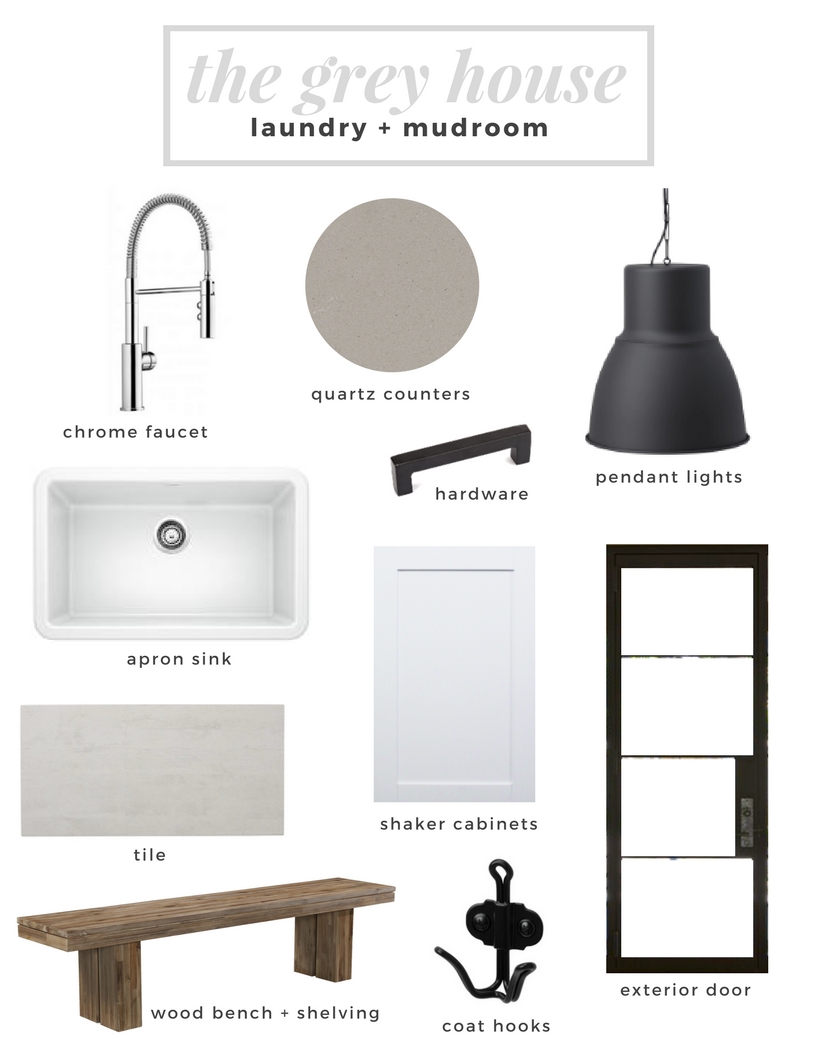 Early on in the beginning stages of planning #TheGreyHouseBuild, we sat down with Laverne, Marlin and Brenna from Woodland Horizon.
Brent and I both had an idea of whom Woodland Horizon were as some friends had used Woodland to design and build cabinetry for their own homes and businesses. From what we had heard and seen, we were impressed at how beautiful their product portrayed and we wanted to know more about them.
Woodland Horizon is a team of professionals with a passion for woodcraft. They focus on excellence, high product quality and great customer service when in comes to home and office interiors, including custom kitchen cabinets, bathroom cabinets, built-in cabinets, stairs and railings, office spaces, closet systems and you name it, they can build it! All which we can vouch for as we have been working very closely with Marlin. Marlin has been extremely awesome to work with, he's the originator in making our cabinetry dreams come true throughout our home- and I cannot wait to share more of our designs with you all! What we appreciate about Woodland is that they take so much pride in their work. They want it to stand the test of time as all of their products are handcrafted and built in-house using some of the best woods. To us, their story and approach is what makes them unique and another reason why we choose to go with Woodland.
What we loved about Woodland right from the gecko was that they aren't the type of company to spit out the same kitchen and bathroom vanity over and over again, instead they take the time to develop a custom design piece for your home, something that reflects you and your lifestyle.
Our first meeting with Woodland was fairly simple, it involved a whole lot of inspiration, probably more than I really needed to give, but it gave Woodland a sense of design direction and aesthetic style Brent and I were leaning towards for our own home.
From there on out, one meeting to the next, we walked through each room which was designed by our other home design party at Imagine Your Home. We envisioned the layout, how certain functionalities were needed and the areas we wanted to feature with cabinetry showcasing a tad twist of character.
For instance, in our mudroom (click here for our mudroom inspiration) we really loved the idea of having a wall of hooks for everyday wear, a simple bench to sit on in front of the window. Because we have a fairly large closet in this space, we wanted to keep the walls simple without too much volume happening. The opposite wall it will be designated to the washer, dryer and sink (which I'm sure will house plenty of muddy clothes!). We opted for built-in cabinets in the corner to hide our brooms and other cleaning necessities, also an access area to our clothing chute- overall a very functional space if you ask us. To create a bit of character, we added an open wooden shelf below the sink cabinetry… a place to add a some decor, maybe essential oils or home to all the missing socks and pocket change!?
Once the cabinetry design gets narrowed down and there are few changes made to the design, rather tweaks here and there, we moved our way onto the finishes. By finishes, I'm talking cabinetry colour, stain colour, matching a custom stain to the flooring, the cabinetry hardware and size, the counter tops, distressed wood, rift white oak or just plain white oak.
Do you see, all the choices and decisions!
At one point Brent was hustling me to hurry and make a decision on one of the finishes, I can't quite pinpoint what it was, but I remember him looking over at Marlin and Marlin just laughing saying, "ohhh this is nothing"…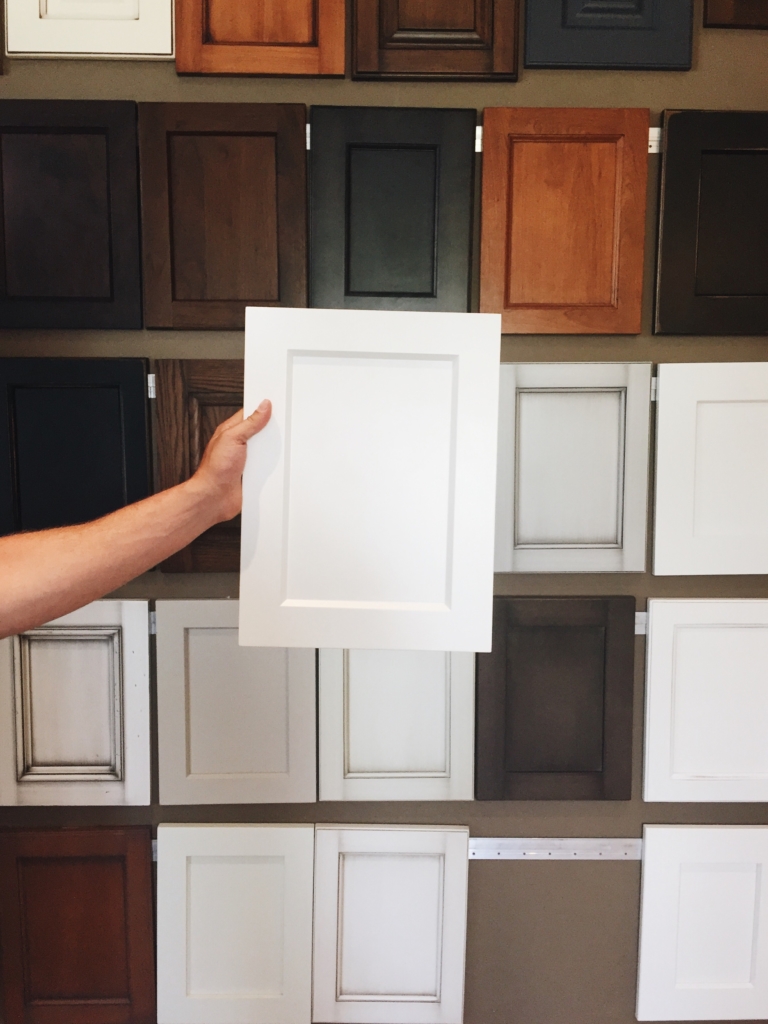 We choose the shaker style cabinet door and a light white oak stain that Woodland will match to our flooring laid throughout the main level.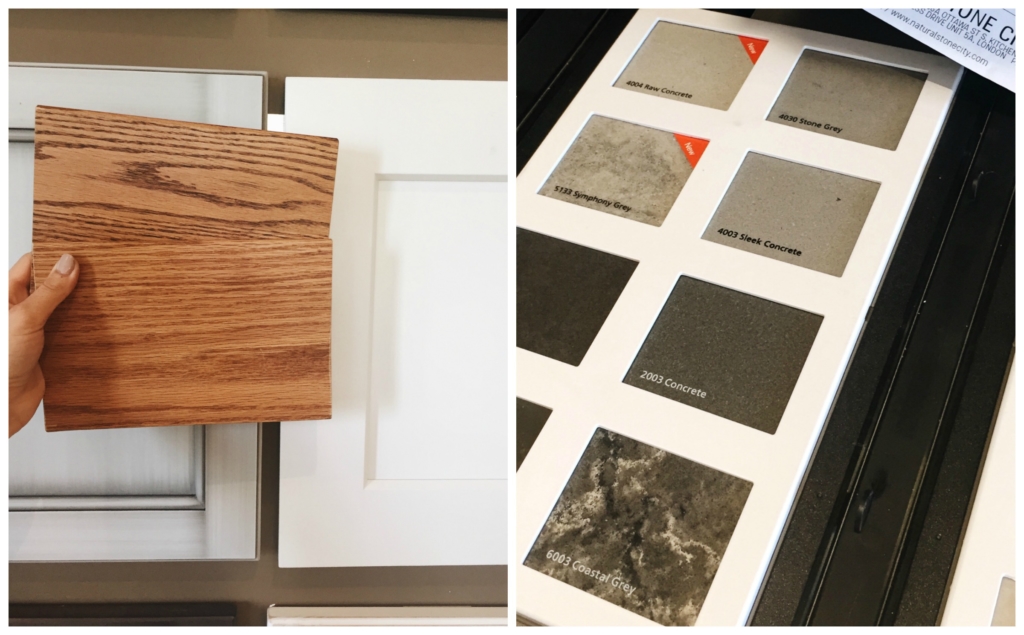 Here is the inspiration photo of the design direction we'll be leaning towards with our Laundry and Mudroom that I love so much…
The key is to pull inspiration from other laundry/ mudrooms, pick out the cabinetry style, the elements like the open wood shelf and exposed wall hooks and form them into a space that works both functionally and aesthetically for you!
A mood board to pull our look together
(minus the decor, accessories and all the kids stuff, haha)…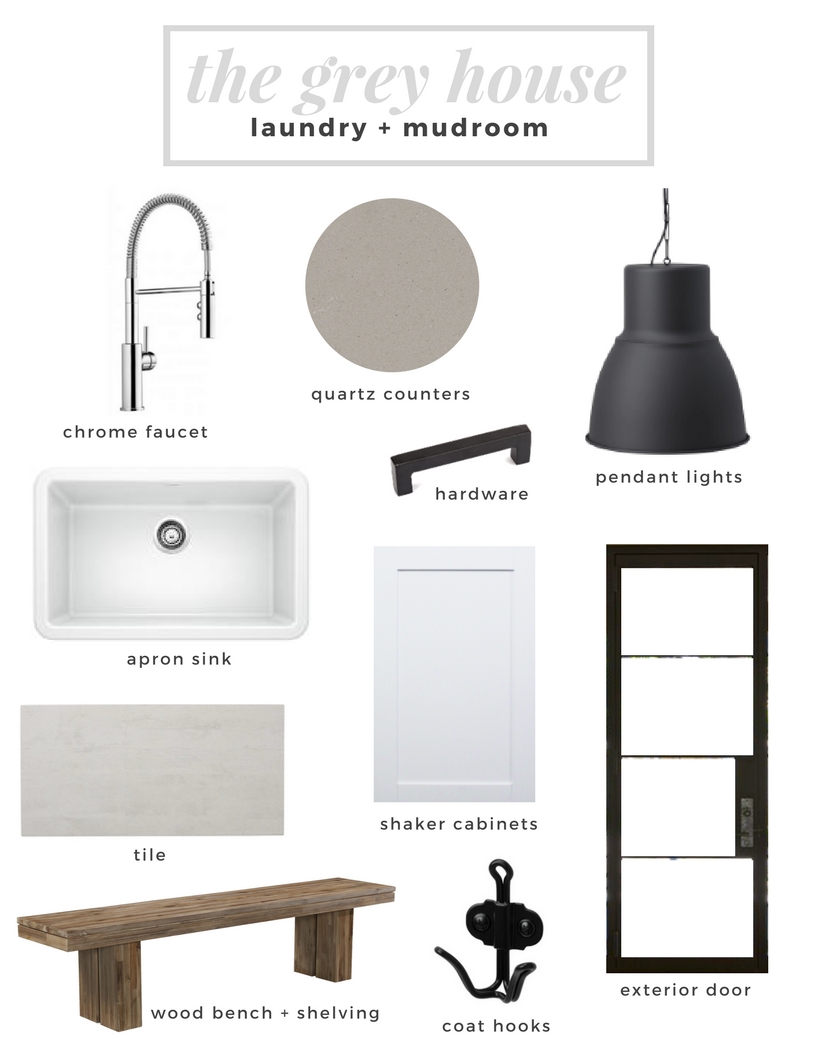 This week is going to be a big one at #TheGreyHouseBuild, I'm thinking most of the framing could potentially be close to finished!? If you follow me on Instagram, you can see the house progress through my IG Stories ;)
In the mean time, I will be sharing more of our designs featuring Woodland and a behind the scenes peek into Woodland Horizon's workshop where our cabinetry designs will come to life. Stay tuned for that tour as well!