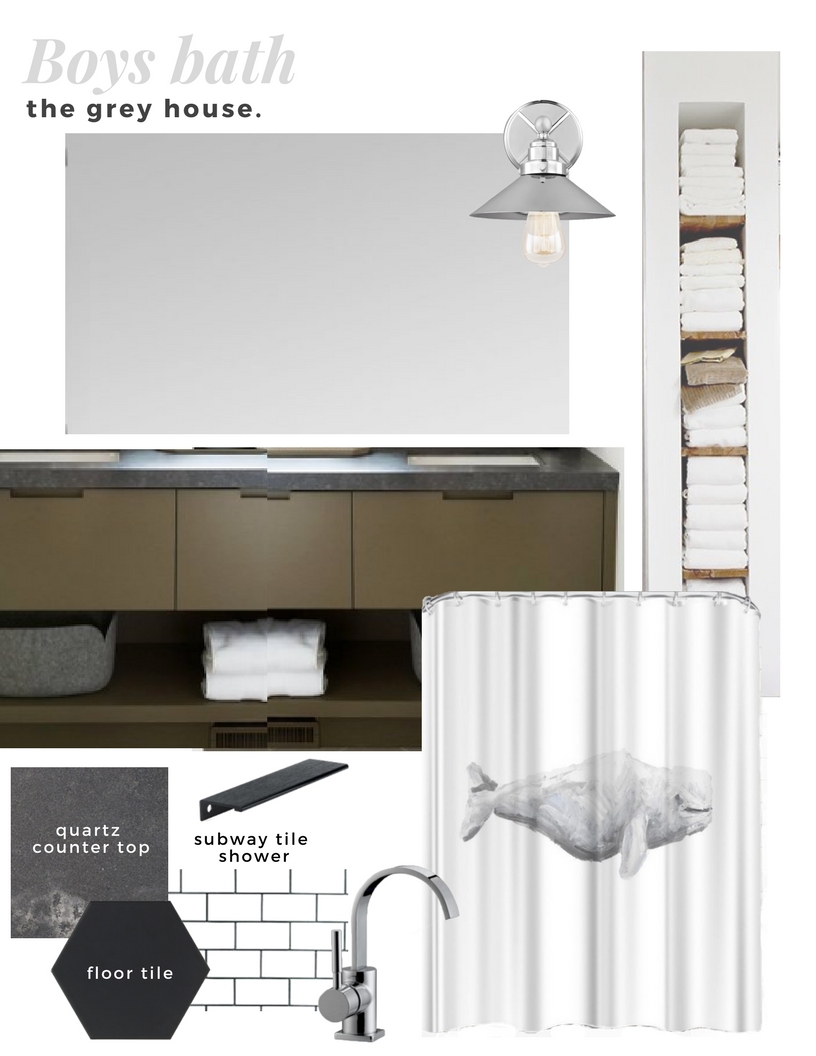 Last week I shared plenty of inspiration behind the boys bathroom design. Let me tell you, majority of our finishing decisions have been changed right up to the final date of approval… you know when you can no longer make any more changes- thank goodness for deadlines or I'd never have my mind made up.
For the bathrooms, I found that once we had made a decision on the type of vanity, the vision for the space started to flow together easily. I wouldn't be lying if I told you that over the past year, heck, 6 months, my vision for our overall house aesthetic has evolved into another direction. That is something out of our control though, over time everything tends to change and evolve over time. Once our finishes are installed, its full commitment for the long haul, therefore adding in the right classic pieces is always a good idea and adapting to a new style or trend is much easier if you have good bones to work with.
Some areas of the bathroom that stumped me were the type of lighting and mirrors I would use in each. In the boys bath, I couldn't decide if I should add:
two single sconces half way down the mirror
one long sconce above the mirror
two sconces above the mirror or mirrors
You see, there are a lot of details to think about!
Above is a rendering created by Woodland Horizon which has been major help in the decision making process. Because the sinks are fairly close to the outer walls of the vanity, I opted for lighting above the faucets. Two sconces halfway down the sides of the mirror seem slightly crammed and I didn't want to risk it… plus I hadn't made a final decision on lighting fixtures to use in this bathroom.
Here is the boys bathroom layout provided by Imagine Your Home.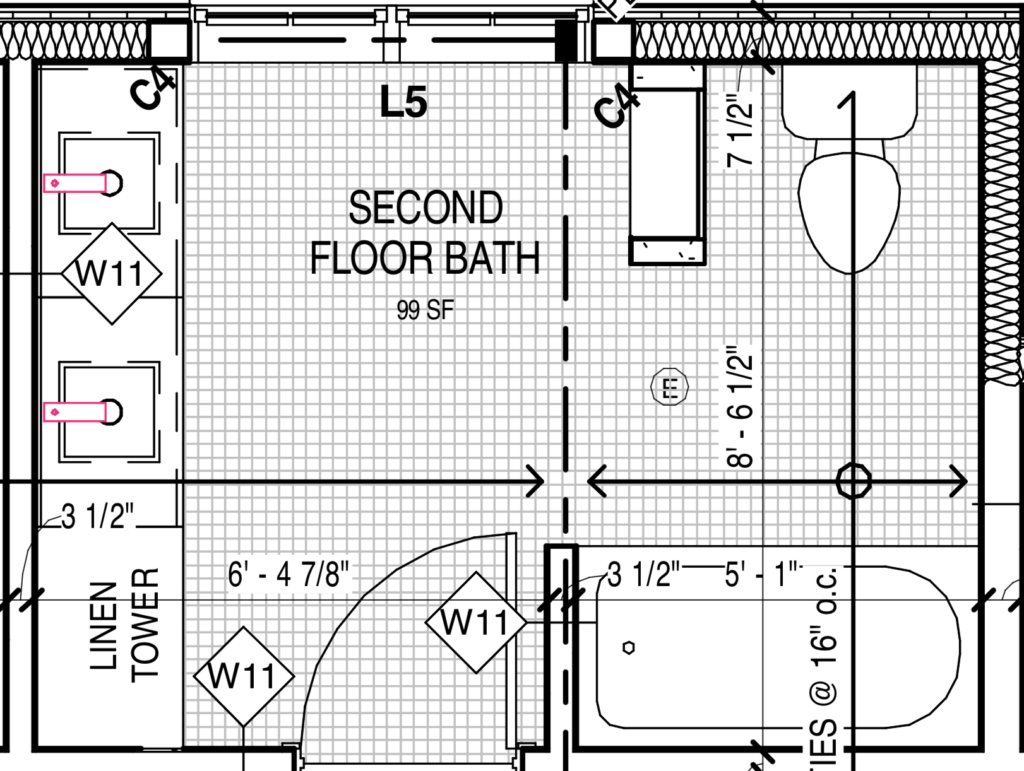 Eventually, I choose to go with two sconces above the mirror, I wanted to keep the vanity area clean and simple. Therefore I was on the hunt for two single wall sconces. Originally I was planning to use these wall sconces from Canadian Tire and spray paint matte black. Later I stumbled across these chrome sconces; I was smitten with their simple polished details and I loved that these chrome sconces were slightly bigger in size than the other option.
I knew that I wanted to go with hexagon flooring in the boys bathroom. Rob Carere Flooring had some large samples of hexagon flooring in his showroom that quickly grabbed my attention, but golly there are SO many tile options, if I didn't know what I was looking for, I could have spent hours in there looking over all the beautiful selections!
Originally I was thinking about going lighter with the hexagon, but I was drawn in to the boldness of the black, which seems to be the popular tile colour trend in the new house.
The hexagon shape itself is so playful and bold, plus the black seems to be a great accent throughout our home.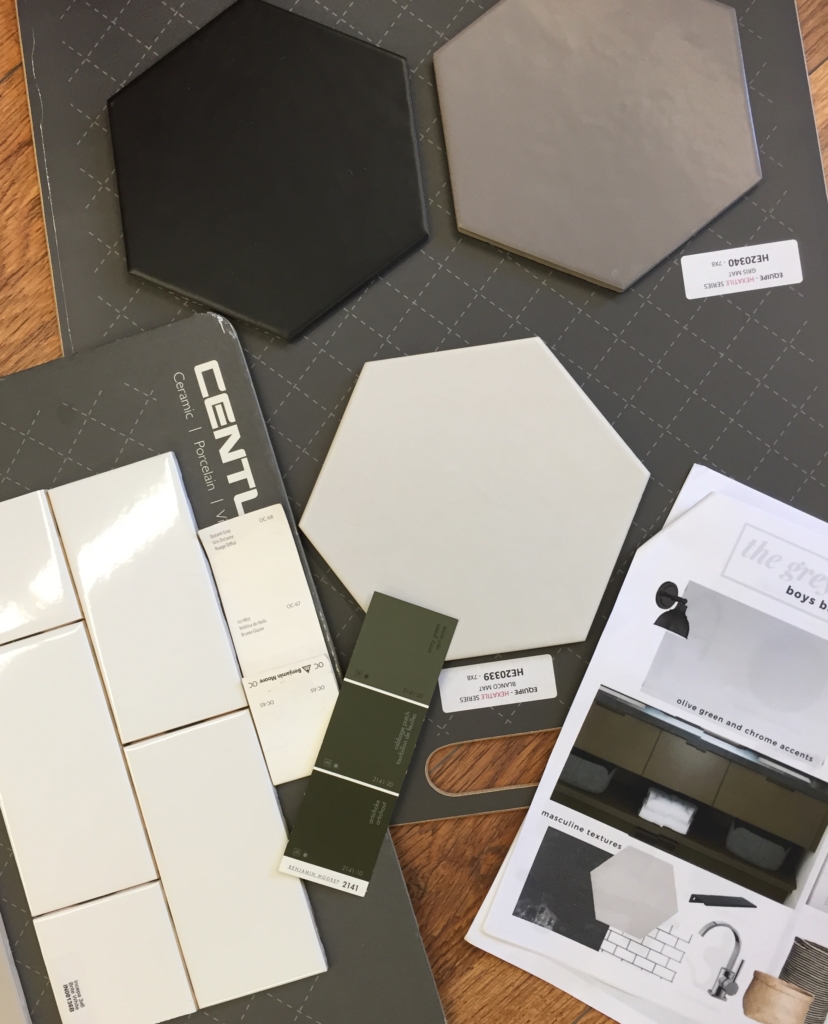 The boys bathroom is modern, masculine and simply perfect for two little boys to grow into :) I cannot wait to see the "army green" vanity along with all the awesome dreamy finishes.
Also note* I've been slacking with house updates, but jeeze louise, this time of year is so busy and its been hectic nonetheless. I'm hoping to give a house update next week, cause it's come SO FAR!
The flooring is going in next week, but in the meantime I have so much cleaning to do at the new house and even our current house is falling a little behind in upkeep.. I can't even begin to think about packing, seriously SOS.
SaveSave
SaveSave
SaveSave
SaveSave
SaveSave
SaveSave
SaveSave
SaveSave
SaveSave
SaveSave
SaveSave
SaveSave
SaveSave
SaveSave
SaveSave
SaveSaveSaveSave
SaveSave
SaveSave
SaveSaveSaveSave
SaveSave