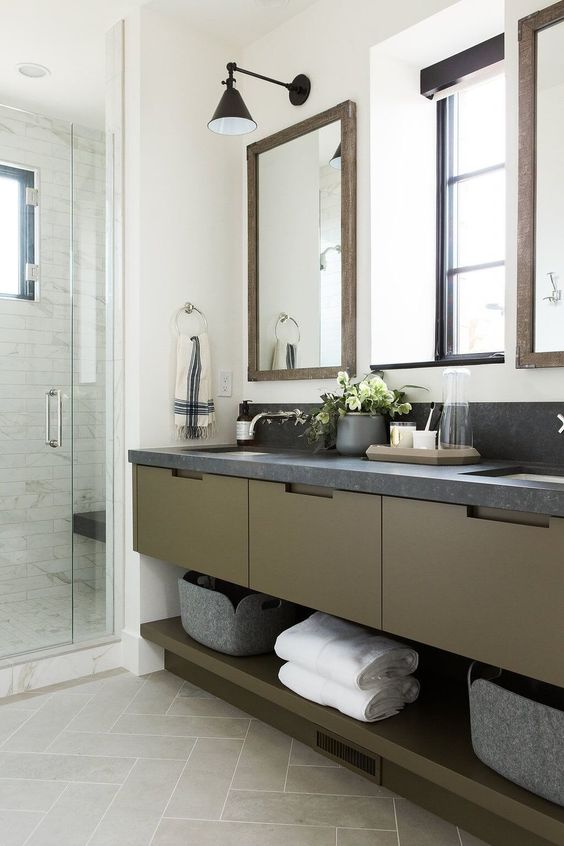 When it came to designing the boys bathroom, it was the biggest challenge. I feel like I can mock up anything for the universe, but when it comes to myself and putting something into my home, I'm so indecisive, the design changes at least 100 times until it finally clicks and there is no turning back… or well, it means my hubby has stepped in and has said enough is enough, we're out of time and our designs need to be finalized stat!
So here is where the boys bathroom inspiration started…
You know when you love everything and you want to add brass, but then you don't want it too bling bling but maybe a tad more rugged cause it's the boys bath. So maybe chrome and black finishes might suit the boys bathroom better!? Ohhhhh and there is a budget and you kinda blew that on your own master bath.
You see, I was all over the map with the boys bathroom.
Vanity Design.
In the beginning, Woodland Horizon (our local cabinetry company that is building all of our custom vanities/ cabinets throughout our home), asked me to gather some vanity inspiration so they could come up with a design for our boys bath. I had a certain look in mind and it began with this bathroom vanity designed by Amber Interiors…
I began to realized that the Amber Interior's vanity (above) wasn't quite the style that would fit into #TheGreyHouseBuild and as beautiful as it was, I knew I wouldn't love it as much long-term. I had something a little more modern in mind. I began pinning and digging deeper, creating moodboard after moodboard for our boys bathroom inspiration.
That's when I stumbled upon Studio McGee's Promontory Project! *Note: I'm the biggest fan of both Studio McGee and Amber Interior's designs, so visiting their websites helped me narrow down the layout and designs for all of our bathrooms :).  Anyways, this vanity made my heart skip a beat! It was back to Woodland to share another new idea and modifying the vanity to make it our own.
Tile.
You probably see hexagon flooring taking over the feed of Pinterest along with herringbone and more white subway tile. But here's the thing, white seems to be the most common colour for walls. Most designers and home design dabblers toss it into their projects, white being the perfect fresh and clean canvas to begin any room with. My theory is that adding shapes and pattern like hexagon tiles, dark grout lines and even coloured tiles, gives a space (specifically the bathroom) the interest and POP it needs. We ended up visiting a local flooring company, Rob Carere Flooring, where I spent the afternoon browsing through so many tile, tile layout and grout options where I began to arrow down the tile design for each of our bathrooms. (I will share more about our flooring and tile process soon.) Hexagons are such a great shape, I knew they would be a great option for the boys bathroom floor, plus to make the room dramatic we chose to go black!!
Are you a fan of subway tile? Yep, me too! Subway tile is perfect for those who want something clean but classic, you can make this tile look modern, traditional and everything in-between, this tile is so versatile (how about that cheeesy-ness, lol). Bonus: subway tile is cost effective, so that is what we settled for in the boys tub/shower area with dark grout to compliment the dark flooring and countertops.
Colour.
The boys bathroom is an area we wanted to make fun, bright and youthful. Bright is a colour we don't have much of around our home unless it's muted or the natural light pouring in through the windows. But with green being one of my favourite colours and with the boys love for farming and the outdoors, green seemed like the perfect colour to paint the boys bathroom vanity! We ended up picking a shade of army green which  fit the boys bath vision perfectly. And who knows, maybe we'll paint a room in that colour too!?
Fixture finishes.
All along I thought I wanted to include more brass into our home like I mentioned earlier, but when I came up with the boys bath moodboard the brass seemed to posh and chic-ish. Chrome and matte black on the other hand, are the perfect fixture finishes to make our boys bath feel more masculine and rugged, the look we are going for ;). We ended up finding affordable sleek chrome lavatory faucets at Home Hardware and chrome vanity lighting from Wayfair which will both complement the overall modern rugged look and feel of the boys bathroom.
Storage and Hardware.
Marlin at Woodland Horizon and I, tossed around the idea of adding a linen tower. I was leaning towards eliminating the linen tower as they reminded me of something back in the 90's that was bulky and just plain out old-fashioned. What do you do when you need to visualize something!? Turn to Pinterest. I searched for "modern linen towers" and I stumbled across this photo below. It was modern, sleek and it even had the same type of finger pulls we are planning to use to keep the look minimal. This style of linen tower fit the boys bathroom so well, not to mention had all the hidden storage one needs for ALL that bathroom junk!
I may have been all over the map with bathroom inspiration, but I'm so excited to see this bathroom come to life!
And I tell you, picking all of these finishes is a full-time job, or maybe I just make it more difficult than it needs to be? I'm going to go ahead and say that I make everything much more complicated, but I really like to make sure it's 100% what I want within limits. There are areas that you have to give and take, save up for, that perfect "wow" piece,  or areas that maybe you need to see and feel out before you just stick anything into that room prior. That is OK! Making a house a home is a long process, one that in the end you want to love.
Next up, I'll be sharing the moodboard for the boys bath.
Stay tuned!
SaveSave
SaveSave
SaveSave
SaveSave
SaveSave
SaveSave
SaveSave
SaveSave
SaveSaveSaveSave
SaveSave
SaveSave
SaveSave
SaveSave
SaveSaveSaveSave
SaveSaveSaveSave