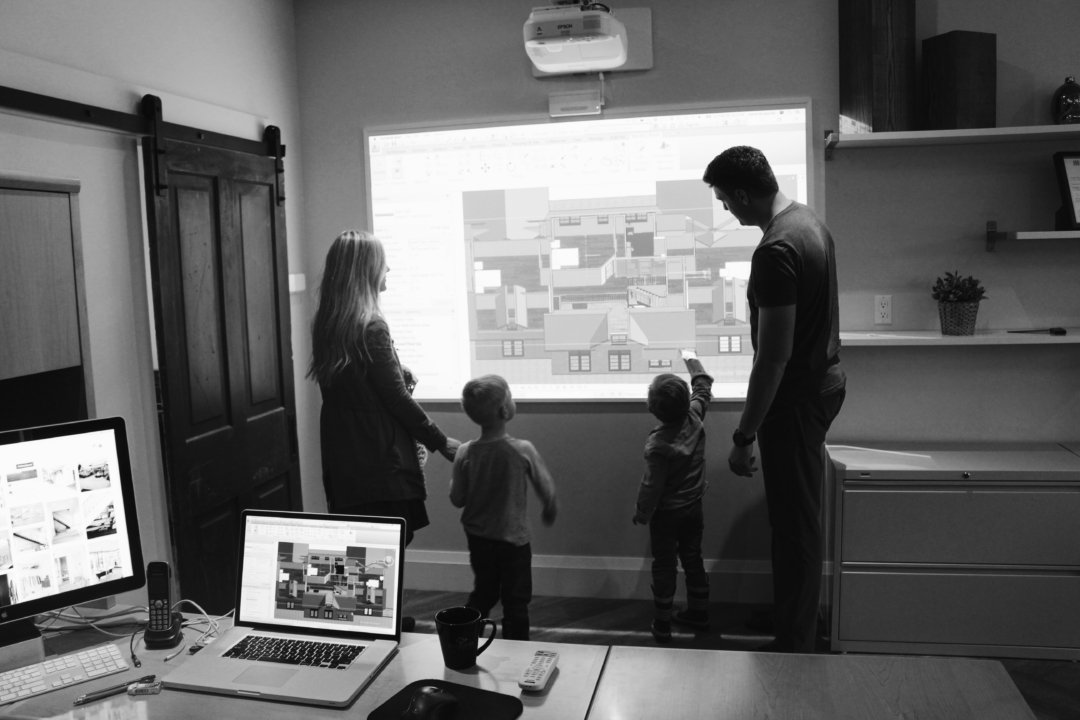 Wow, it all feels so surreal that we are actually doing this, building a house. From the beginning we have been working alongside Imagine Your Home to build our house from scratch. There have been many changes that have led us to this point. And though it may look like we haven't shared much as we won't see any physical work happening until we break ground in June…. I kid you not, there has been SOOO much thought and dedication that has went into the planning and designing of our future home #TheGreyHouseBuild. As I mentioned before, we decided to build our house from an exterior inspiration photo we found on Pinterest. Brent and I both designed the shell of the house (aka a drawing that looks like a 10-year-old did, lol) and we have been shaping it to fit our family from start to finish.
Once we handed over our juvenile floor plan during our introductory meeting back in December, we visited Lester, Kendrick and Riley the guys behind the Imagine Your Home team a month or so later where they shared the preliminary 2D drawings. The preliminary 2D drawings are engineered correctly, ex. compared to Brent and I's small scaled stair placement, and they were displayed for us to review on the BIG screen at Imagine Your Home headquarters for all of us to get a good visual! We focused a little on the design direction, clarified any details such as room layouts, room measurements, problems/solutions and so forth.. all the nitty-gritty finer details to move closer and closer to the final detailed construction drawings.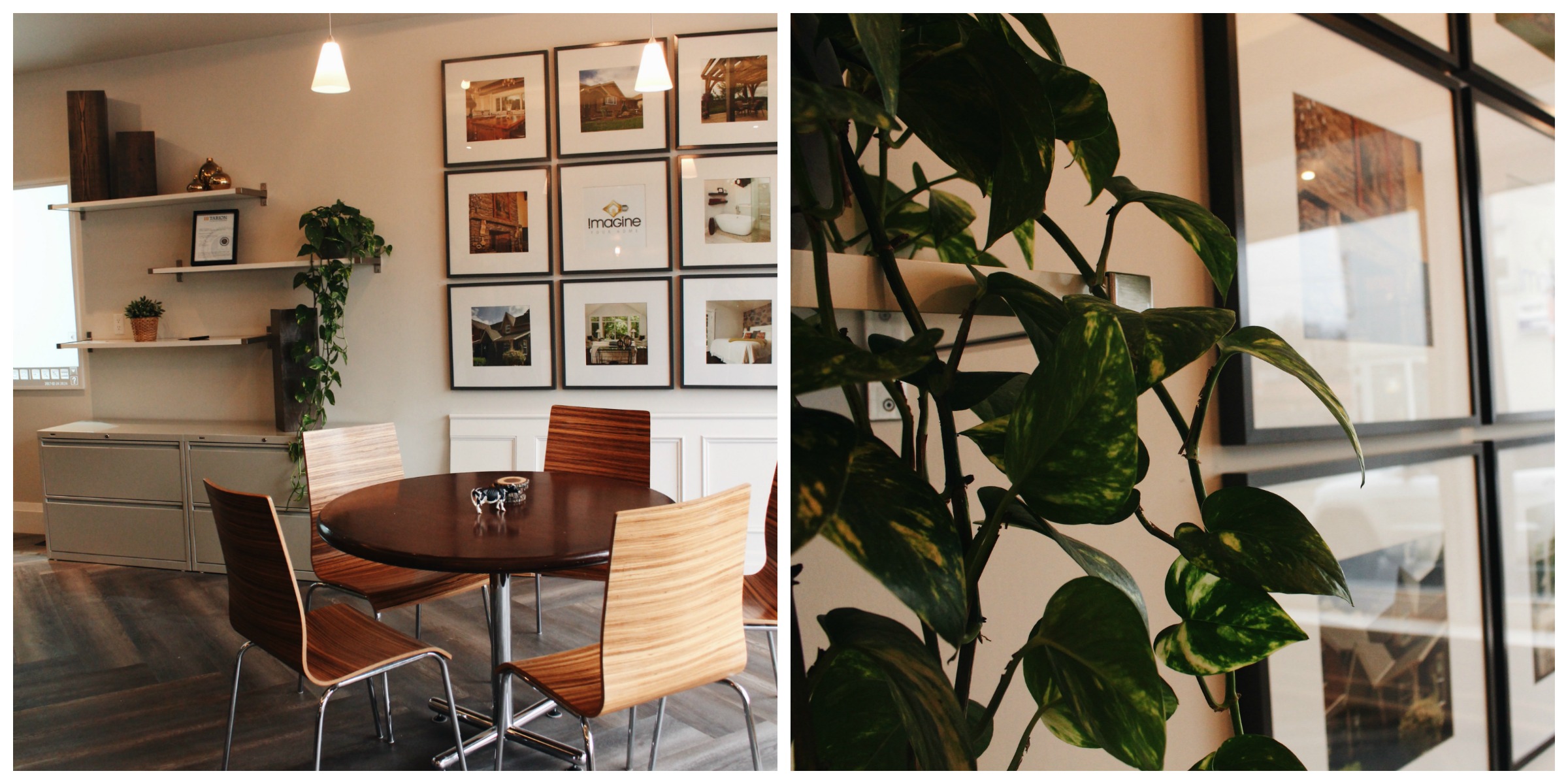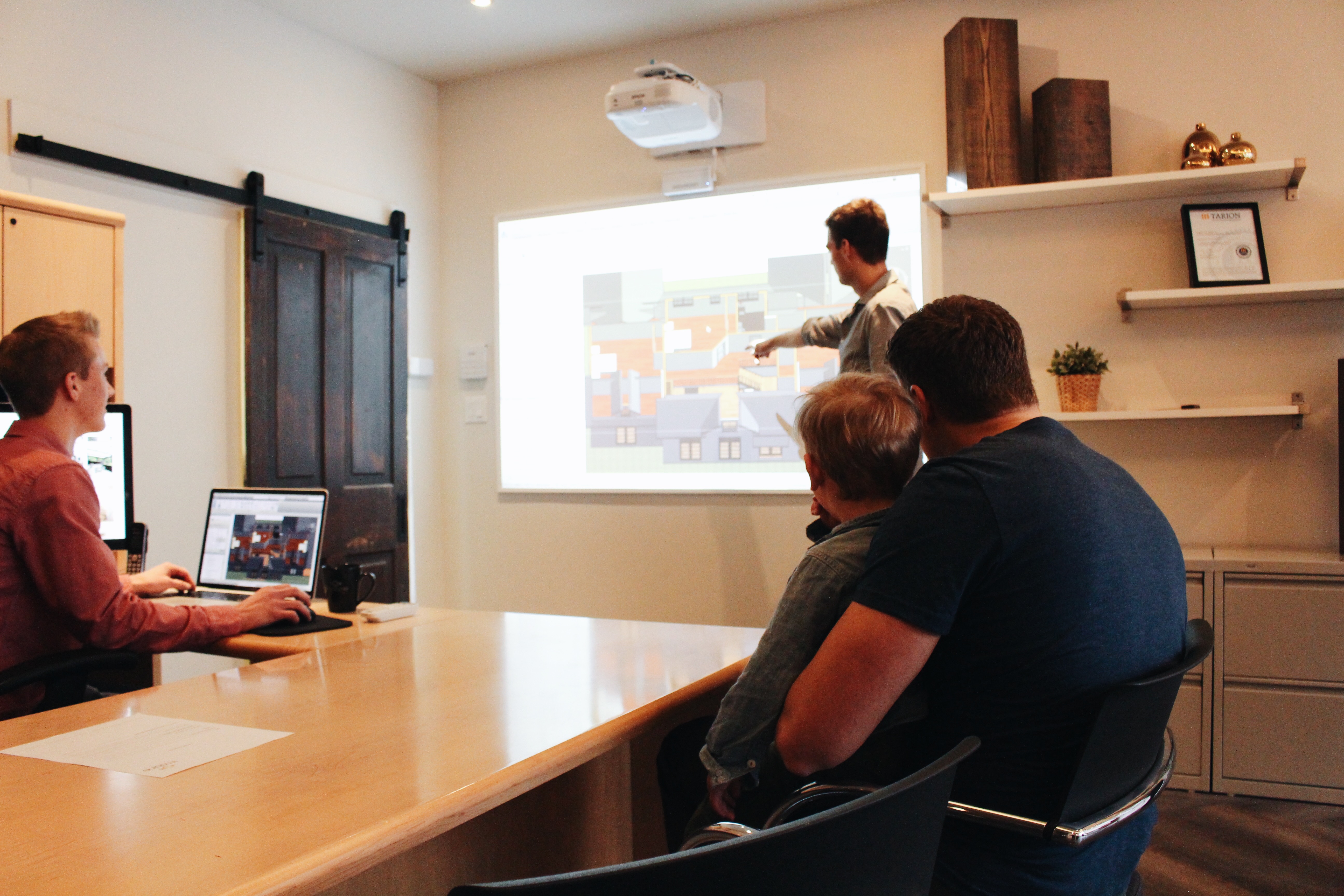 As we designed the template of our house, we filled each space with our essential list of wants/needs within in interior.
The List 
2 storey house
Approx. 4 bedrooms with the master bedroom on the main level
Open concept kitchen, dining and living room area with a fireplace
Fireplace built-ins
Vaulted ceiling in the living room
Office on main level
Mudroom and laundry room combined off of the garage and to one side of the house
Main floor powder room (something we currently do not have, weird I know)
Future golf simulator location in basement (Brent's dream, of course)
Laundry shoot
Covered back patio with large patio doors off of kitchen
Contemporary staircase (open concept)
Walk-in master bedroom closet
This list may seem long and profound to some people or this list may seem short and moderate to others. Basically we came up with a floor plan that ended up being the perfect fit for majority of our essentials. And to be honest, I know I could live in a 12 x 12 box-shaped house and make it feel like home… By that I mean that from the day we moved into our current 1997 city house, I have loved decorating, creating and finding new ways to re-vamp our home. It's taught me a lot about myself over these past 5 years. It has motivated me and opened doors for opportunity by stepping foot in the home design world, which I'm not necessarily a pro on paper, but in my heart I know I have the passion and drive to do it! Which is exactly why I believe I can turn almost anything into a heartfelt home :)
So when it comes to crazy little details like a floor plan… remember:
It's always good to have a list of wants and needs, number them from most to least important so you have a starting point. When you have a general idea of what you want within your home, the floor layout becomes that much easier to piece together!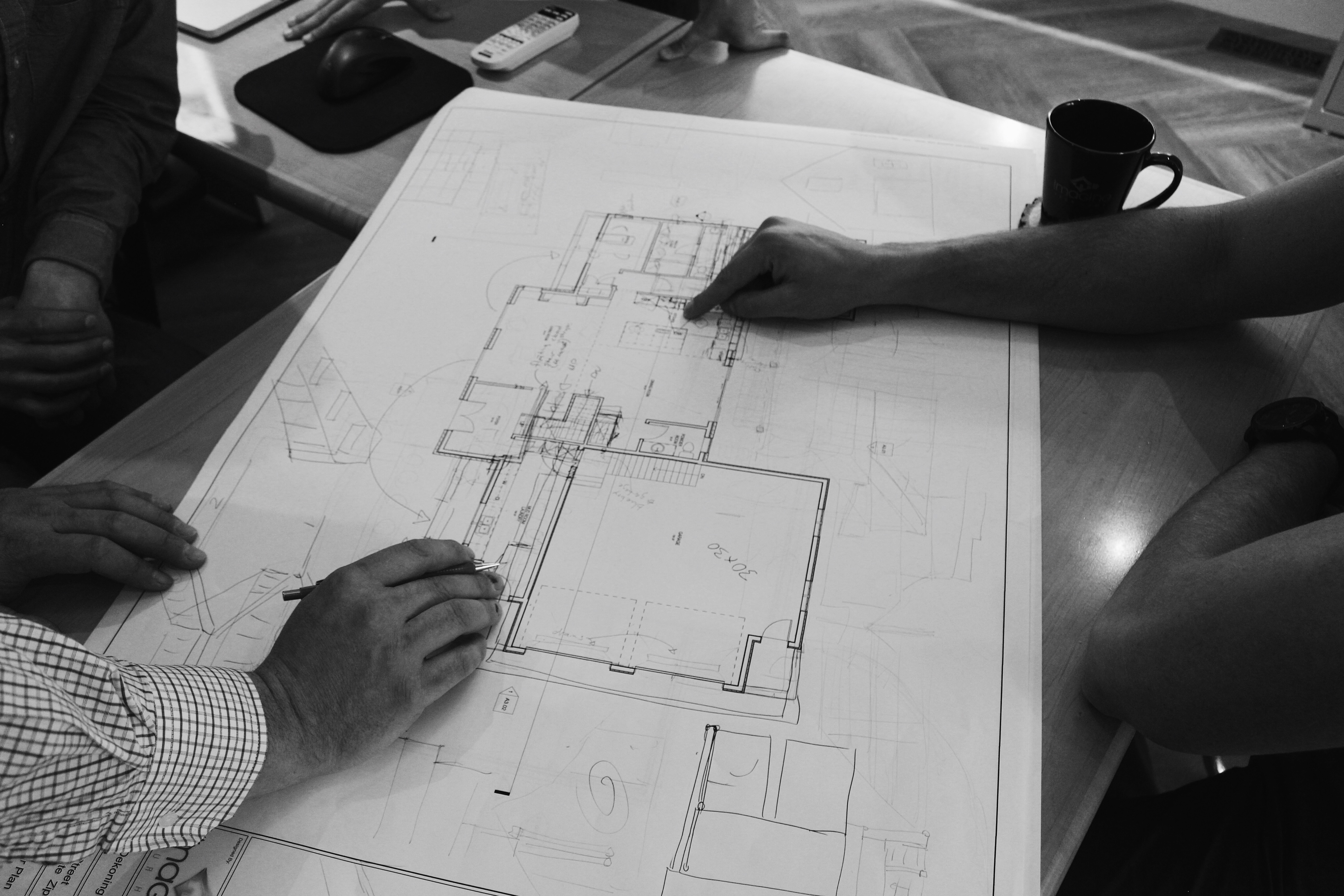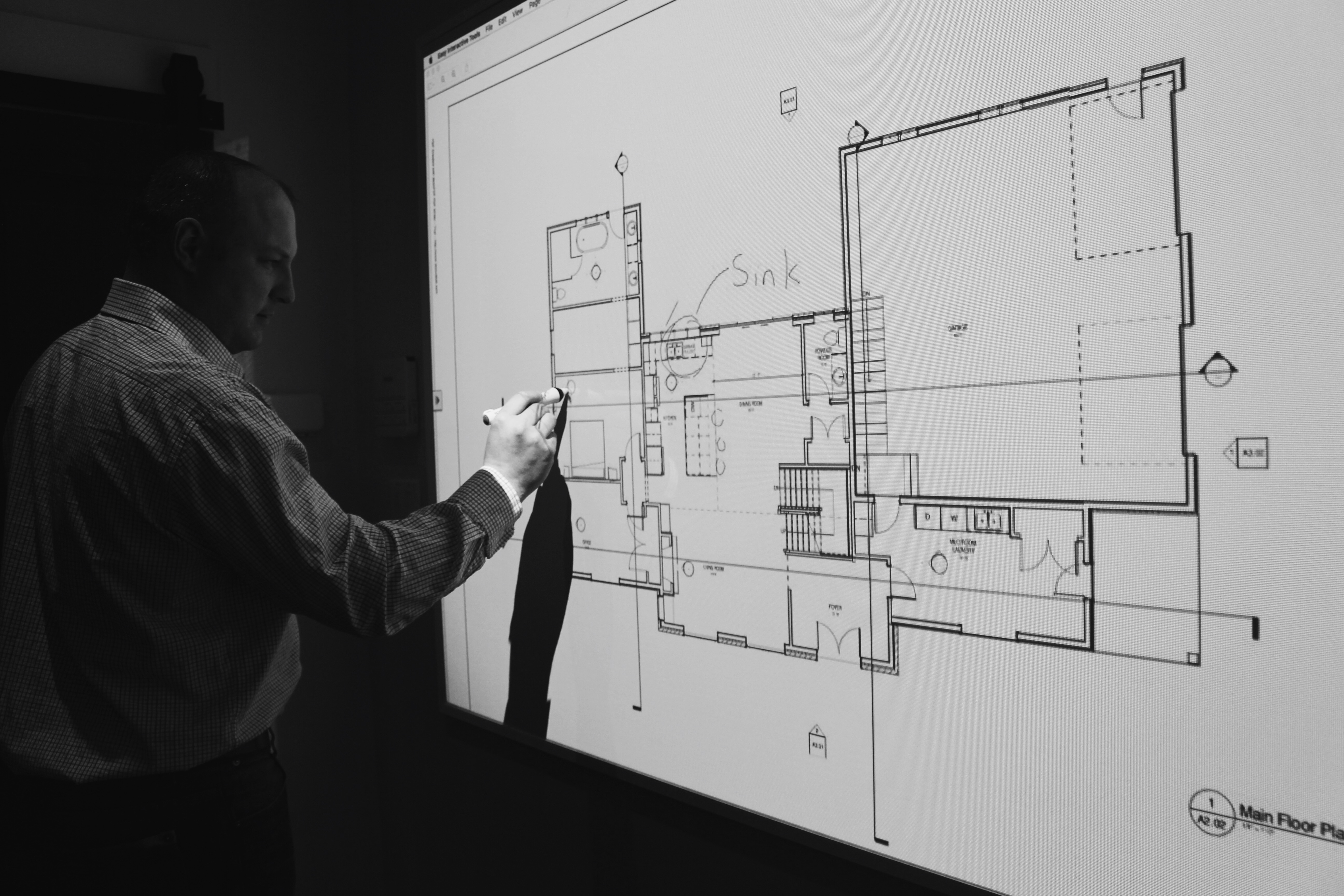 Something that I highly recommend when it comes down to finalizing the floor plans, are the room measurements!
I have had multiple measuring tapes out, I've measured friends and families rooms within their homes just so I could BE SURE that the room and functionality are going to work for us. The scary part is that because I measured out rooms, we have made a few very IMPORTANT changes to help with the flow of our house plan. We ended up moving the powder room from the kitchen/dining area into the master bedroom/office wing to make the kitchen area bigger and also to create more privacy- thank goodness Brent's dad pointed this out to us… we don't think it would be very fun for someone to be using the loo while the others were sitting at the dinner table next door!
Which comes to another point:
Have someone other than your Home Designer/Architect and partner to look over the floor plans. Sometimes we pay attention to other details so much, that we end up overlooking certain aspects of the layout! It's always good to question every room, ask for multiple opinions and give it a double √
Seeing our home in 2D has really put everything into perspective, we have a better visual of the flow within, it raises questions and it helps us better understand how we can plan the millwork and functionality of our future home. At one point we had a looong hall starting from one end of the master wing going all the way into the master bedroom (where the master bath is located now). Lester convinced us to start with the master bedroom and walk into the closet and master bath instead (which is our current floor plan). Simple changes like that Brent and I wouldn't have realized if it wasn't for Lester helping us to maximize our square footage!
Brent's dad has also played a huge roll in our house build. For that we are so grateful to have him guiding us, attending meetings, organizing the trades, talk construction + all the building technical stuff neither Brent or I understand! Brent and I have never done this before, but we have amazing people helping and guiding us along this building journey. We may never do it again, so we want to make the most of this experience and share that story with you.
You can catch more behind the scenes from my Insta-stories, here and a little house exterior inspo, here.
Right now we are in the mist of picking out our exterior finishes aka the MOST stressful decisions yet (well for me)! I will be sure to share a post revolving around that aspect as soon as we finalize our exterior finishes.
Thanks for stopping by,
Kass